ANALISIS PENGARUH KUALITAS LAYANAN TERHADAP LOYALITAS PELANGGAN PADA PT SERASI AUTORAYA (TRAC) SEMARANG
Rudi Kusnadi

Fakultas Teknologi Informasi, Universitas Kristen Satya Wacana

Agustinus Fritz Wijaya

Fakultas Teknologi Informasi, Universitas Kristen Satya Wacana

Penidas Fiodinggo Tanaem

Fakultas Teknologi Informasi, Universitas Kristen Satya Wacana
Keywords:
Kualitas Layanan, Loyalitas Pelanggan,, Regresi Linier Berganda
Abstract
Peralatan transportasi telah menjadi salah satu prioritas masyarakat dalam melaksanakan setiap kegiatan perjalanan, baik individu maupun kelompok, sehingga TRAC telah memperhatikan kualitas layanan untuk terus meningkatkan loyalitas pelanggan terhadap layanan, tujuan dari penelitian ini adalah untuk mengevaluasi pengaruh kualitas pelayanan terhadap loyalitas palanggan  di PT. Serasi Autoraya . Pendekatan yang digunakan dalam penelitian ini adalah deskriptif kuantitatif, dan sampel yang digunakan adalah random sampling dengan metode analisis regresi linier berganda dengan kuesioner yang dibagikan kepada 50 responden dengan karakteristik responden aktif sewa lebih dari atau sama dengan 6 bulan. Ada 5 variabel untuk menilai kualitas layanan dalam penelitian ini, yaitu x1 (bukti fisik), x2 (keandalan), x3 (responsif), x4 (jaminan) dan x5 (empati).
Downloads
Download data is not yet available.
References
Ariff, M. S. M. et al. 2014. 'The impacts of e-service quality and e-customer satisfaction on e-customer loyalty in internet banking', Advanced Science Letters. Elsevier B.V., 20(1), pp. 285–289. doi: 10.1166/asl.2014.5260.
Ariffin, H. F., Abdullah, R. P. S. R. and Bibon, M. F. 2012. 'Assessing Service Quality: Prayer's Perspective', Procedia - Social and Behavioral Sciences, 36(June 2011), pp. 511–519. doi: 10.1016/j.sbspro.2012.03.056.
Fajar Kusumo Putro, R. 2009. 'Pengaruh Kualitas Pelayanan Terhadap Loyalitas Pelanggan dengan Kepuasan Pelanggan Sebagai Variabel Pemediasi ( Studi pada Pelanggan)', Ekonomi Manajemen.
George, D. K. and Xia, C. H. 2011. 'Fleet-sizing and service availability for a vehicle rental system via closed queueing networks', European Journal of Operational Research. Elsevier B.V., 211(1), pp. 198–207. doi: 10.1016/j.ejor.2010.12.015.
Kranias, A. and Bourlessa, M. 2013. 'Investigating the Relationship Between Service Quality and Loyalty in Greek Banking Sector', Procedia Economics and Finance. Elsevier B.V., 5(13), pp. 453–458. doi: 10.1016/S2212-5671(13)00053-1.
Monjelat, N. et al. 2018. 'Pengaruh Bauran Pemasaran Terhadap Loyalitas Pengguna Oppo Smartphone The Influence Of The Marketing Mix To The Loyalty Of Oppo Smartphone Users', Director, 15(2), pp. 2017–2019. doi: 10.22201/fq.18708404e.2004.3.66178.
Rasheed, F. A. and Abadi, M. F. 2014. 'Impact of Service Quality, Trust and Perceived Value on Customer Loyalty in Malaysia Services Industries', Procedia - Social and Behavioral Sciences. Elsevier B.V., 164(August), pp. 298–304. doi: 10.1016/j.sbspro.2014.11.080.
Sari, mitha destika. 2014. 'pengaruh kualitas layanan terhadap loyalitas konsumen cafe d'puncak di samarinda'.
Yeo, G. T., Thai, V. V. and Roh, S. Y. 2015. 'An Analysis of Port Service Quality and Customer Satisfaction: The Case of Korean Container Ports', Asian Journal of Shipping and Logistics. Elsevier B.V., 31(4), pp. 437–447. doi: 10.1016/j.ajsl.2016.01.002.
Zakaria, I. et al. 2014. 'The Relationship between Loyalty Program, Customer Satisfaction and Customer Loyalty in Retail Industry: A Case Study', Procedia - Social and Behavioral Sciences. Elsevier B.V., 129, pp. 23–30. doi: 10.1016/j.sbspro.2014.03.643.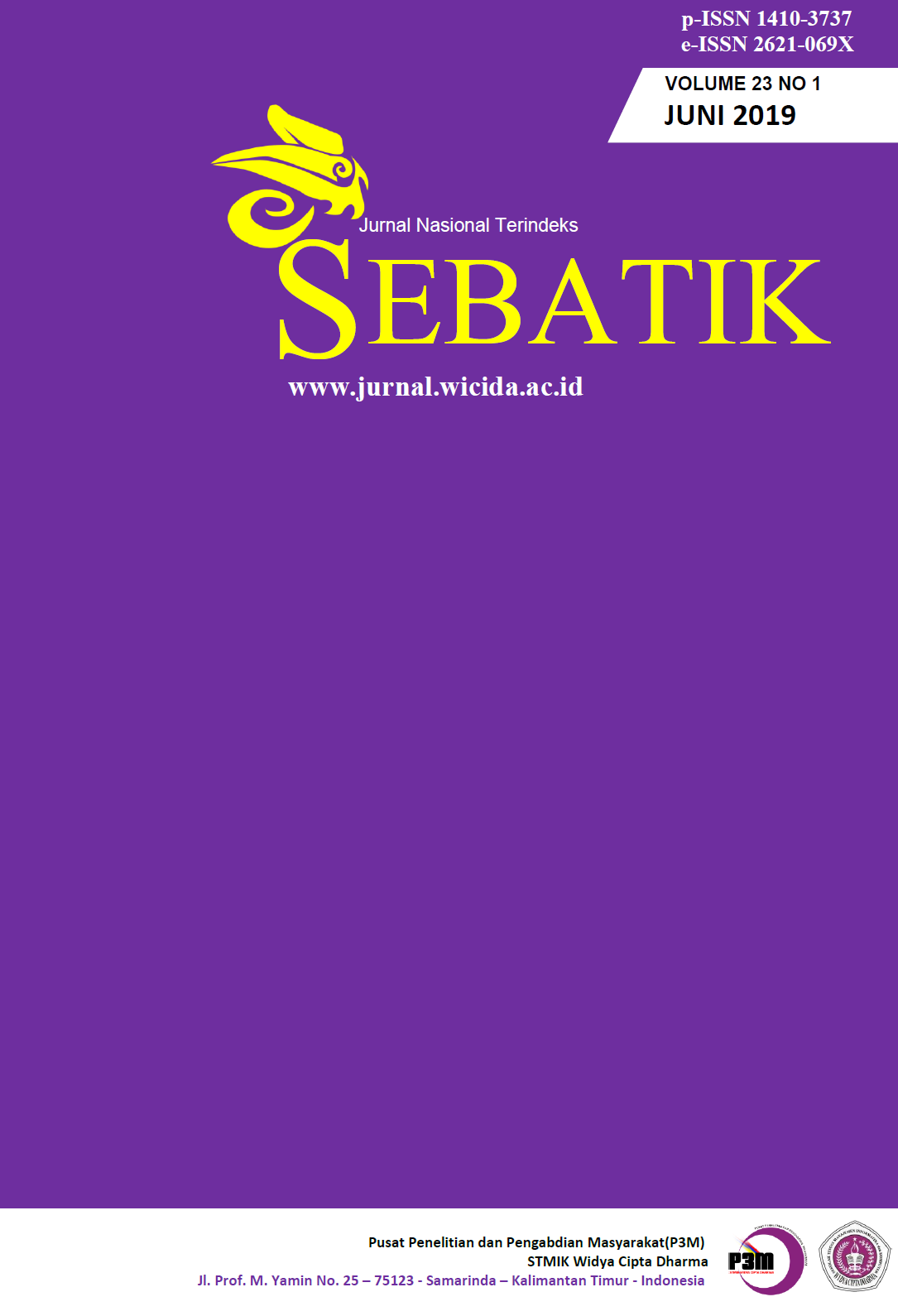 How to Cite
Kusnadi, R., Wijaya, A. and Tanaem, P. (2019) "ANALISIS PENGARUH KUALITAS LAYANAN TERHADAP LOYALITAS PELANGGAN PADA PT SERASI AUTORAYA (TRAC) SEMARANG", Sebatik, 23(1), pp. 28-35. Available at: http://jurnal.wicida.ac.id/index.php/sebatik/article/view/440 (Accessed: 16October2019).