PENERAPAN METODE FINITE STATE MACHINE (FSM) PADA GAME AGENT LEGENDA ANAK BORNEO
Ekawati Yulsilviana

Manajemen Informatika, STMIK Widya Cipta Dharma Samarinda

Hanifah Ekawati

Manajemen Informatika, STMIK Widya Cipta Dharma Samarinda

Hanifah Ekawati

Manajemen Informatika, STMIK Widya Cipta Dharma Samarinda
Keywords:
Finite State Machine, NPC, Game Agen, Tactical, Role Playing Game
Abstract
Finite State Machine merupakan salah satu metodologi perancangan sistem kontrol yang menggambarkan tingkah laku atau prinsip sistem dengan menggunakan tiga hal yaitu state (keadaan), event (kejadian) dan action (aksi). Pada penelitian ini dibuat game yang berjudul "Legenda Anak Borneo" menceritakan petualangan pahlawan Legenda Kalimantan. Sebuah permainan bergenre Tactical Role Playing Game (Tactical RPG). Menggunakan metode FSM (Finite State Machine) dikembangkan pula agen cerdas di dalamnya, dengan tujuan untuk membuat musuh yang dapat menjadi lawan dari pemain. Didalam RPG, agen permainan yang berperan dapat musuh yang dapat berpikir sendiri ini biasa disebut dengan non-player character (NPC).Metode pengembangan sistem yang digunakan yaitu Metode Pengembangan Multimedia. Dengan menerapkan tahapan metode tersebut, maka dihasilkan NPC yang dapat memberi respon atau memiliki tingkah laku sesuai dengan keadaan yang terjadi pada pemain atau NPC lainnya. Hadirnya NPC dengan logika FSM membuat permainan "Legenda Anak Borneo" menjadi menantang.
Downloads
Download data is not yet available.
References
Afriany, J., Andrea, R., Yulsilviana, E., Wijayanti, S., & Nabile, D. 2018. Program Pengabdian Masyarakat: Alat Bantu Belajar Ilmu Batuan Berbasis Android pada Kelas Geologi Tambang Smk Negeri 1 Sendawar. Sebatik, 22(2), 202-210.
Agarwal, B. B., Tayal, S. P., dan Gupta, M., 2010. Software Engineering and Testing, Burlington, USA: Jones & Bartlett Learning.
Andrea, R., & Palupi, S. 2018. Membangun Edugame "Boni Kids–Borneo Animal Kids" Permainan Match-up dengan Teknik Pengacakan Shuffle dan Pengembangan Agen Cerdas dengan Model Finite State Machine (Fsm). Sebatik, 19(1), 6-10.
Andrea, R., Akbar, R. I., & Fitroni, M. 2014. Developing battle of Etam earth game agent with finite state machine (FSM) and sugeno fuzzy. ICCS Proceeding, 1(1), 184-187.
Asmiatun, S., & Putri, A. N. (2017). Belajar Membuat Game 2D dan 3D Menggunakan Unity. Deepublish.
Jasson. 2009. Role Playing Game (RPG) Maker.Yogyakarta : Andi.
Jones, M. T. 2015. Artificial Intelligence: A Systems Approach: A Systems Approach. Jones & Bartlett Learning.
Karamian, V. 2016. Building an RPG with Unity 5. x. Packt Publishing Ltd.
Kopel, M., & Hajas, T. 2018. Implementing AI for Non-player Characters in 3D Video Games. In Asian Conference on Intelligent Information and Database Systems (pp. 610-619). Springer, Cham.
Millington, I., & Funge, J. 2009. Artificial intelligence for games. CRC Press.
Nugroho, A. 2010. Rekayasa perangkat lunak berorientasi objek dengan metode USDP. Penerbit Andi.
Wibowo, F. W. 2018. FPGA DAN VHDL: Teori, Antarmuka dan Aplikasi. Deepublish.
Wijayanti, S., Nurhuda, A., & Andrea, R. 2018. Edugame "Etam-Tainment" Pembelajaran Bahasa Kutai dengan Shuffle Random dan Agen Cerdas. Jurnal Nasional Teknik Elektro dan Teknologi Informasi (JNTETI), 7(3).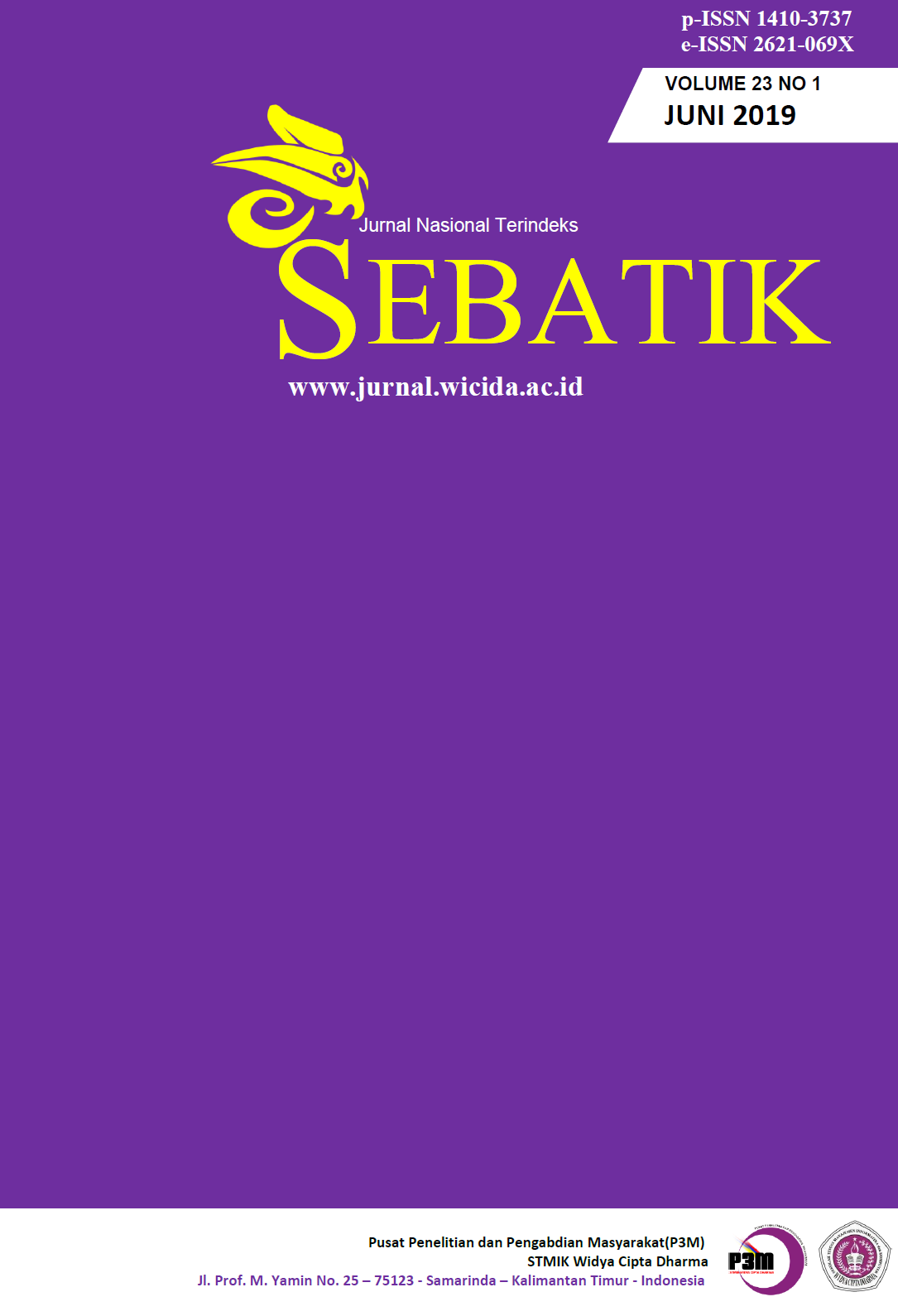 How to Cite
Yulsilviana, E., Ekawati, H. and Ekawati, H. (2019) "PENERAPAN METODE FINITE STATE MACHINE (FSM) PADA GAME AGENT LEGENDA ANAK BORNEO", Sebatik, 23(1), pp. 116-123. Available at: http://jurnal.wicida.ac.id/index.php/sebatik/article/view/453 (Accessed: 16October2019).