KRIPTOGRAFI MONOALFABETIK DAN POLIALFABETIK APLIKASI DAN KOMPARASI DALAM PENGAMANAN DATABASE BANK SOAL
Muhammad Safii

Manajemen Informatika, STMIK Balikpapan

Vidy Vidy

Teknik Informatika, STMIK Balikpapan
Keywords:
Kriptografi, bank soal, monoalfabetik, polyalfabetik
Abstract
Perancangan sistem pengamanan kunci jawaban database bank soal dilakukan untuk menghindari dan meminimalisir pencurian atau penggunaan file yang tidak sah. Pada kriptografi terdapat banyak algoritma yang telah berkembang, diantaranya adalah subtitusi monoalfabetik dan subtitusi polyalfabetik. Teknik yang akan digunakan dalam pengamanan kunci jawaban bank soal yaitu salah satunya dengan membandikan dua metode monoalfabetik dan subtitusi polyalfabetik.
Pada penelitian ini dilakukan analisa komparasi kemamanan antara subtitusi monoalfabetik dan subtitusi polyalfabetik untuk di terapkan dalam pengamanan database bank soal. Kemudian dilakukan pengujian diantara dua metode tersebut, metode manakah yang paling aman untuk di terapkan dalam aplikasi keamanan kunci jawaban database bank soal.
Downloads
Download data is not yet available.
References
Andrea, R. 2013.Teknik Pengamanan Kunci Jawaban dengan Metode Enkripsi, Prosiding SeNAIK, pp. 154-156. http://jurnal.wicida.ac.id/index.php/senaik/article/view/134

Arora, Mani. 2011. Analysis of cipher text size produced by various Encryption Algorithms" Jurnal Internasional ISSN : 0975-5462 , Vol. 3 No. 7 July 2011.

Budy. 2013. Analisis Perbandingan Algoritma Kriptografi AES, DES dan IDEA yang Tepat untuk Perangkat mobile" Tesis Universitas Atma Jaya Yogyakarta.


H. Kridalaksana, A., Rangan, A. Y. and Ansharie, A. 2017. Enkripsi Data Audio Menggunakan Metode Kriptografi RSA, Sebatik, 17(1), pp. 6-10

Munir, Rinaldi, Kriptografi, Penerbit Informatika, Bandung, Oktober 2006.

Stallings, William. 2011. Cryptography and Network Security Principles and Practice Fifth Edition, Pearson Education, ISBN 13: 978-0-13-609704-4,

Sugiyono. 2010. Metode Penelitian Kuantitatif, Kualitatif dan R&D. Bandung: Alfabeta

Syafa'at, Achmad, 2011. Perbandingan Kriptografi Ciper Subtitusi Homofonik dan Poligram dengan Caesar Chiper" Tesis Universitas Langlang Buana.

Ukkas, M., Andrea, R. and Anggen, A. B. P. 2017. Teknik Pengamanan Data Dengan Steganografi Metode End Of File (EOF) Dan Kriptografi Vernam Cipher, Sebatik, 17(1), pp. 20-26.

Ward, Annie W. & Murray-Ward, Mildred. 2004. Guidelines for the Development of Item Banks. Modul pembelajaran NCME. dalam Instructional Topics in Educational Measurement(ITEMS). http://www.ncme.org/pubs/items/25.pdf diakses 4 Juni 2017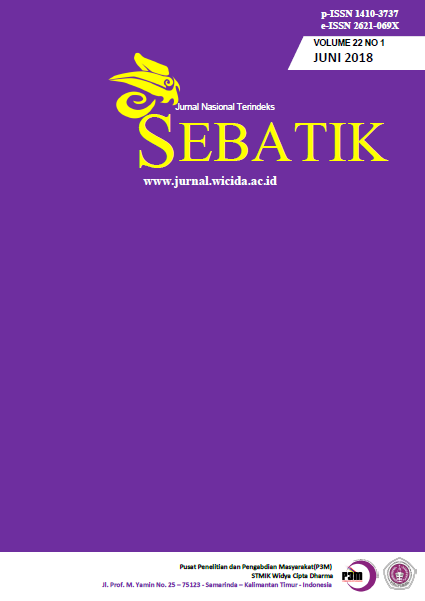 How to Cite
Safii, M. and Vidy, V. (2018) "KRIPTOGRAFI MONOALFABETIK DAN POLIALFABETIK APLIKASI DAN KOMPARASI DALAM PENGAMANAN DATABASE BANK SOAL", Sebatik, 22(1), pp. 1-9. Available at: https://jurnal.wicida.ac.id/index.php/sebatik/article/view/203 (Accessed: 28November2021).
The copyright of this article is transferred to SEBATIK and STMIK Widya Cipta Dharma, when the article is accepted for publication. the authors transfer all and all rights into and to paper including but not limited to all copyrights in the SEBATIK. The author represents and warrants that the original is the original and that he/she is the author of this paper unless the material is clearly identified as the original source, with notification of the permission of the copyright owner if necessary.
A Copyright permission is obtained for material published elsewhere and who require permission for this reproduction. Furthermore, I / We hereby transfer the unlimited publication rights of the above paper to SEBATIK. Copyright transfer includes exclusive rights to reproduce and distribute articles, including reprints, translations, photographic reproductions, microforms, electronic forms (offline, online), or other similar reproductions.
The author's mark is appropriate for and accepts responsibility for releasing this material on behalf of any and all coauthor. This Agreement shall be signed by at least one author who has obtained the consent of the co-author (s) if applicable. After the submission of this agreement is signed by the author concerned, the amendment of the author or in the order of the author listed shall not be accepted.