MEMBANGUN SISTEM INFROMASI E-LEARNING PERKULIAHAN STMIK WICIDA SAMARINDA
Keywords:
E-learning, Sistem Informasi, Pengujian Beta
Abstract
Penggunaan electronic learning (e-learning) dalam perkuliahan sudah banyak diterapkan di beberapa perguruan tinggi terutama di STMIK Widya Cipta Dharma. Dengan sistem ini, para mahasiswa dapat mengakses materi kuliah dan tugas secara online. E-learning sangat membantu dalam sistem perkuliahan bagi dosen dan mahasiswa, terutama bagi dosen atau mahasiswa yang tidak dapat hadir, tetapi tetap dapat mendapatkan materi perkuliahan melalui media online ini. Namun pada kenyataannya di  lapangan penggunaan e-learning di kampus masih belum efektif dan belum digunakan secara maksimal. Hal ini dikarnakan penggunaan E-learning (dosen dan mahasiwa) pada STMIK Widya Cipta Dharma masih banyak yang belum familiar dan terbiasa menggunakaan sistem E-lerning. Dari permasalahan tersebut maka dibuatlah Sistem Informasi E-learning pada STMIK Widya Cipta Dharma Untuk membantu dalam proses belajar dan mengajar, dan dalam pengujian nanti akan digukakan metode Pengujian Beta agar fungsi dan keguaan dapat terlihat dengan baik dan efektif.
Downloads
Download data is not yet available.
References
Hasanah, U., Ismarmiaty, I. and Bachtiar, A., 2017, August. Analisis Simulasi Goodness Of Fit (GOF) pada Uji Model Penerimaan E-Learning. In Seminar Nasional Aplikasi Teknologi Informasi (SNATI)

Hanum, N.S., 2013. Keefetifan E-Learning sebagai Media Pembelajaran (Studi Evaluasi Model Pembelajaran E-Learning SMK Telkom Sandhy Putra Purwokerto). Jurnal Pendidikan Vokasi, 3(1).

Qomariah, S., Pratiwi, H. and Arfyanti, I., 2014. Membangun E-Lerning Menggunakan Moodle Pada STMIK Widya Cipta Dharma Samarinda. SEMNASTEKNOMEDIA ONLINE, 2(1), pp.3-04Widhya, D., & Ramaiyulis, Penerapan Teknologi Defaunasi untuk Meningkatkan Produksi Air Susu Sapi Perah. Jurnal P & PT, III (3), 91-96.

Ramadiani, R. and Azainil, A. 2013. Model User Interface Acceptance Untuk Evaluasi E-Learning, Prosiding SeNAIK, pp. 108-114.

Safii, M. and Vidy, V. 2017. Perancangan Sistem Informasi Badan Penjaminan Mutu Internal STMIK Balikpapan Berbasis Website Responsive, Sebatik, 18(1), pp. 10-16

Sari, B.K., 2015. Evaluasi Penyelenggaraan E-Learning Dalam Pembelajaran Di SMA Negeri Aro Semarang (doctoral dissertation, universitas negeri semarang).

Yulsilviana, E., Yusnita, A. and Ridhuan. S, M. 2016. Sistem Informasi Administrasi Akademik Pada Baak STMIK Widya Cipta Dharma Samarinda Berbasis Web, Sebatik, 16(1), pp. 26-33.

Yulsilviana, E., Basrie, B. and Saputra, A. W. 2017. Implementasi Augmented Reality pemasaran rumah PT. Rika Bersaudara Sakti Menggunakan Metode Marker Based Tracking Pada Brosur Perumahan, Sebatik, 17(1), pp. 11-15.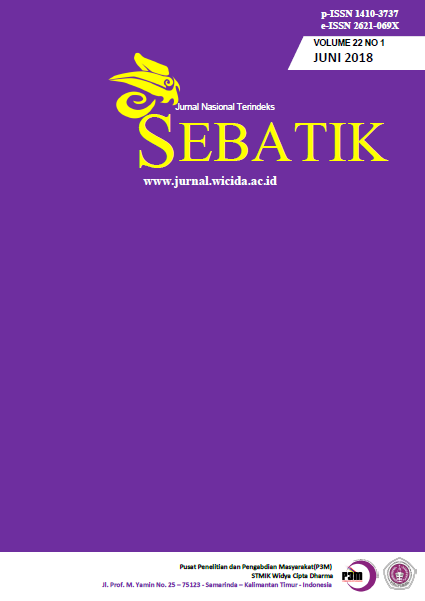 How to Cite
Basrie, B. and Yusnita, A. (2018) "MEMBANGUN SISTEM INFROMASI E-LEARNING PERKULIAHAN STMIK WICIDA SAMARINDA", Sebatik, 22(1), pp. 10-14. Available at: https://jurnal.wicida.ac.id/index.php/sebatik/article/view/204 (Accessed: 19January2022).
The copyright of this article is transferred to SEBATIK and STMIK Widya Cipta Dharma, when the article is accepted for publication. the authors transfer all and all rights into and to paper including but not limited to all copyrights in the SEBATIK. The author represents and warrants that the original is the original and that he/she is the author of this paper unless the material is clearly identified as the original source, with notification of the permission of the copyright owner if necessary.
A Copyright permission is obtained for material published elsewhere and who require permission for this reproduction. Furthermore, I / We hereby transfer the unlimited publication rights of the above paper to SEBATIK. Copyright transfer includes exclusive rights to reproduce and distribute articles, including reprints, translations, photographic reproductions, microforms, electronic forms (offline, online), or other similar reproductions.
The author's mark is appropriate for and accepts responsibility for releasing this material on behalf of any and all coauthor. This Agreement shall be signed by at least one author who has obtained the consent of the co-author (s) if applicable. After the submission of this agreement is signed by the author concerned, the amendment of the author or in the order of the author listed shall not be accepted.