PENERAPAN METODE ANALYTICAL HIERARCY PROCESS (AHP) PADA PEMILIHAN STAF LABORATORIUM KOMPUTER STMIK WIDYA CIPTA DHARMA SAMARINDA
Keywords:
penerapan, Analytical Hierarcy Process (AHP), pemilihan, Staf Laboratorium Komputer
Abstract
Dalam perkembangannya STMIK Widya Cipta Dharma Samarinda dibantu unsur pelaksana akademik yang salah satunya adalah bagian laboratorium komputer. Tugas utama dari staf laboratorium komputer diantarannya: pelayanan administrasi praktikum, persiapan praktikum, pengrekrutan dan pembinaan asisten laboratorium komputer, memantau serta mengawasi pelaksanaan praktikum dan ujian praktikum. Mengingat pentingnya peranan staf laboratorium komputer sebagai salah satu elemen organisasi laboratorium komputer untuk pencapaian tujuan dan perkembangan STMIK Widya Cipta Dharma Samarinda. Dalam penentuan staf laboratorium komputer pihak manajemen mengalami kesulitan didalam menentukan staf yang tepat untuk diposisikan pada laboratorium komputer mengingat banyaknya pelamar dari tingkat pendidikan yang sama. Pemilihan Staf Laboratorium Komputer Pada STMIK Widya Cipta Dharma Samarinda dilakukan dengan metode Analytical Hierartical Process (AHP).
Downloads
Download data is not yet available.
References
Harpad, B. and Salmon, S. 2018. Penerapan Metode Ahp Dan Metode Topsis Dalam Sistem Pendukung Keputusan Pemilihan Asisten Laboratorium Komputer Pada Stmik Widya Cipta Dharma Samarinda, Sebatik, 19(1), pp. 28-34.

H. Kridalaksana, A., Salmon, S. and Hafis, M. B. 2016.Aplikasi Pengelolaan Data Praktikum Laboratorium Komputer Stmik Widya Cipta Dharma Berbasis Intranet, Sebatik, 16(1), pp. 1-8.

Lailiyah, S., Salmon, S. and Haeda, N. 2016. Sistem Pendukung Keputusan Menentukan Anak Asuh Pena Prestasi Menggunakan Metode Saw (Simple Additive Weighting) Pada Lembaga Amil Zakat Dana Peduli Ummat Kalimantan Timur, Sebatik, 15(1), pp. 25-30.

McLeod Jr, Raymond, dan Schell George P. 2007, Management Information System 10th Edition. New Jersey: Prentice Hall

Palupi, S., Lailiyah, S. and Sihotang, V. 2018. Sistem Pendukung Keputusan Pemerimaan Karyawan pada PT. Suryaintan Tri Lestari dengan Metode AHP Berbasis Web, Sebatik, 11(1), pp. 25-31.

Ravindratnath. 2003. Decision Support Systems and Data Warehouses. New Delhi, New Age International

Sauter, Vicky L. 2010. Decision Support Systems for Business Intelligence 2nd Edition, New Jersey, John Wiley & Sons.

Saaty, Thomas L. 2008, Science Journal Decision Making with The Analytic Hierarchy Process, Int. J. Services Sciences, Vol. 1.

Turban Efraim, Aronson Jay E. , dan Liang Ting Peng 2005, Decision Support System And Intelligent Systems 7th Edition, New Jersey, Prentice-Hall, Inc.

Turban, Efraim., Sharda, Ramesh.,& Delen, Dursun., 2011,"Decision Support and Business Intelligence Systems", Edisi 9, Pearson Education Inc

Ukkas, M., Yusnita, A. and Wandana, E. 2018. Sistem Pendukung Keputusan Kelayakan Pemberian Kredit Menggunakan Metode AHP Pada Bank Danamon Cabang Segiri Samarinda, Sebatik, 10(1), pp. 22-28.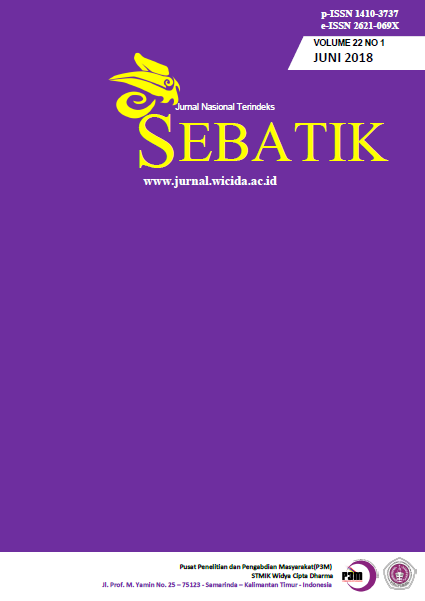 How to Cite
Salmon, S. and Harpad, B. (2018) "PENERAPAN METODE ANALYTICAL HIERARCY PROCESS (AHP) PADA PEMILIHAN STAF LABORATORIUM KOMPUTER STMIK WIDYA CIPTA DHARMA SAMARINDA", Sebatik, 22(1), pp. 22-29. Available at: https://jurnal.wicida.ac.id/index.php/sebatik/article/view/206 (Accessed: 19January2022).
The copyright of this article is transferred to SEBATIK and STMIK Widya Cipta Dharma, when the article is accepted for publication. the authors transfer all and all rights into and to paper including but not limited to all copyrights in the SEBATIK. The author represents and warrants that the original is the original and that he/she is the author of this paper unless the material is clearly identified as the original source, with notification of the permission of the copyright owner if necessary.
A Copyright permission is obtained for material published elsewhere and who require permission for this reproduction. Furthermore, I / We hereby transfer the unlimited publication rights of the above paper to SEBATIK. Copyright transfer includes exclusive rights to reproduce and distribute articles, including reprints, translations, photographic reproductions, microforms, electronic forms (offline, online), or other similar reproductions.
The author's mark is appropriate for and accepts responsibility for releasing this material on behalf of any and all coauthor. This Agreement shall be signed by at least one author who has obtained the consent of the co-author (s) if applicable. After the submission of this agreement is signed by the author concerned, the amendment of the author or in the order of the author listed shall not be accepted.