AKSES INFORMASI BPJS KESEHATAN BAGI KELOMPOK MASYARAKAT BERKEBUTUHAN KHUSUS (STUDI PADA KELOMPOK DEAF)
Sinta Swastikawara

Jurusan Ilmu Komunikasi, FISIP, Universitas Brawijaya
Keywords:
Akses Informasi, Deaf, BPJS Kesehatan, Berkebutuhan Khusus
Abstract
Penelitian ini bertujuan untuk mendeskripsikan akses informasi kelompok deaf atas informasi terkait BPJS Kesehatan. Penelitian ini dilakukan merujuk pada beberapa penelitian terdahulu yang telah melakukan pada kelompok deaf pada lingkup health literacy namun belum dilakukan penelitian terkait akses informasi asuransi kesehatan publik yang juga diperoleh kelompok ini. Penelitian ini dilakukan dengan menggunakan metode studi kasus. Hasil dari penelitian ini menunjukkan bahwa akses informasi kelompok deaf terkait BPJS Kesehatan masih menggantungkan pada keberadaan pendamping mereka. Upaya yang dilakukan oleh organisasi kesehatan masih berkisar pada pemberian brosur informasi maupun penjelasan melalui teknik tulisan tangan. Hal ini berimplikasi pada persepsi kelompok deaf atas BPJS Kesehatan yang dianggap masih kurang memenuhi kebutuhan mereka terkait informasi asuransi publik. Di sisi lain, kelompok deaf juga memandang bahwa tenaga kesehatan yang berada di bawah naungan BPJS Kesehatan harusnya paham dan mengerti tentang cara berkomunikasi yang tepat dengan mereka, sehingga tidak menimbulkan kecurigaan dan anggapan negatif pada tenaga kesehatan yang menangani mereka.            
Downloads
Download data is not yet available.
References
Dickson, M., & Magowan, R. 2014. Meeting Deaf Patient's Communication Needs. Nursing Times, 110 (49), 12-15.
Firdaus, F., & Iswahyudi, F. 2010. Aksesibilitas dalam Pelayanan Publik Khusus untuk Masyarakat dengan Kebutuhan Khusus. 6 (3). 1-16.
Haricharan, H J., Heap, M., Hacking, D., & Lau, Y K. 2017. Health Promotion Via SMS Improves Hypertension Knowledge for Deaf South Africans. BMC Public Health, 17 (663), 1-17.
Haryono, T S H., Kinasih, S E., & Mas'sudah, S. 2013. Akses dan Informasi bagi Perempuan Penyandang Disabilitas dalam Pelayanan Kesehatan Reproduksi dan Seksualitas. Masyarakat, Kebudayaan dan Politik, 26 (2), 65-79.
Naseribooriabad, T., Sadough, F., & Sheikhtaher, A. 2017. Barriers and Facilitators of Health Literacy among D/deaf Individuals: A Review Article. Iran J Public Health, 46 (11), 1465-1474.
Napier, J., & Kidd, M R. 2013. English Literacy as a Barrier to Health Care Information for Deaf People
Who Use Auslan. Australian Family Physician, 42 (12), 896-899.
Orsi, J M., Anast, H M., Perlman, T S., Giloth, B E., & Whitman, S. 2007. Cancer Screening Knowledge, Attitudes, and Behaviors Among Culturally Deaf Adults: Implications for Informed Decision Making. Cancer Detection and Prevention, 31 (2007), 474-479.
Sadler, G R., Branz, P., Fager, M., Seegers, S., & Shimasaki, S. 2012. Health Promotion via Deaf Friendly Ministries. J Canc Educ, 27 (2012), 606-611.
Smith, C E., Massey-Stokes, M., & Lieberth, A. 2012. Health Information Needs of D/Deaf Adolescent Females: a Call to Action. American Annals of the Deaf, 157 (1), 1-9.
Syukria, O A., dan Supriyanto, S. 2016. Determinan Pemanfaat Puskesmas Pada Anak Penyandang Disabilitas. Jurnal Administrasi Kesehatan Indonesia, 4 (1), 37-47.
Thomas, R K. 2008. Health Communication. New York: Springer.
Wright, K B; Sparks, L; O'hair, H D. 2013. Health Communication in the 21st Century. United Kingdom: Wiley Blackwell.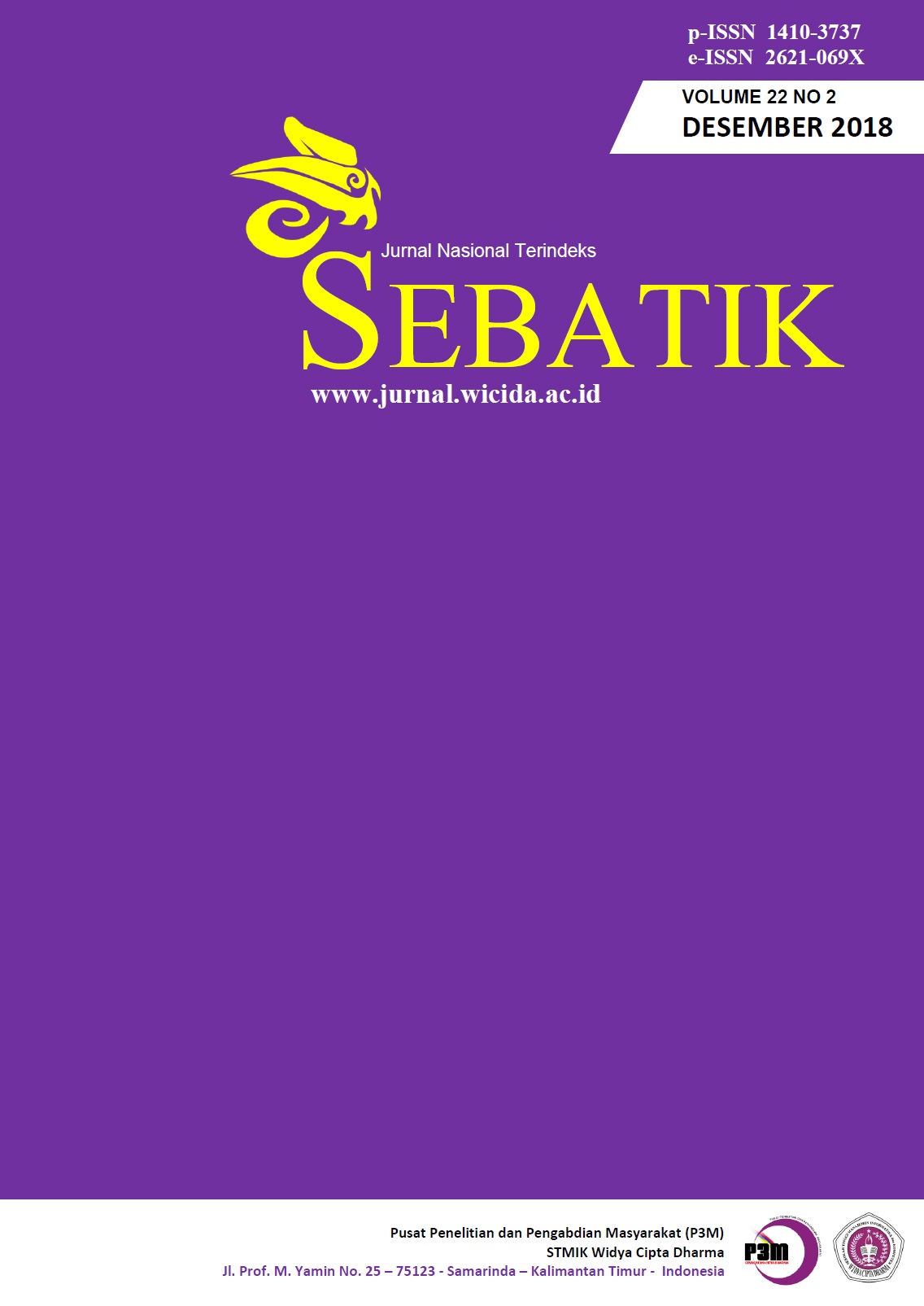 How to Cite
Swastikawara, S. (2018) "AKSES INFORMASI BPJS KESEHATAN BAGI KELOMPOK MASYARAKAT BERKEBUTUHAN KHUSUS (STUDI PADA KELOMPOK DEAF)", Sebatik, 22(2), pp. 35-40. Available at: https://jurnal.wicida.ac.id/index.php/sebatik/article/view/305 (Accessed: 21October2021).
The copyright of this article is transferred to SEBATIK and STMIK Widya Cipta Dharma, when the article is accepted for publication. the authors transfer all and all rights into and to paper including but not limited to all copyrights in the SEBATIK. The author represents and warrants that the original is the original and that he/she is the author of this paper unless the material is clearly identified as the original source, with notification of the permission of the copyright owner if necessary.
A Copyright permission is obtained for material published elsewhere and who require permission for this reproduction. Furthermore, I / We hereby transfer the unlimited publication rights of the above paper to SEBATIK. Copyright transfer includes exclusive rights to reproduce and distribute articles, including reprints, translations, photographic reproductions, microforms, electronic forms (offline, online), or other similar reproductions.
The author's mark is appropriate for and accepts responsibility for releasing this material on behalf of any and all coauthor. This Agreement shall be signed by at least one author who has obtained the consent of the co-author (s) if applicable. After the submission of this agreement is signed by the author concerned, the amendment of the author or in the order of the author listed shall not be accepted.