CITRA MEREK, KUALITAS PRODUK, HARGA DAN PENGARUHNYA PADA MINAT BELI ULANG PRODUK KECANTIKAN WARDAH
Silvia Nurfitriana

Manajemen, Fakultas Ekonomi dn Bisnis, Universitas Trilogi

Francy Iriani

Manajemen, Fakultas Ekonomi dn Bisnis, Universitas Trilogi
Keywords:
Citra merek, Kualitas Produk, Harga, Minat beli ulang, Kosmetik
Abstract
Berdasarkan award yang diberikan untuk katagori kosmetik tahun 2018, Wardah merupakan salah satu merek yang masuk dalam katagori produk paling diminati konsumen Positioning produk sebagai produk yang halal juga menarik minat peneliti untuk melihat apakah terdapat pengaruh dari citra merek, kualitas produk dan harganya terhadap minat beli ulang produk kecantikan produksi PT Paragon Technology and Innovation  ini.  Penelitian ini merupakan explanatory reserch yang berusaha menjelaskan hubungan kausal antara variabel bebas berupa Citra Merek, Kualitas Produk dan Harga dengan variabel terikat yaitu Minat Beli Ulang. Penelitian dilakukan di Jakarta. Sampel penelitian diambil menggunakan teknik non probability sampling dengan sampling purposive, dan sampel penelitian diambil sebanyak 150 responden, sesuai perhitungan rumus SEM, jumlah indikator dikalikan sepulusilvianurfitriana79@gmail.cinh. Data primer diperoleh dengan cara menyebarkan kuesioner dengan menggunakn skala likert. Data kemudian diolah dengan menggunakan pendekatan Partial Least Square (PLS) dengan menggunakan software SmartPLS versi 20.m3. Hasil penelitian ini Variabel Citra Merek yang terdiri dari dimensi Identitas Merek dan Citra poduk berpengaruh positif terhadap Minat Beli Ulang. Variabel Kualitas Produk berpengaruh positif terhadap Minat Beli. Variabel Harga berpengaruh positif terhadap Minat Beli Ulang Produk. variabel yang paling berpengaruh terhadap Minat Beli Ulang adalah Kualitas Produk.
Downloads
Download data is not yet available.
References
Arinita Febrianti Wahyudi, Bambang Irawan, N. Ari Subagio, 2014. Pengaruh, Citra Merek, Kualitas Produk, Dan Harga Terhadap Perpindahan Merek, Artikel Ilmiah Mahasiswa.
Aristia Rosiani Nugroho, Angela Irena, The Impact of Marketing Mix, Consumer's Characteristics, and Psychological Factors to Consumer's Purchase Intention on Brand "W" in Surabaya, iBuss Management Vol. 5, No. 1, (2017) 55-69
Destalianiko. A. 2017. Pengaruh Kualitas Produk, Citra Merek, dan Harga Pada Keputusan Membeli Lipstic Wardah. https://repository.usd.ac.id/12796/2/132214100_full.pdf. (diakses 12 Agustus 2018).
Frontier Consulting Group. 2018.Top Brand Award Fase 1 2018. http://www.topbrand-award.com/top-brand-survey/survey-result/top_brand_index_2018_fase_1 (diakses 12 Agustus 2018).
Gary Armstrong, Philip Kotler, Valerie Thrifts, Lily Anne Buchwitz, 2017, Marketing an Introduciton, 6th ed, Toronto: Pierson Canada Inc.
Hasan Ali, 2013, Marketing, Cetakan Pertama, Yogyakarta: Media Pressdindo.
Ikanita, Analisis pengaruh citra merek, kualitas produk dan harga terhadap minat beli konsumen Oriflame, Diponegoro Journal of Management, Volume 1, Nomor 1, Tahun 2012, Halaman 1
J. Paul Peter dan Jerry Olson, , 2014 Consumer Behavior and Marketing Strategy, 10th ed, New York, McGraw-Hill Education.
Jean Noel Kapferer,2008,The new Strategic brand management,4th ed, Philadelphia: Kogan.
Kevin Lane Keller, Strategic Brand Management.4th ed New Jersey. Pearson Education Limited
Leon G. Schiffman • Joseph L. Wisenblit, 2015, Consumer Behavior, 11th ed, New Jersey: Pearson Education Limited.
Michael R Solomon, Gregg W Marshall, ElNora W Stuart, 2018, Marketing, Real People Real Choices, 9th ed, New Jersey: Pearson Education Inc.
Putri Ayuniah, 2017, Analisis Pengaruh Citra Merek, Kulaitas produk, iklan dan harga Terhadap Keputusan Pembelian Produk Kosmetik Wardah (Studi Kasus Pada Mahasiswa Jurusan Manajemen Fakultas Ekonomi Universitas Gunadarma Depok) Jurnal Ekonomi Bisnis Volume 22 No.3, Desember.
Sugiyono. 2012. Memahami Penelitian Kualitatif. Bandung: CV. Alfabeta
Tjiptono Fandy dan Diana A. 2016, Pemasaran Esensi dan Aplikasi. Edisi satu. Yogyakarta : Andi Offset.
William D. Perreault Jr, Joseph P. Cannon dan E. Jerome McCarthy,2017,Essentials of Marketing A Marketing Strategy Planning Approach, 15th ed, New York, McGraw-Hill Education.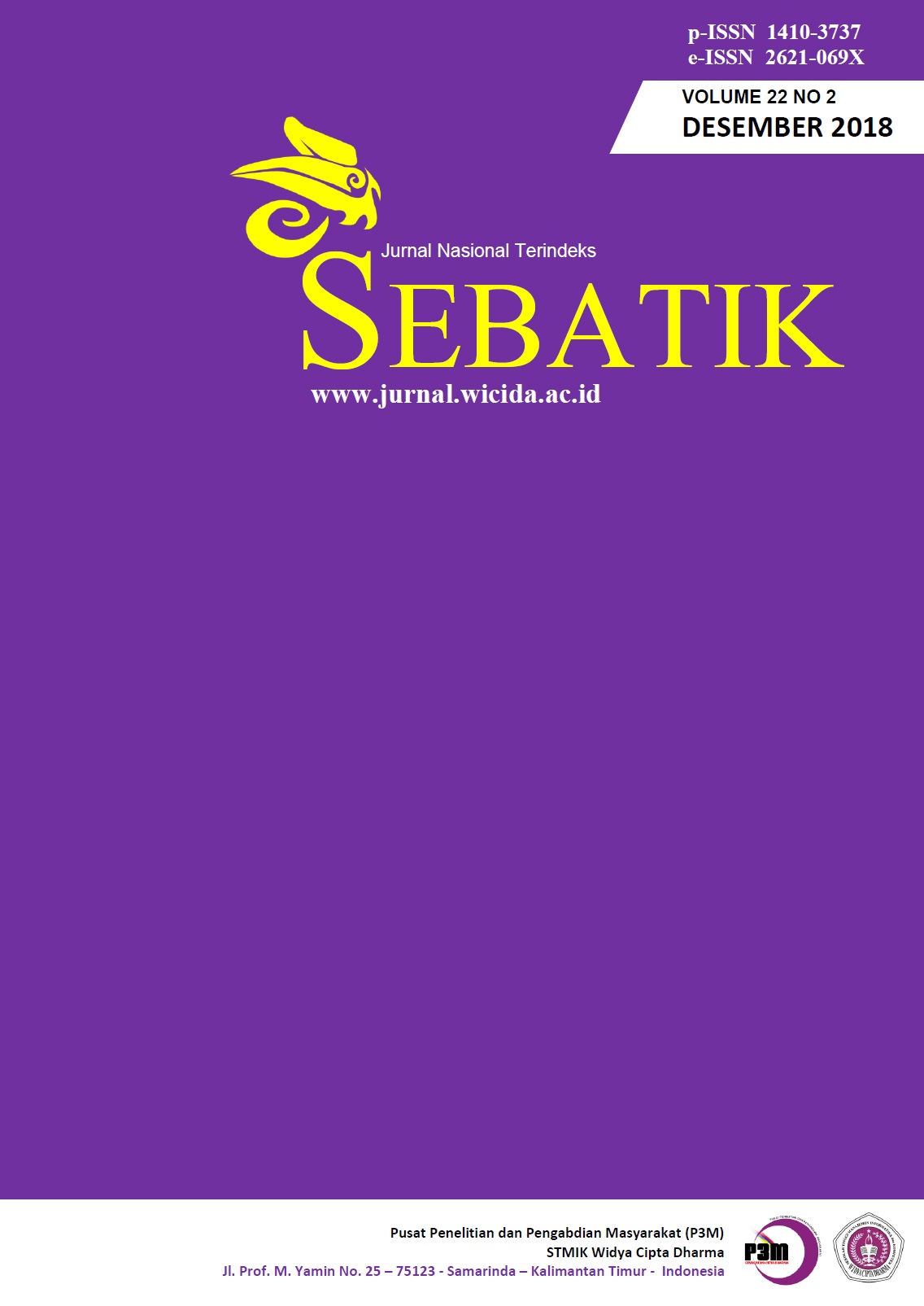 How to Cite
Nurfitriana, S. and Iriani, F. (2018) "CITRA MEREK, KUALITAS PRODUK, HARGA DAN PENGARUHNYA PADA MINAT BELI ULANG PRODUK KECANTIKAN WARDAH", Sebatik, 22(2), pp. 56-63. Available at: https://jurnal.wicida.ac.id/index.php/sebatik/article/view/308 (Accessed: 28November2021).
The copyright of this article is transferred to SEBATIK and STMIK Widya Cipta Dharma, when the article is accepted for publication. the authors transfer all and all rights into and to paper including but not limited to all copyrights in the SEBATIK. The author represents and warrants that the original is the original and that he/she is the author of this paper unless the material is clearly identified as the original source, with notification of the permission of the copyright owner if necessary.
A Copyright permission is obtained for material published elsewhere and who require permission for this reproduction. Furthermore, I / We hereby transfer the unlimited publication rights of the above paper to SEBATIK. Copyright transfer includes exclusive rights to reproduce and distribute articles, including reprints, translations, photographic reproductions, microforms, electronic forms (offline, online), or other similar reproductions.
The author's mark is appropriate for and accepts responsibility for releasing this material on behalf of any and all coauthor. This Agreement shall be signed by at least one author who has obtained the consent of the co-author (s) if applicable. After the submission of this agreement is signed by the author concerned, the amendment of the author or in the order of the author listed shall not be accepted.