IDENTIFYING STUDENTS' ACADEMIC ACHIEVEMENT AND PERSONALITY TYPES WITH NAIVE BAYES CLASSIFICATION
Sri Mulyati

Department Informatics Engineering, Faculty of Industrial Technology, Islamic University of

Novi Setiani

Department Informatics Engineering, Faculty of Industrial Technology, Islamic University of Indonesia
Keywords:
MBTI, Naïve Bayes Classifier, Machine learning
Abstract
MBTI Psychometry is the science of psychological measurement comprised of 4 opposite dimensions, namely energy orientation with Extrovert vs. Introvert, the way to manage information by sensing and Intuition, Dimensions of drawing conclusions & decisions: Thinking (T) vs. Feeling (F), and Dimensions of lifestyle: Judging (J) vs. Perceiving (P) . Students' length of study is mainly influenced by both external and internal factors of the students' individual. It is possible to measure the internal aspect of students by psychometric measurements. In addition, it is also viable to determine students' study pattern with Machine learning technology to reveal the two factors influencing the students' length of study. This study uses some of the students' attributes including GPA, and the results of the 4-dimensional measurement based on passed courses and active courses. Samples were collected from students of the academic year of 2014 comprised of 63 students from the Psychological Department and 28 students from Informatics Engineering Department. The training data taken were 63 samples and the testing data were 28. In this study, the training data were used to establish the study pattern of students based on personality types. This study uses the Naïve Bayes Classifier algorithm to classify 63 training data with the value of Correctly Classified Instances of 82,53%. The 28 testing data with Correct Classified Instances amounted to 96.4286%. The test method is equipped with cross-validation of 8 folds resulting in the percentage of 80.95%.
Downloads
Download data is not yet available.
References
Bouckaert, R. R., Frank, E., Hall, M., Kirkby, R., Reutemann, P., Seewald, A., & Scuse, D. (2013). WEKA Manual for Version 3-7-8, 1–327. Retrieved from papers3://publication/uuid/24E005A2-AA1B-4614-BAF5-4D92C4F37413
Wandrial, S. (2014). Universitas Bina Nusantara Dengan Menggunakan Myers-Briggs Type Indicator ( Mbti ), 5(1), 344–354.
Wandrial, S. (2015). THE RELATIONSHIP OF MBTI AND STUDENT GPA SCORE IN BINUS MANAGEMENT CLASS 2015, (9), 103–112.
Mulyati, S., Setiani, N., & Gusniarti, U. (2018). Jurnal Rabit, 116–124.
Myers, MH, McCaulley, NL Quenk. 1999. MBTI Manual: A Guide to the Development and Use of the Myers-Briggs Type Indicator. Consulting Psychologists Press, Incorporated.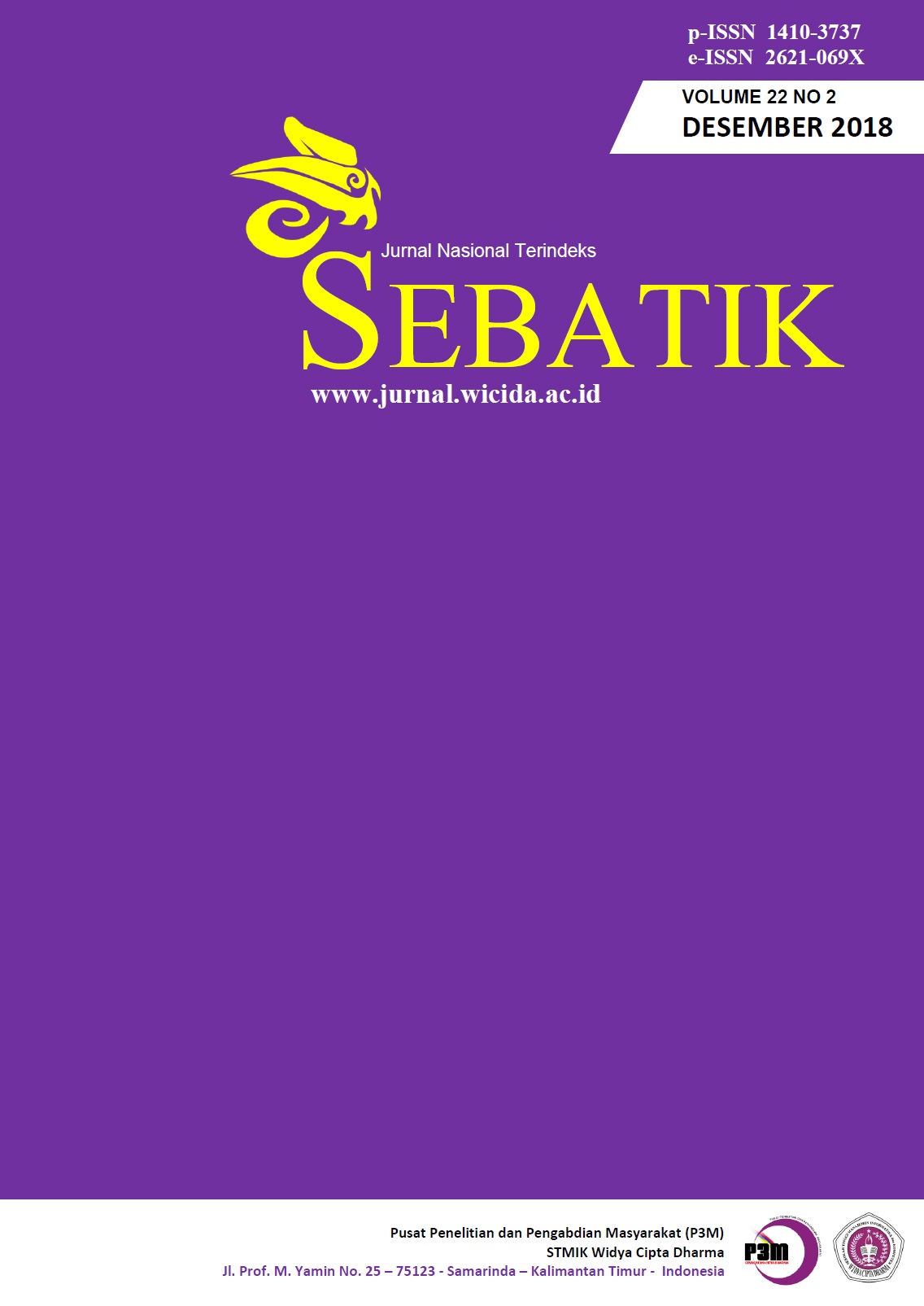 How to Cite
Mulyati, S. and Setiani, N. (2018) "IDENTIFYING STUDENTS' ACADEMIC ACHIEVEMENT AND PERSONALITY TYPES WITH NAIVE BAYES CLASSIFICATION", Sebatik, 22(2), pp. 64-68. Available at: https://jurnal.wicida.ac.id/index.php/sebatik/article/view/309 (Accessed: 19April2021).
The copyright of this article is transferred to SEBATIK and STMIK Widya Cipta Dharma, when the article is accepted for publication. the authors transfer all and all rights into and to paper including but not limited to all copyrights in the SEBATIK. The author represents and warrants that the original is the original and that he/she is the author of this paper unless the material is clearly identified as the original source, with notification of the permission of the copyright owner if necessary.
A Copyright permission is obtained for material published elsewhere and who require permission for this reproduction. Furthermore, I / We hereby transfer the unlimited publication rights of the above paper to SEBATIK. Copyright transfer includes exclusive rights to reproduce and distribute articles, including reprints, translations, photographic reproductions, microforms, electronic forms (offline, online), or other similar reproductions.
The author's mark is appropriate for and accepts responsibility for releasing this material on behalf of any and all coauthor. This Agreement shall be signed by at least one author who has obtained the consent of the co-author (s) if applicable. After the submission of this agreement is signed by the author concerned, the amendment of the author or in the order of the author listed shall not be accepted.