EVALUASI TATAKELOLA INFRASTRUKTUR TI DENGAN FRAMEWORK COBIT 5 (STUDI KASUS: STMIK–STIE MIKROSKIL)
Elly Elly

Sistem Informasi, STMIK Mikroskil

Fandi Halim

Sistem Informasi, STMIK Mikroskil
Keywords:
Tatakelola, COBIT 5, Process Assessment Model,, Skor Kapabilitas
Abstract
Evaluasi tatakelola infrastruktur TI menggunakan framework COBIT 5, studi kasus pada STMIK-STIE Mikroskil di Medan yang bertujuan untuk mengevaluasi infrastruktur TI yang diadopsi dan digunakan oleh sekolah tinggi apakah telah memenuhi standar framework COBIT 5. Evaluasi dilakukan oleh Pusat Sistem Informasi (PSI) sebagai pusat manajemen data. Data dikumpulkan lewat wawancara, kuesioner dan pemeriksaan dokumen, observasi dan investigasi kinerja. Sepuluh proses dalam lima domain – EDM, APO, BAI, DSS dan MEA – dievaluasi menggunakan Process Assessment Model (PAM) seperti yang ditentukan oleh ISACA. Rentang skor dari Level 0 (Non-existent) sebagai skor terendah menuju Level 5 (Optimizing) sebagai skor tertinggi. Skor dikumpulkan kemudian diterjemahkan ke dalam domain COBIT 5 dalam bentuk evaluasi penilaian kapabilitas untuk setiap domain. Penelitian menunjukkan saat ini STMIK-STIE Mikroskil memiliki beberapa hasil. Pertama, ada lima proses mencapai level 1 seperti EDM02, EDM04, APO04, BAI02, MEA01. Kedua, ada empat proses mencapai level 3 seperti EDM01, APO01, APO03, APO07. Ketiga, dan ada satu proses mencapai target level 4 seperti DSS05.
Downloads
Download data is not yet available.
References
Chanopas, A., Krairit, D. & Khang, D. B., 2006. Managing Information Technology Infrastructure: A New Flexibility Framework. Management Research News, p. 21.
Hidayat & Rahmat, A., 2015. Audit Control Capability Level Tata Kelola Sistem Informasi Menggunakan COBIT 5 (Studi: Direktorat TIK UPI Bandung). Jurnal Informasi, Nopember, VII(No.2), p. 15.
ISACA, 2011. COBIT 5: Process Reference Guide Exposure Draft. Rolling Meadows: www.isaca.org.
ISACA, 2012. A Business Framework for the Governance and Management of Enterprise IT. 6th ed. s.l.:s.n.
ISACA, 2012. COBIT 5: Enabling Processess. USA: s.n.
ISACA, 2013. Process Assessment Model (PAM): Using COBIT 5. USA: s.n.
Nugroho, H., 2013. Perancangan Model Kapabilitas Optimasi Sumber Daya TI Berdasarkan COBIT 5 Process Capability Model. Jurnal Teknologi Informasi, Mei, 1(No. 5), p. 8.
Purnomo, H., Fauziati, S. & Winarno, W. W., 2016. Penilaian Tingkat Kapabilitas Proses Tata Kelola Teknologi Informasi dengan COBIT 5 pada Domain EDM (Studi Kasus di PT.Nusa Halmahera Minerals). Yogyakarta, Konferensi Nasional Teknologi Informasi dan Komunikasi (KNASTIK).
Ruslim, N., 2016. IT Governance Indonesia. [Online]
Available at: https://itgid.org/prinsip-cobit-5/
[Accessed 5 November 2018].
Santosa, C. & W., 2017. Pemetaan Penurunan Tujuan COBIT 5 Untuk Audit Keamanan Sistem Informasi (Studi Kasus: Sistem Informasi Akademik Sekolah Tinggi XYZ). p. 7.
Sarno, R., 2009. Audit Sistem dan Teknologi Informasi. Surabaya: ITS Press.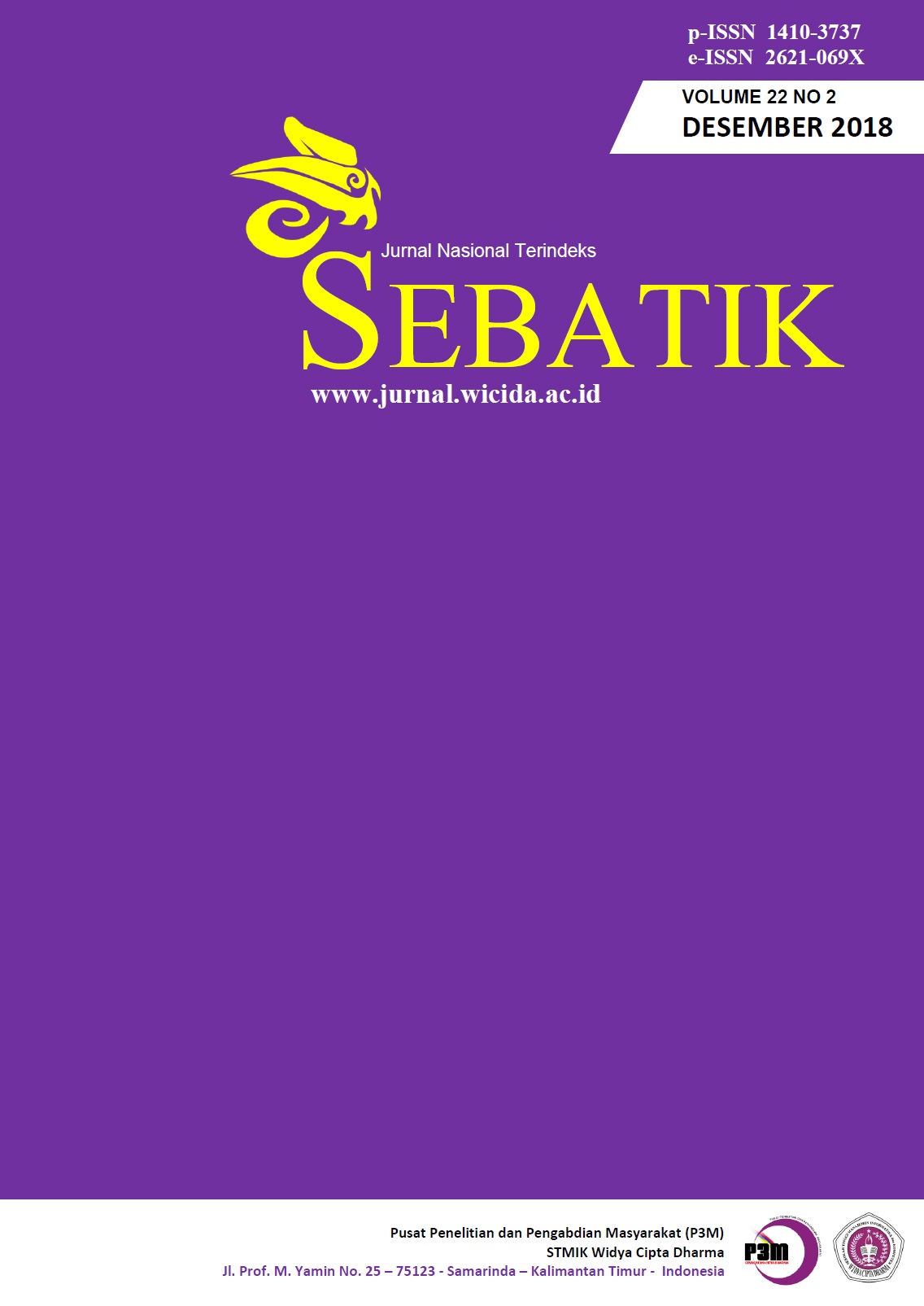 How to Cite
Elly, E. and Halim, F. (2018) "EVALUASI TATAKELOLA INFRASTRUKTUR TI DENGAN FRAMEWORK COBIT 5 (STUDI KASUS: STMIK–STIE MIKROSKIL)", Sebatik, 22(2), pp. 74-82. Available at: https://jurnal.wicida.ac.id/index.php/sebatik/article/view/311 (Accessed: 19January2022).
The copyright of this article is transferred to SEBATIK and STMIK Widya Cipta Dharma, when the article is accepted for publication. the authors transfer all and all rights into and to paper including but not limited to all copyrights in the SEBATIK. The author represents and warrants that the original is the original and that he/she is the author of this paper unless the material is clearly identified as the original source, with notification of the permission of the copyright owner if necessary.
A Copyright permission is obtained for material published elsewhere and who require permission for this reproduction. Furthermore, I / We hereby transfer the unlimited publication rights of the above paper to SEBATIK. Copyright transfer includes exclusive rights to reproduce and distribute articles, including reprints, translations, photographic reproductions, microforms, electronic forms (offline, online), or other similar reproductions.
The author's mark is appropriate for and accepts responsibility for releasing this material on behalf of any and all coauthor. This Agreement shall be signed by at least one author who has obtained the consent of the co-author (s) if applicable. After the submission of this agreement is signed by the author concerned, the amendment of the author or in the order of the author listed shall not be accepted.