IMPLEMENTASI RASPBERRY PI UNTUK APLIKASI SIGNATE BOARD JADWAL KULIAH BERBASIS WEB DENGAN SISTEM OPERASI LINUX
Agus Triyono

Jurusan Teknologi Informasi Politeknik Negeri Samarinda
Keywords:
Raspberry Pi, Signate Board, Crontab, Linux, Debian 7, Wheezy, Jadwal Kuliah
Abstract
Raspberry adalah komputer dengan ukuran fisik yang minimalis dengan kemampuan seperti komputer biasa. Hal ini dapat dimanfaatkan untuk berbagai macam keperluan salah satunya adalah sebagai pemroses penampil jadwal kuliah dengan menggunakan TV layar lebar sebagai media penampil. Sistem terdiri dari dari Raspbery Pi sebagai web hosting, databse server sebagai storage, sebagai router untuk berkomunikasi dengan jaringan TCP/IP dan secure shell servaer sebagai akses untuk proses administrasi atau konfigurasi. Dengan ukuran RAM dan bentuk yang minimal Raspberry Pi dapar menopang operasi-operasi tersebut dengan maksimal. Dengan demikian Raspberry Pi akan diuji kemampuannya jika difungsikan sebagai web server, database server dan SSH server dengan kegunaan sistem informasi jadwal kuliah berbasih web.
Downloads
Download data is not yet available.
References
Abrahamsson P, Helmer S, Phaphoom N, dkk. Affordable and energy-efficient cloud computing clusters: The bolzano raspberry pi cloud cluster experiment. Proceedings of the Cloud Computing Technology and Science (CloudCom), 2013 IEEE 5th International Conference on, 2013: IEEE, 170-5.
Dictionary CE, 2003. Complete and Unabridged© HarperCollins Publishers, 2003. Електронний ресурс. Режим доступу: http://www. thefreedictionary. com/ecology.
Ford CE, Cartwright D, 2018. Digital sign network. In.: Google Patents.
Hussain MA, Langer SG, Kohli M, 2018. Learning HL7 FHIR Using the HAPI FHIR Server and Its Use in Medical Imaging with the SIIM Dataset. Journal of digital imaging 31, 334-40.
Konopásek J, Gojda O, Klimešová D. Spatiotemporal Data Model for Web GIS.
Kraus TM, Manwani VG, Muddana S, 2018. METHOD AND SYSTEM FOR SIMPLIFYING DISTRIBUTED SERVER MANAGEMENT. In.: US Patent App. 15/783,355.
Lakkaraju V, 2010. Database integration and graphical user interface for cyber defense scoring system.
Meis J, Kashima Y, 2017. Signage as a tool for behavioral change: Direct and indirect routes to understanding the meaning of a sign. PloS one 12, e0182975.
Meloni JC, 2012. Sams teach yourself PHP, MySQL and Apache all in one. Sams Publishing.
O'leary JD, O'leary OF, Cryan JF, Nolan YM, 2018. A low-cost touchscreen operant chamber using a Raspberry Pi™. Behavior research methods, 1-8.
Park HW, Bae M, Lee S, Park K, 2018. A study on the sound generation at digital signage using OLED panel. The Journal of the Acoustical Society of America 143, 1838-.
Ritchie DM, Thompson K, 1978. The UNIX time‐sharing system. Bell System Technical Journal 57, 1905-29.
Russell RF, Gregory Stone A, 2002. A review of servant leadership attributes: Developing a practical model. Leadership & Organization Development Journal 23, 145-57.
Saito K, Nakamura K, Ueta M, dkk., 2015. Utilizing the Cyberforest live sound system with social media to remotely conduct woodland bird censuses in Central Japan. Ambio 44, 572-83.
Ylonen T, Lonvick C, 2005. The secure shell (SSH) protocol architecture. In.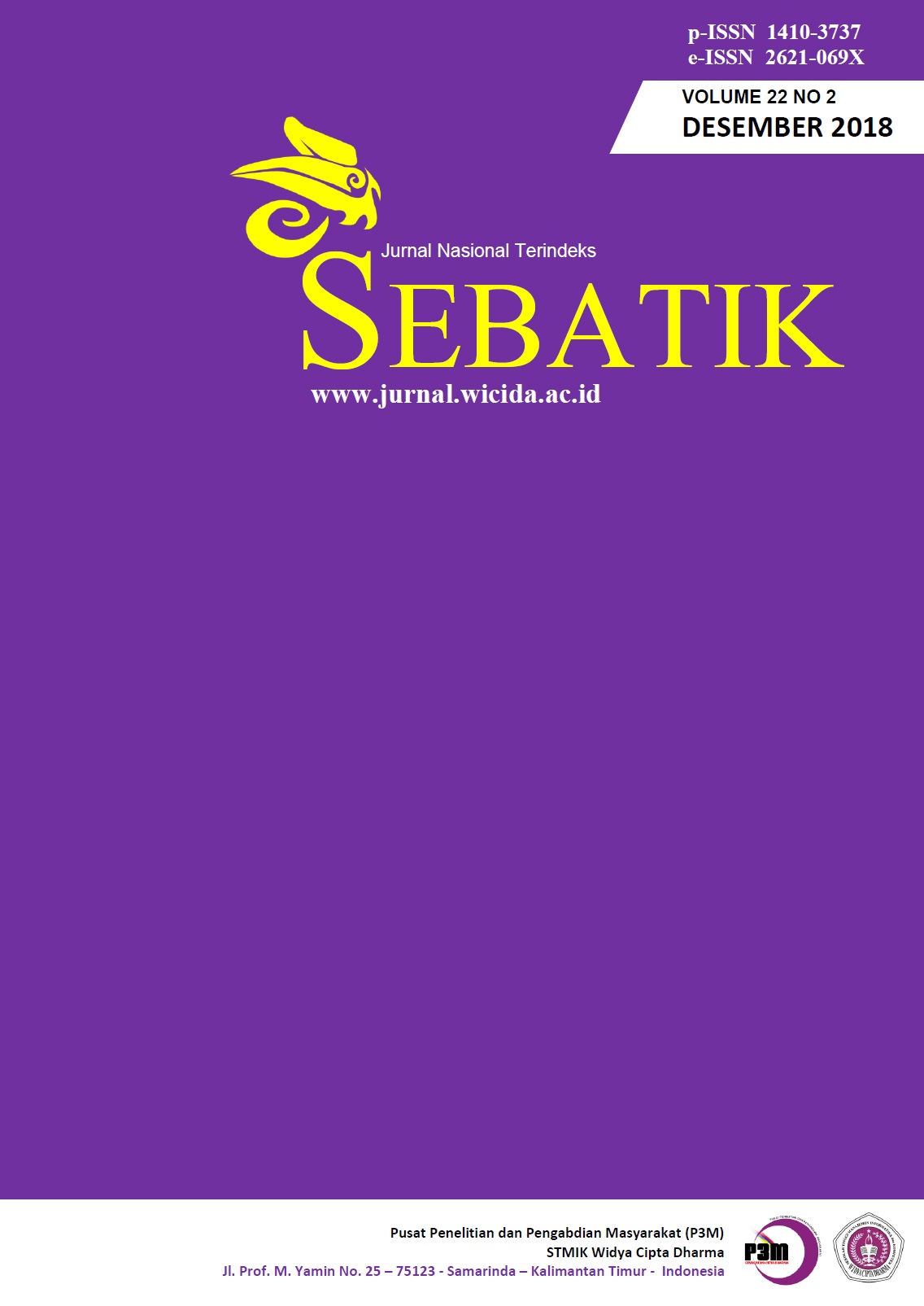 How to Cite
Triyono, A. (2018) "IMPLEMENTASI RASPBERRY PI UNTUK APLIKASI SIGNATE BOARD JADWAL KULIAH BERBASIS WEB DENGAN SISTEM OPERASI LINUX", Sebatik, 22(2), pp. 102-106. Available at: https://jurnal.wicida.ac.id/index.php/sebatik/article/view/315 (Accessed: 27June2022).
Authors retain all their rights to the published works, such as (but not limited to) the following rights; Copyright and other proprietary rights relating to the article, such as patent rights, The right to use the substance of the article in own future works, including lectures and books, The right to reproduce the article for own purposes, The right to self-archive the article