IPTEK BAGI MASYARAKAT: PENERAPAN IoT DENGAN SMARTPHONE PADA SMK PLUS AL-MUSYARROFAH SEBAGAI UPAYA PENCAPAIAN SUSTAINABLE DEVELOPMENT GOAL TUJUAN 4 TARGET 3
Mohamad Salman Alfarisi

Manajemen Informatika, Fakultas Teknologi Informasi, Universitas Budi Luhur
Keywords:
Sustainable Development Goals, Kualitas Pendidikan, Internet of Thing, Iot, Smartphone
Abstract
Sustainable Development Goals (SDGs) memiliki 17 goals dan 169 target, salah-satu fokus SGDs adalah tujuan nomor 4, yaitu menjamin kualitas pendidikan yang adil dan inklusif serta mempromosikan kesempatan belajar seumur hidup bagi semua. Sasaran dari tujuan ini adalah menjamin akses yang merata untuk perempuan dan laki-laki untuk mendapatkan kualitas teknis, kejuruan dan pendidikan tinggi yang terjangkau, termasuk universitas. SMK Plus Al-Musyarrofah memiliki dua Jurusan yaitu Teknik Komputer dan Jaringan (TKJ) serta Tata Niaga (TN). Setiap siswa Jurusan TKJ mendapatkan matapelajaran sesuai dengan jurusannya yaitu Perakitan PC, K3LH, Teknik Elektronika, Instalas PC/Pengoperasian PC, Perwatan PC dan Perbaikan Peripheral, Instalasi Software, Instalasi Perangkat Jaringan Lokal, Pengoperasian PC Tersambung Jaringan, Instalasi SOJ Berbasis GUI. Mata pelajaran yang diperoleh tersebut menitikberatkan pada hardware dan software sebagai pendukung teknologi, oleh karena itu perlu ditambahkan pengetahuan tambahan seperti Internet of Things (IOT) dengan memanfaatkan smartphone. Dengan tambahan pengetahuan IoT Siswa SMK Plus Al-Musyarrofah dapat memanfaatkan secara optimal smartphone dalam kegiatan belajar mengajar seperti IFTTT, Marcro Droid dan Tasker.
Downloads
Download data is not yet available.
References
Bagheri, M. and Haghighi Movahed, S., 2016, October. The effect of the Internet of Things (IoT) on education business model. In 2016 12th International Conference on Signal-Image Technology & Internet-Based Systems (SITIS) (pp. 435-441). IEEE Computer Society.
Data Pengguna Smartphone 2016 di Indonesia, http://arenalte.com/berita/industri/data-gfk-terbaru-2016-pengguna-smartphone-indonesia/ (diakses tanggal 28 November 2016)
Gubbi, J., Buyya, R., Marusic, S. and Palaniswami, M., 2013. Internet of Things (IoT): A vision, architectural elements, and future directions. Future generation computer systems, 29(7), pp.1645-1660.
He, J., Lo, D.C.T., Xie, Y. and Lartigue, J., 2016, October. Integrating Internet of Things (IoT) into STEM undergraduate education: Case study of a modern technology infused courseware for embedded system course. In 2016 IEEE Frontiers in Education Conference (FIE) (pp. 1-9). IEEE.
Indonesia Raksasa Teknologi Digital Asia, https://kominfo.go.id/content/detail/6095/indonesia-raksasa-teknologi-digital-asia/0/sorotan_media (diakses tanggal 28 November 2016)
Lee, I. and Lee, K., 2015. The Internet of Things (IoT): Applications, investments, and challenges for enterprises. Business Horizons, 58(4), pp.431-440.
Madakam, S., Ramaswamy, R. and Tripathi, S., 2015. Internet of Things (IoT): A literature review. Journal of Computer and Communications, 3(05), p.164.
Penerapan Internet oft Things di Indonesia, http://arenalte.com/berita/industri/ini-penerapan-internet-of-things-indonesia/ (diakses tanggal 28 November 2016)
SDGs, https://sustainabledevelopment.un.org/sdg16 diakses 10 November 2016
UNDP .2015.. Konvergensi Agenda Pembangunan Nawa Cita, RPJM, dan SDGs, Jakarta: UNDP Indonesia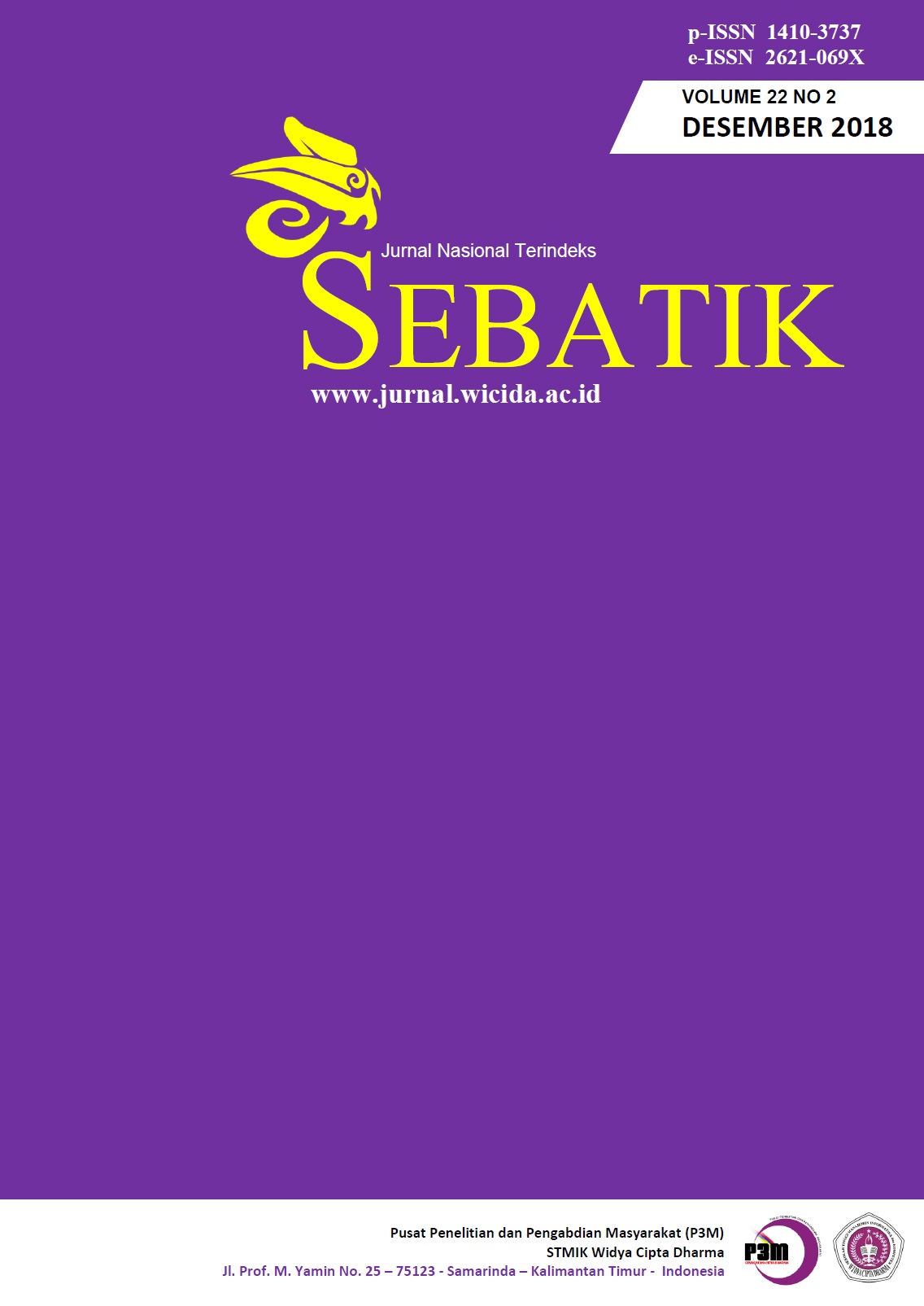 How to Cite
Alfarisi, M. (2018) "IPTEK BAGI MASYARAKAT: PENERAPAN IoT DENGAN SMARTPHONE PADA SMK PLUS AL-MUSYARROFAH SEBAGAI UPAYA PENCAPAIAN SUSTAINABLE DEVELOPMENT GOAL TUJUAN 4 TARGET 3", Sebatik, 22(2), pp. 107-110. Available at: https://jurnal.wicida.ac.id/index.php/sebatik/article/view/316 (Accessed: 14November2019).