NORMALISASI DATABASE DAN MIGRASI DATABASE UNTUK MEMUDAHKAN MANAJEMEN DATA
Sri Mulyati

Jurusan Teknik Informatika, Fakultas Teknologi Industri, Universitas Islam Indonesia

Bayu Aprilananda Sujatmoko

Jurusan Teknik Informatika, Fakultas Teknologi Industri, Universitas Islam Indonesia

T Irfan Megat Wira

Jurusan Teknik Informatika, Fakultas Teknologi Industri, Universitas Islam Indonesia

Rifqi Afif

Jurusan Teknik Informatika, Fakultas Teknologi Industri, Universitas Islam Indonesia

Rizky Ari Pratama

Jurusan Teknik Informatika, Fakultas Teknologi Industri, Universitas Islam Indonesia
Keywords:
Perancangan Database, Penyedia Informasi, Migrasi, Grafik, tabel
Abstract
Penyajian data di era informasi seperti saat ini sangatlah dibutuhkan oleh masyarakat maupun penyedia informasi seperti BPTKG. Penyajian informasi tidak lepas dari basis data yag baik, karena dengan adanya basis data yang baik query untuk menampilkan informasi akan lebih mudah. Tujuan utama proses perancangan basis data adalah untuk mendapatan keakuratan dalam representasi data, hubungan data, dan aturan antar data. Normalisasi sendiri merupakan salah satu teknik dalam desain basis data untuk memproduksi tabel – tabel yang memiliki atribut yang tidak tepat sesuai dengan kebutuhan sistem. Tidak terlepas dari sistem untuk menampilkan informasi tingkat kewaspadaan kebencanaan. Data aktifitas gunung berapi jumlah datanya semakin bertambah  dan kontinu, maka perlu desain basis data, membuat basis data baru dan migrasi data lama ke basis data yang baru. BMKG memiliki tugas untuk memantau aktifitas  gunung merapi dan data disimpan dalam sistem sehingga bisa disampaikan kepada masyarakat terkait informasi potensi bencana alam kedalam bentuk tabel dan grafik agar lebih informatif. Pada basis data yang baru, dalam melakukan pencarian dan perubahan data lebih mudah dan efisien karena terdapat  tabel dari basis data lama yang dinormalisasi. Hasil dari penelitian ini adalah tabel yang dihasiklan memiliki field yang lebih sedikit sehingga mepermudah proses implementasi untuk menampilkan informasi baik menggunakan tabel maupun grafik.
Downloads
Download data is not yet available.
References
Anisah, & Mayasari, M. S. 2016. Desain Databa Sistem Informasi Penerimaan Peserta Didik Baru Pada Selective English Course. Jurnal Simetris, 7(1), 183–190.
Demba M, "An Algorithmic Approach to Database Normalization", International Journal of Digital Information and Wireless Communications (SDIWC) 3(2): 197-205, The Society of Digital Information and Wireless Communications, 2013 (ISSN: 2225-658X)
Dwi Puspitasari 1, Cahya Rahmad 2, M. A. 3. 2016. Normalisasi Tabel Pada Basisdata Relasional. Prosiding SENTIA, 8, 340–345. https://doi.org/10.1074/jbc.M304200200
Indrajani. 2015. Database Design (Case Study All in One). (1st ed.). Jakarta: PT Elex Media Komputindo.
Maanari, J. I., Sengkey, R., Wowor, F., & Rindengan, Y. D. Y. 2013. Perancangan Basis Data Perusahaan Distribusi dengan Menggunakan Oracle. Teknik Elektro Dan Komputer, 1–11.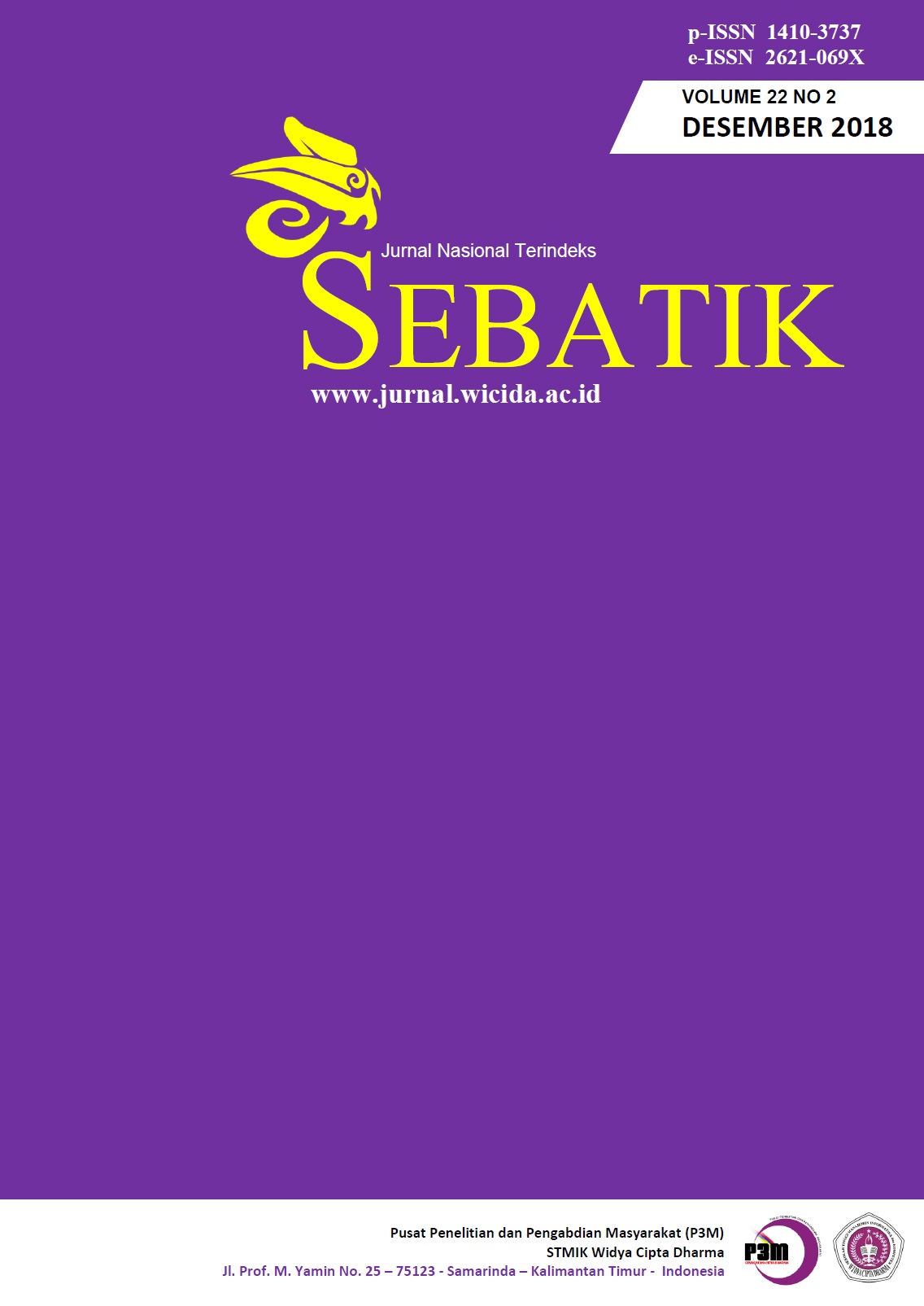 How to Cite
Mulyati, S., Sujatmoko, B., Wira, T., Afif, R. and Pratama, R. (2018) "NORMALISASI DATABASE DAN MIGRASI DATABASE UNTUK MEMUDAHKAN MANAJEMEN DATA", Sebatik, 22(2), pp. 124-129. Available at: https://jurnal.wicida.ac.id/index.php/sebatik/article/view/319 (Accessed: 19April2021).
The copyright of this article is transferred to SEBATIK and STMIK Widya Cipta Dharma, when the article is accepted for publication. the authors transfer all and all rights into and to paper including but not limited to all copyrights in the SEBATIK. The author represents and warrants that the original is the original and that he/she is the author of this paper unless the material is clearly identified as the original source, with notification of the permission of the copyright owner if necessary.
A Copyright permission is obtained for material published elsewhere and who require permission for this reproduction. Furthermore, I / We hereby transfer the unlimited publication rights of the above paper to SEBATIK. Copyright transfer includes exclusive rights to reproduce and distribute articles, including reprints, translations, photographic reproductions, microforms, electronic forms (offline, online), or other similar reproductions.
The author's mark is appropriate for and accepts responsibility for releasing this material on behalf of any and all coauthor. This Agreement shall be signed by at least one author who has obtained the consent of the co-author (s) if applicable. After the submission of this agreement is signed by the author concerned, the amendment of the author or in the order of the author listed shall not be accepted.