PENGEMBANGAN MODEL PEMBELAJARAN SERVIS BAWAH PERMAINAN BOLA VOLI
Marsiyem Marsiyem

Pendidikan Jasmani dan Kesehatan, Fakultas Keguruan dan Ilmu Pendidikan, Universitas Sriwijaya

Destriana Destriana

Pendidikan Jasmani dan Kesehatan, Fakultas Keguruan dan Ilmu Pendidikan, Universitas Sriwijaya

Reza Resah Pratama

Pendidikan Jasmani dan Kesehatan, Fakultas Keguruan dan Ilmu Pendidikan, Universitas Sriwijaya
Keywords:
Model Pembelajaran, Servis Bawah, Permainan Bola Voli
Abstract
Penelitian ini bertujuan untuk mengembangkan model pembelajaran servis bawah permainan bola voli untuk siswa SMP kelas VII dengan dimaksudkan untuk meningkatkan hasil belajar siswa. Pengembangan model pembelajaran servis bawah dilakukan pada Sekolah Menengah Pertama Negeri 1 Palembang dengan menggunakan metode penelitian R&D yang dikembangkan oleh Sugiono. Tahapan penelitian adalah analisis kebutuhan, pembuatan draf produk, validasi ahli, ujicoba skala kecil, revisi, ujicoba skala besar, revisi tahap 2, serta ujiefektifitas produk. Teknik analisis data kuantitatif deskriptif. Hasil penelitian ini  pada validasi ahli tahap 2 di dapatkan penilaian sebesar 80% dari ahli PJOK dan 81,67% dari ahli permainan bola voli maka produk dikatakatan "Layak". Ujicoba skala besar dilakukan pada 3 kelas dengan jumlah responden sebanyak 72 siswa didapatkan hasil yaitu, 90,74% siswa berada pada kategori baik, sehingga produk ini dinyatakan "Layak". Temuan pada penelitian ini adalah dihasilkannya model pembelajaran servis bawah permainan bola voli yang digunakan siswa SMP kelas VII berupa buku panduan
Downloads
Download data is not yet available.
References
Aditama, Z. dan Hidayat, T. (2014). Penerapan Model pembelajaran STAD Terhadap Hasil Belajar Service Bawah Bolavoli. Jurnal Pendidikan Jasmani, Vol 2 (1), 41-44.
Agus Suprijono. 2010. Cooperative Learning. Yogyakarta. Pustaka Media.
Alif, E., Heny, S., & Cahyo, Y. 2012. Modifikasi Model Pembelajaran Bola Voli melalui permainan Bola Voli Mini Berlapis. Journal of Physical Education, Sport, Healt and Recreation, (3) 185-189.
Husdarta, H.J.S. 2013. Manajemen Pendidikan Jasamani. Jakarta: Alfabeta.
Muslimin. 2018. Pengembangan Perangkat Tes dan Pengukuran Passing Bola Voli Berbasis Komputer. Jurnal Sosioteknologi, 17(2), 297-304.
Parisi, F., Raiola, G.2014.Video analysis in youth volleyball team, Journal of Human Sport and Exercise, 9, pp. S584-S587.
Rahayu, Ega Trisna. 2013. Strategi Pembelajaran Pendidikan Jasmani. Bandung: Alfabeta.
Sugiyono. 2013. Metode Penelitian Pendidikan (Pendekatan Kuantitatif, Kualitatif, dan R&D).Bandung: Alfabeta.
Syaiful Sagala. 2010. Konsep dan makna pembelajaran. Bandung: Alfabeta.
M.E. Winarno, dkk. 2018. Teknik dasar Bermain BolaVoli. Malang: Universitas Negeri Malang
Zhanneta Kozina, dkk. 2018. The influence of a special technique for developing coordination abilities on the level of technical preparedness and development of psycho-physiological functions of oung volleyball players 14-16 years of age. Journal of Physical Education and Sport (JPES), 18(3), Art 214, pp. 1445 – 1454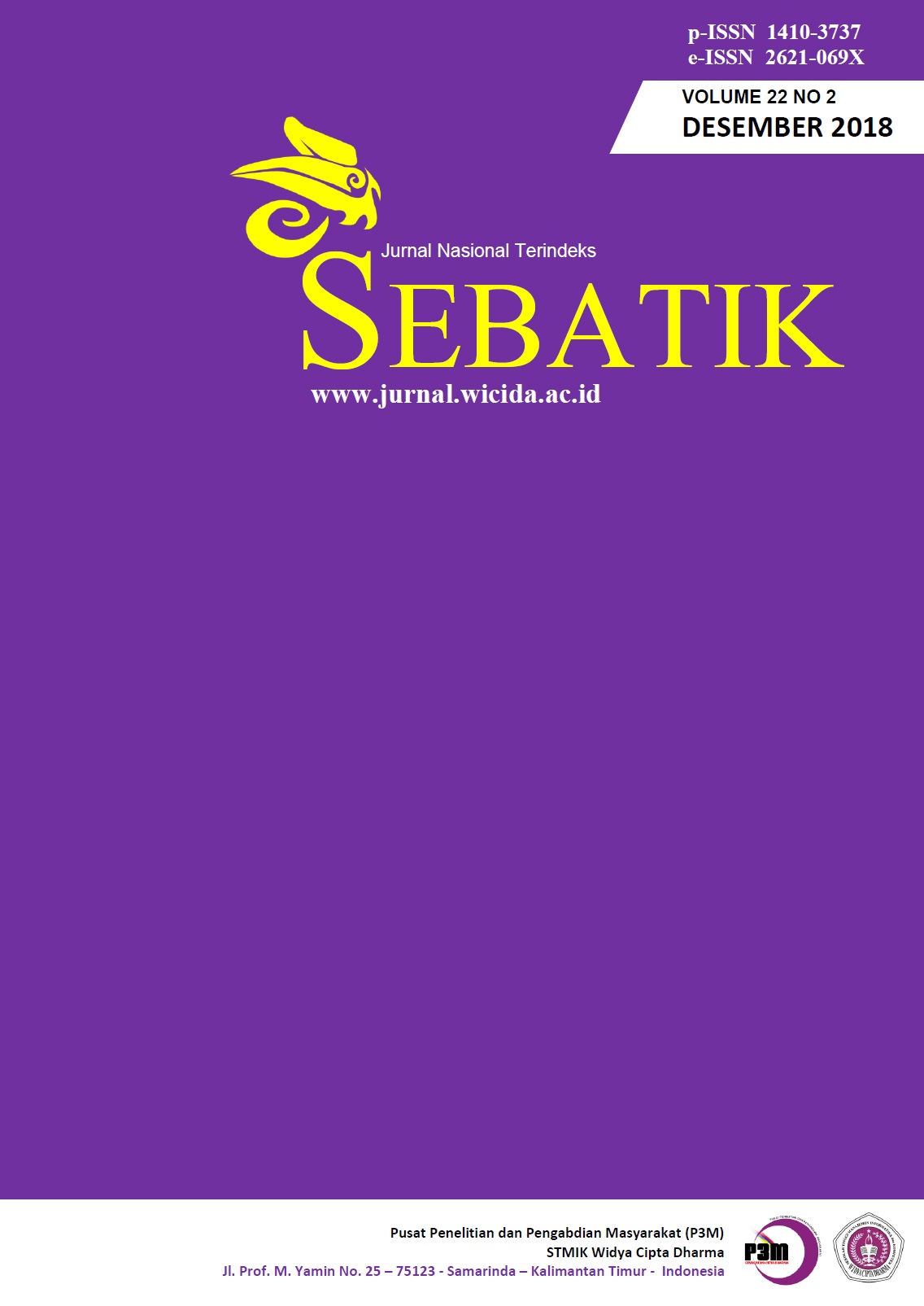 How to Cite
Marsiyem, M., Destriana, D. and Pratama, R. (2018) "PENGEMBANGAN MODEL PEMBELAJARAN SERVIS BAWAH PERMAINAN BOLA VOLI", Sebatik, 22(2), pp. 161-166. Available at: https://jurnal.wicida.ac.id/index.php/sebatik/article/view/323 (Accessed: 19April2021).
The copyright of this article is transferred to SEBATIK and STMIK Widya Cipta Dharma, when the article is accepted for publication. the authors transfer all and all rights into and to paper including but not limited to all copyrights in the SEBATIK. The author represents and warrants that the original is the original and that he/she is the author of this paper unless the material is clearly identified as the original source, with notification of the permission of the copyright owner if necessary.
A Copyright permission is obtained for material published elsewhere and who require permission for this reproduction. Furthermore, I / We hereby transfer the unlimited publication rights of the above paper to SEBATIK. Copyright transfer includes exclusive rights to reproduce and distribute articles, including reprints, translations, photographic reproductions, microforms, electronic forms (offline, online), or other similar reproductions.
The author's mark is appropriate for and accepts responsibility for releasing this material on behalf of any and all coauthor. This Agreement shall be signed by at least one author who has obtained the consent of the co-author (s) if applicable. After the submission of this agreement is signed by the author concerned, the amendment of the author or in the order of the author listed shall not be accepted.