SMART CITY KUTAI KARTANEGARA DENGAN PENDEKATAN FRAMEWORK CITIASIA: SEBUAH KAJIAN ANALISIS
Indah Fitri Astuti

Jurusan Ilmu Komputer, Fakultas Ilmu Komputer dan Teknologi Informasi, Universitas Mulawarman

Dedy Cahyadi

Jurusan Ilmu Komputer, Fakultas Ilmu Komputer dan Teknologi Informasi, Universitas Mulawarman
Keywords:
analisis, smart city, kutai kartanegara
Abstract
Kabupaten Kutai Kartanegara di provinsi Kalimantan Timur adalah salah satu dari 25 kabupaten/kota yang mendapat kesempatan untuk mulai mengembangkan Gerakan 100 Smart City yang dicanangkan pada Smart City Summit 2017 di Makassar. Rencana Pembangunan Jangka Menengah Daerah (RJPMD) 2016-2021 kemudian memuat perencanaan pembangunan Samrt City yang disepakati dengan istilah Smart Regency Kutai Kartanegara dengan visi terwujudnya masyarakat kabupaten Kutai Kartanegara yang cerdas dengan sektor pertanian dan pariwisata sebagai penggerak utama yang didukung oleh teknologi informasi. Tujuan penelitian ini adalah untuk menyusun analisis Smart Regency Kutai Kartanegara. Metode analisis Smart Regency Kutai Kartanegara disusun dengan menggunakan pendekatan kerangka kerja Citiasia. Model Citiasia mempromosikan kemajuan bangsa dengan menyediakan solusi kota pintar yang menggabungkan model yang akurat dan kuat dengan dukungan teknologi canggih dan mudah digunakan. Terdapat enam aspek cerdas yang akan dianalisis dan dibangun, yaitu smart governance, smart branding, smart economy, smart living, smart society, dan smart environment.  Penelitian menghasilkan dokumen analisis Smart Regency yang telah dilengkapi dengan analisis gap antar aspek cerdas, analisis pembangunan Smart Regency, sasaran, arah kebijakan, dan analisis kesiapan daerah.
Downloads
Download data is not yet available.
References
Citiasia, 2015, Smart Nation: Mastering Nation's Advancement from Smart Readiness to Smart City, Jakarta: 2016.
Hall, R.E., Bowerman, B., Braverman, J., Taylor, J., Todosow, H., Von Wimmersperg, U. The Vision of a Smart City, 2nd International Life Extension Technology Workshop, Paris, 2000.
Sikora-Fernandez D., Stawaz D., The Concept of Smart City in the Theory and Practice of Urban Development Management, Romanian Journal of Regional Science, Vol 10 (1), 2016.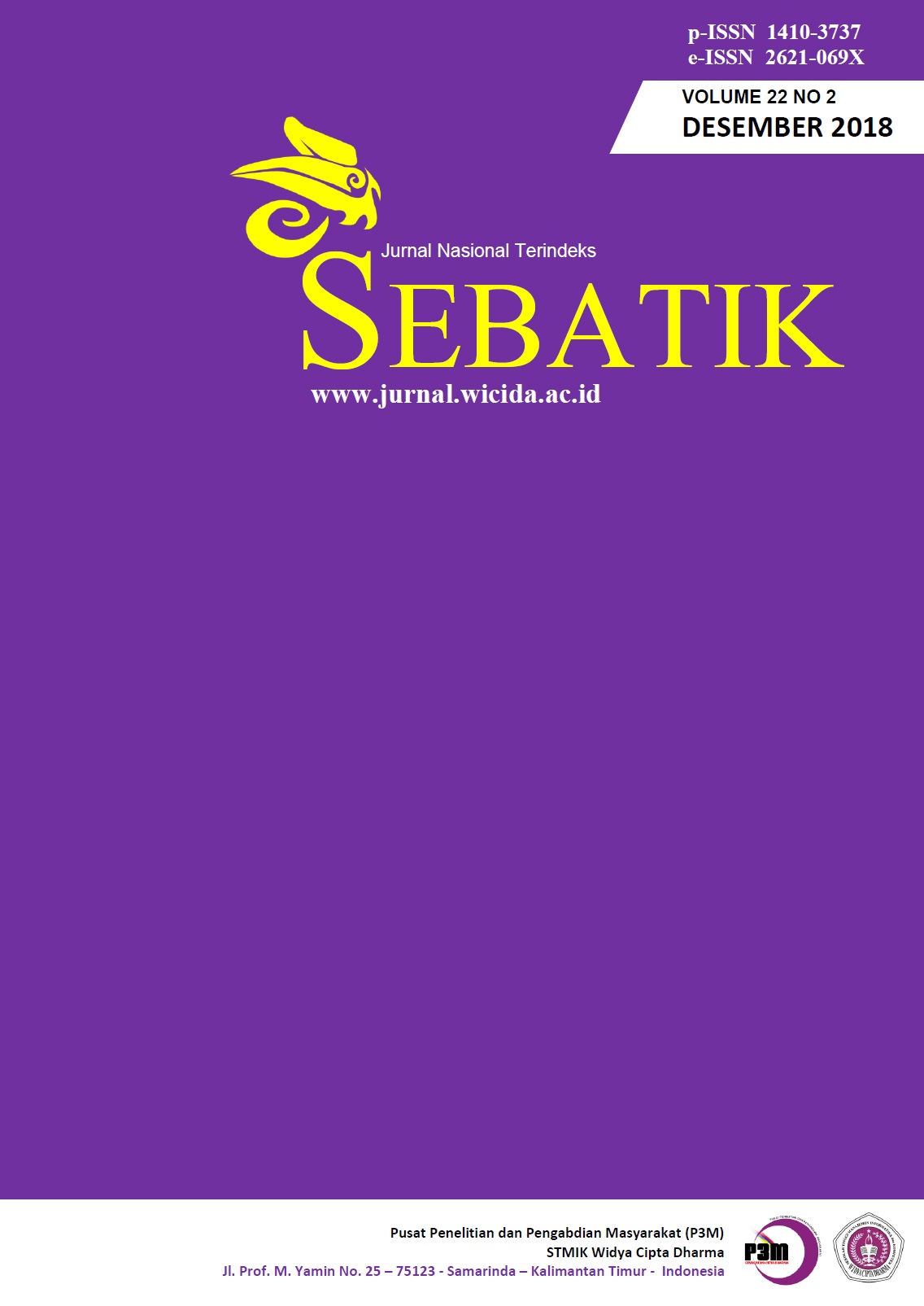 How to Cite
Astuti, I. and Cahyadi, D. (2018) "SMART CITY KUTAI KARTANEGARA DENGAN PENDEKATAN FRAMEWORK CITIASIA: SEBUAH KAJIAN ANALISIS", Sebatik, 22(2), pp. 219-225. Available at: https://jurnal.wicida.ac.id/index.php/sebatik/article/view/331 (Accessed: 19April2021).
The copyright of this article is transferred to SEBATIK and STMIK Widya Cipta Dharma, when the article is accepted for publication. the authors transfer all and all rights into and to paper including but not limited to all copyrights in the SEBATIK. The author represents and warrants that the original is the original and that he/she is the author of this paper unless the material is clearly identified as the original source, with notification of the permission of the copyright owner if necessary.
A Copyright permission is obtained for material published elsewhere and who require permission for this reproduction. Furthermore, I / We hereby transfer the unlimited publication rights of the above paper to SEBATIK. Copyright transfer includes exclusive rights to reproduce and distribute articles, including reprints, translations, photographic reproductions, microforms, electronic forms (offline, online), or other similar reproductions.
The author's mark is appropriate for and accepts responsibility for releasing this material on behalf of any and all coauthor. This Agreement shall be signed by at least one author who has obtained the consent of the co-author (s) if applicable. After the submission of this agreement is signed by the author concerned, the amendment of the author or in the order of the author listed shall not be accepted.