THE USE OF DIGITAL STORYTELLING TOWARDS STUDENTS' COMPETENCY IN WRITING TEXT
Karisma Erikson Tarigan

FKIP Of Catolic University Of Saint Thomas Medan Indonesia

Liana Liana

FKIP Of Catolic University Of Saint Thomas Medan Indonesia
Keywords:
Digital Storytelling, Writing Skill, Descriptive Text
Abstract
The main objective of this research is to prove whether the digital storytelling enhances and improve students writing competency. The study uses classroom action research (CAR). The data in this study are quantitative and qualitative data. The quantitative data will be collected by using the essay test. The qualitative data will be collected by using observation, field notes, and questionnaire. The score of students' writing descriptive text kept increasing from pre-test until post-test. It was proved by the data which showed that the mean of the students' score in post-test II is 86.6 (92.75%) was higher than the post-test I is 72.2 (68.75%), and also higher than the pre-test 54.8 (25%). The response of student in using digital storytelling in the agree category, it can be seen from the 15 students who passed the KKM (70) and 1 student still low of KKM. The class percentages of post-test II show improvements from the previous test; the improvement is 67.75%. The frequencies of item agree appear 110 times or (52.88%). Furthermore, it can be concluded that Digital Storytelling is effective and useful to be used in teaching writing skill, especially in Descriptive Text.
Downloads
Download data is not yet available.
References
Anderson, J., & Macleroy, V. 2016. Multilingual Digital Storytelling: Engaging Creatively and Critically with Literacy. New York: Routledge Taylor Francis and Group.
Burns, A. 2010. Doing Action Research in English Language Teaching. New York: Routledge Taylor and Francis Group.
Franzen, A.M., & Allington, R.L. 2010. Handbook of Research on Reading Disabilities. New York: Routledge Taylor Francis and Group.
Mather, et. al. 2009. Writing Assessment and Instruction for Students with Learning Disabilities. San Fransisco: Jossey-Bass.
Ohler, J. 2008. Digital Storytelling in the Classroom: New Media Pathways to Literacy, Learning, and Creativity. California: Corwin Press.
Peacock, et. al. 2012. Practical Handbook of School Psychology: Effective Practices for the 21st Century. New York: The Guildford Press.
Prierangelo, R., & Giuliani, G. 2006. Teaching Students with Learning Disabilities: A Step by Step Guide for Educators. California: Corwin Press.
Tarigan, K. E., & Liana, L. 2018. Improving Students' Writing Descriptive Text Through Digital Storytelling Technique. Budapest International Research and Critics Institute (BIRCI-Journal): Humanities and Social Sciences, 1(3), 345-351.
Xie, A., & Huang, X. 2012. Advances in Computer Science and Education. New York: Springer.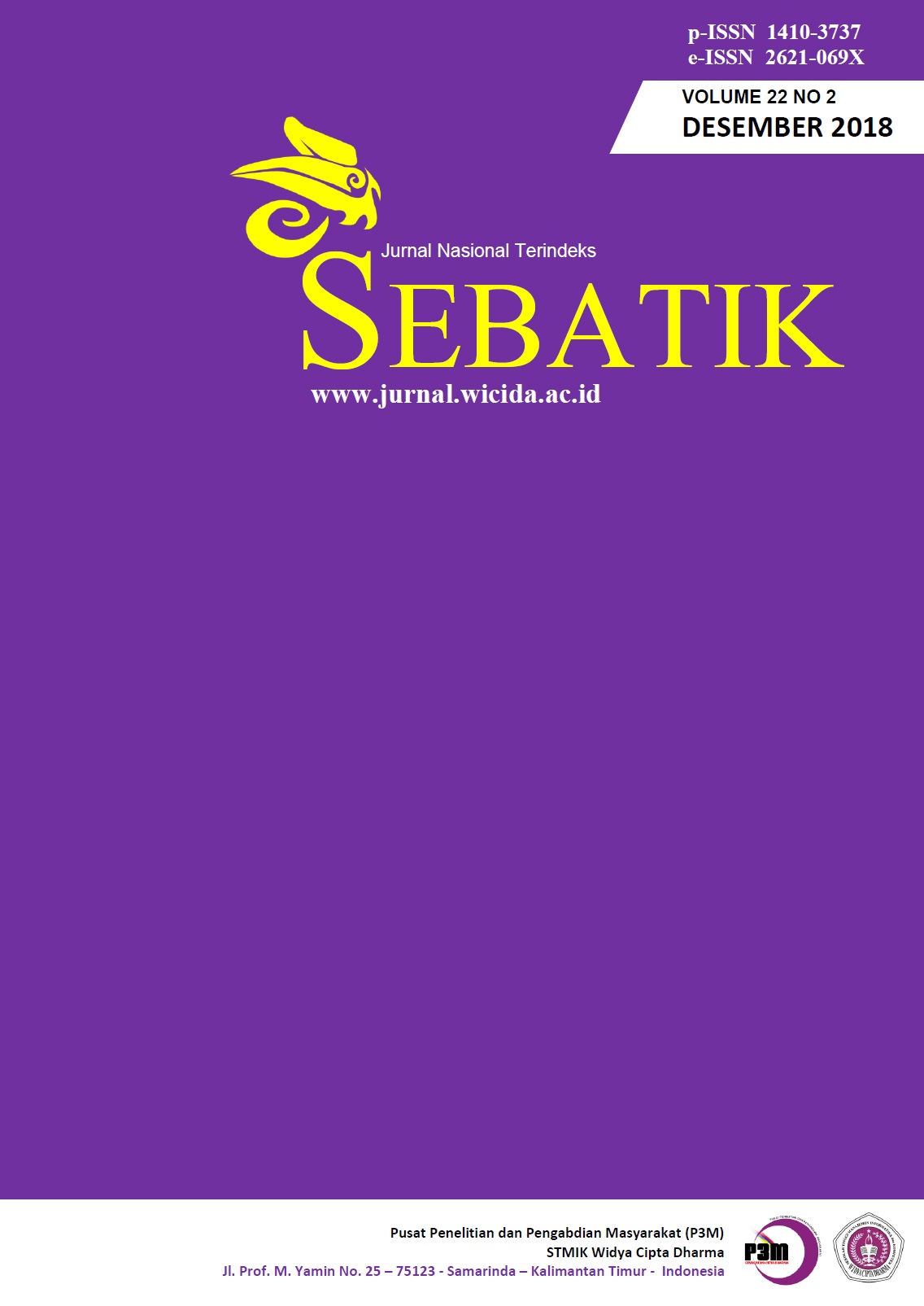 How to Cite
Tarigan, K. and Liana, L. (2018) "THE USE OF DIGITAL STORYTELLING TOWARDS STUDENTS' COMPETENCY IN WRITING TEXT", Sebatik, 22(2), pp. 226-229. Available at: https://jurnal.wicida.ac.id/index.php/sebatik/article/view/333 (Accessed: 19April2021).
The copyright of this article is transferred to SEBATIK and STMIK Widya Cipta Dharma, when the article is accepted for publication. the authors transfer all and all rights into and to paper including but not limited to all copyrights in the SEBATIK. The author represents and warrants that the original is the original and that he/she is the author of this paper unless the material is clearly identified as the original source, with notification of the permission of the copyright owner if necessary.
A Copyright permission is obtained for material published elsewhere and who require permission for this reproduction. Furthermore, I / We hereby transfer the unlimited publication rights of the above paper to SEBATIK. Copyright transfer includes exclusive rights to reproduce and distribute articles, including reprints, translations, photographic reproductions, microforms, electronic forms (offline, online), or other similar reproductions.
The author's mark is appropriate for and accepts responsibility for releasing this material on behalf of any and all coauthor. This Agreement shall be signed by at least one author who has obtained the consent of the co-author (s) if applicable. After the submission of this agreement is signed by the author concerned, the amendment of the author or in the order of the author listed shall not be accepted.