PROGRAM PENGABDIAN MASYARAKAT: SISTEM INFORMASI ADMINISTRASI PERJALANAN DINAS PADA KANTOR GUBERNUR PROVINSI KALIMANTAN TIMUR DI BIRO UMUM
Azahari Azahari

STMIK Widya Cipta Dharma

Reza Andrea

STMIK Widya Cipta Dharma

Siti Lailiyah

STMIK Widya Cipta Dharma

Fahmi Fitnanda

STMIK Widya Cipta Dharma
Keywords:
Sistem Informasi, Perjalanan Dinas, Administrasi, Biro Umum, Website
Abstract
Program pengabdian masyarakat dilakukan dengan membuat sebuah sistem informasi administrasi perjalanan dinas berbasis website yang dapat membantu Biro Umum dalam melakukan proses pembuatan surat perintah perjalanan dinas, laporan dan memberikan informasi sisa dana anggaran pada perjalanan dinas. Program pengabdian masyarakat ini dilakukan di Biro Umum Sekretariat Daerah Provinsi Kalimantan Timur. Metode pengumpulan data yang digunakan yaitu dengan wawancara dengan mengajukan pertanyaan – pertanyaan yang berkaitan dengan administrasi perjalanan dinas, tata cara melakukan pembuatan perjalanan dinas dan bentuk output dari surat perintah perjalanan dinas. Dalam program pengabdian masyarakat ini tahapan pengembangan sistem yang digunakan yaitu waterfall model dengan perangkat lunak pendukung yang digunakan adalah Brackets, PhpMyadmin. Adapun hasil akhir dari program pengabdian masyarakat ini yakni berupa sistem informasi berbasis website yang dapat menyajikan informasi, data, pembuatan yang lebih mudah digunakan dan lebih cepat. Sistem Informasi Administrasi Perjalanan Dinas sebagai media dalam pengadministrasian yang dapat mengolah data secara mudah, efektif dan efisien
Downloads
Download data is not yet available.
References
Basrie, B., & Yusnita, A. 2018. Membangun Sistem Infromasi E-learning Perkuliahan STMIK Wicida Samarinda. Sebatik, 20(1), 10-14.
Heryanto, Y. 2014. Implementasi Good Governance Terhadap Peningkatan Pelayanan Publik di Indonesia. Jurnal Logika, 12(3), 23-40.
Jogiyanto, H. M. 2017. Analisis dan Desain (Sistem Informasi Pendekatan Terstruktur Teori dan Praktek Aplikasi Bisnis). Penerbit Andi.
Kusnandar, K. 2016. Rancang Bangun & Analisis Sistem Sistem Informasi Perpustakaan Menggunakan Model Waterfall (Studi Kasus: STMIK WICIDA Samarinda). Sebatik, 16(1), 16-25.
Nugroho, A. 2009. rekayasa perangkat lunak menggunakan UML dan JAVA. Penerbit Andi.
Sutabri, T. 2012. Konsep Sistem Informasi. Penerbit Andi.
Yuniarto, B. 2013. Membangun Kesadaran Warga Negara dalam Pelestarian Lingkungan. Deepublish.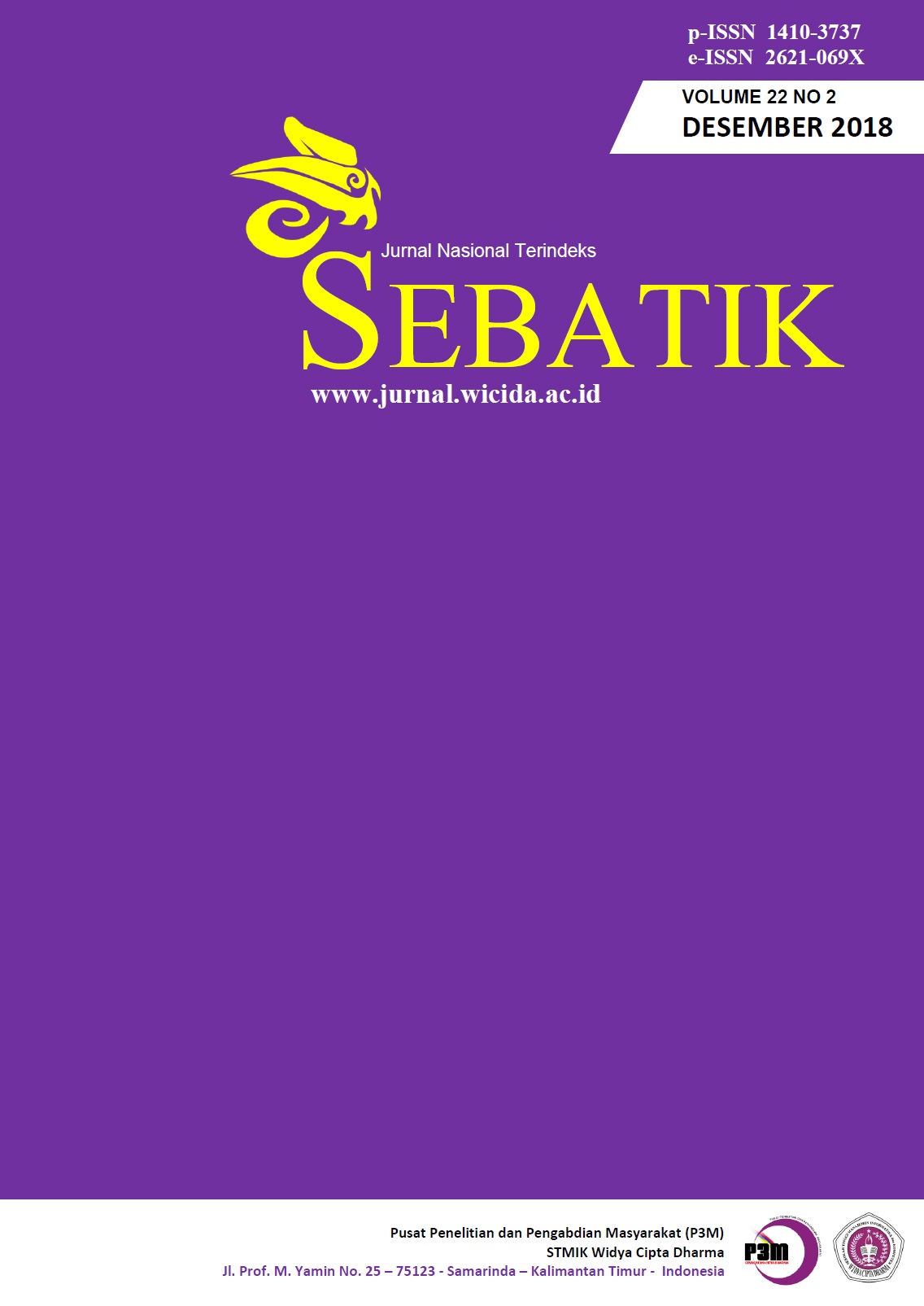 How to Cite
Azahari, A., Andrea, R., Lailiyah, S. and Fitnanda, F. (2018) "PROGRAM PENGABDIAN MASYARAKAT: SISTEM INFORMASI ADMINISTRASI PERJALANAN DINAS PADA KANTOR GUBERNUR PROVINSI KALIMANTAN TIMUR DI BIRO UMUM", Sebatik, 22(2), pp. 130-137. Available at: https://jurnal.wicida.ac.id/index.php/sebatik/article/view/341 (Accessed: 19April2021).
The copyright of this article is transferred to SEBATIK and STMIK Widya Cipta Dharma, when the article is accepted for publication. the authors transfer all and all rights into and to paper including but not limited to all copyrights in the SEBATIK. The author represents and warrants that the original is the original and that he/she is the author of this paper unless the material is clearly identified as the original source, with notification of the permission of the copyright owner if necessary.
A Copyright permission is obtained for material published elsewhere and who require permission for this reproduction. Furthermore, I / We hereby transfer the unlimited publication rights of the above paper to SEBATIK. Copyright transfer includes exclusive rights to reproduce and distribute articles, including reprints, translations, photographic reproductions, microforms, electronic forms (offline, online), or other similar reproductions.
The author's mark is appropriate for and accepts responsibility for releasing this material on behalf of any and all coauthor. This Agreement shall be signed by at least one author who has obtained the consent of the co-author (s) if applicable. After the submission of this agreement is signed by the author concerned, the amendment of the author or in the order of the author listed shall not be accepted.