A REVIEW DYNAMIC VIBRATION ON DRILL STRING IN DRILLING OPERATION
Afriansyah Afriansyah

Departmen of Mechanical Engineering Sriwijaya University

Hasan Basri

Departmen of Mechanical Engineering Sriwijaya University
Keywords:
Drillstring, Vibration Analysis, Axial Vibration, Torsional Vibration, Lateral Vibration.
Abstract
For decades, researchers have investigated the phenomenon of vibrations in drilling activities. One of the interesting things is the vibration in the drillstring. Vibration might be caused by Interfere with each other between the drilling mud and drilling string, contact forces between the drillstring and wellbore, and interfere with each other between bit and wellbore that can ruin the drilling equipment, the drillstring and/or the stabilizers.  This paper presents several experiments in different methods to predict vibrations of drill string in the drilling operation. There are three types of vibration in drilling operation. First, axial vibration generated from interaction between bottom hole and bit. Second, Torsional vibration that excited from resonance of drill collar, bit chatter, stick slip between formation and bit and modal coupling. Third, lateral vibration that excited from interaction between formation and bit, imbalance of mass, whirl of bit, and from force of fluid around drill string. One or whole type of these vibration can vibrate the drillstring and it result damage of drillstring as reperesent by decrease in rate of penetration or damage of bit. In this paper, we will compare several methods to predict deflection, natural frequencies, and trajectory or orbital during impact for finite element method, differential quadrature method, and multibody dynamic method. Result show that all method can be used for calculating deflection, Finite element method and differential quadrature method for account natural frequencies, multi dynamic method for calculate trajectory during impact. However, for simple method to calculate or predict vibration used Differential Quadrature method. The future work will involve investigation on vibration in drillstring with combine several method
Downloads
Download data is not yet available.
References
Alqaradawi, M. Y., Kanzari, M. and Balachandran, B. 2018, Nonlinear stochastic drillstrings vibrations: Parametric study for stick-slip suppression, Journal of Physics: Conference Series, 1075(1). doi: 10.1088/1742-6596/1075/1/012059.
Bavadiya, V. A. et al. 2017, Experimental Investigation of the Effects of Rotational Speed and Weight on Bit on Drillstring Vibrations, Torque and Rate of Penetration. doi: 10.2118/188427-ms.
Ghasemloonia, A., Geoff Rideout, D. and Butt, S. D. 2015, A review of drillstring vibration modeling and suppression methods, Journal of Petroleum Science and Engineering. Elsevier, 131, pp. 150–164. doi: 10.1016/j.petrol.2015.04.030.
Hakimi, H., and S. Moradi., Drillstring Vibration Analysis Using Differential Quadrature Method, Journal of Petroleum Science and Engineering 70 (3–4):235–42.
Kapitaniak, M. et al. 2015, Unveiling complexity of drill-string vibrations: Experiments and modelling, International Journal of Mechanical Sciences. Elsevier, 101–102, pp. 324–337. doi: 10.1016/j.ijmecsci.2015.07.008.
Khulief, Y. A., and H. Al-Naser, Finite Element Dynamic Analysis of Drillstrings, Finite Elements in Analysis and Design 41 (13): 1270–88.
Tian, J. et al. 2016, Mathematical Modeling and Analysis of Drill String Longitudinal Vibration with Lateral Inertia Effect, Shock and Vibration, 2016, pp. 1–8. doi: 10.1155/2016/6281264.
Wiercigroch, M. et al.2018), Complex dynamics of drill-strings: Theory and experiments, MATEC Web of Conferences, 211, p. 01002. doi: 10.1051/matecconf/201821101002.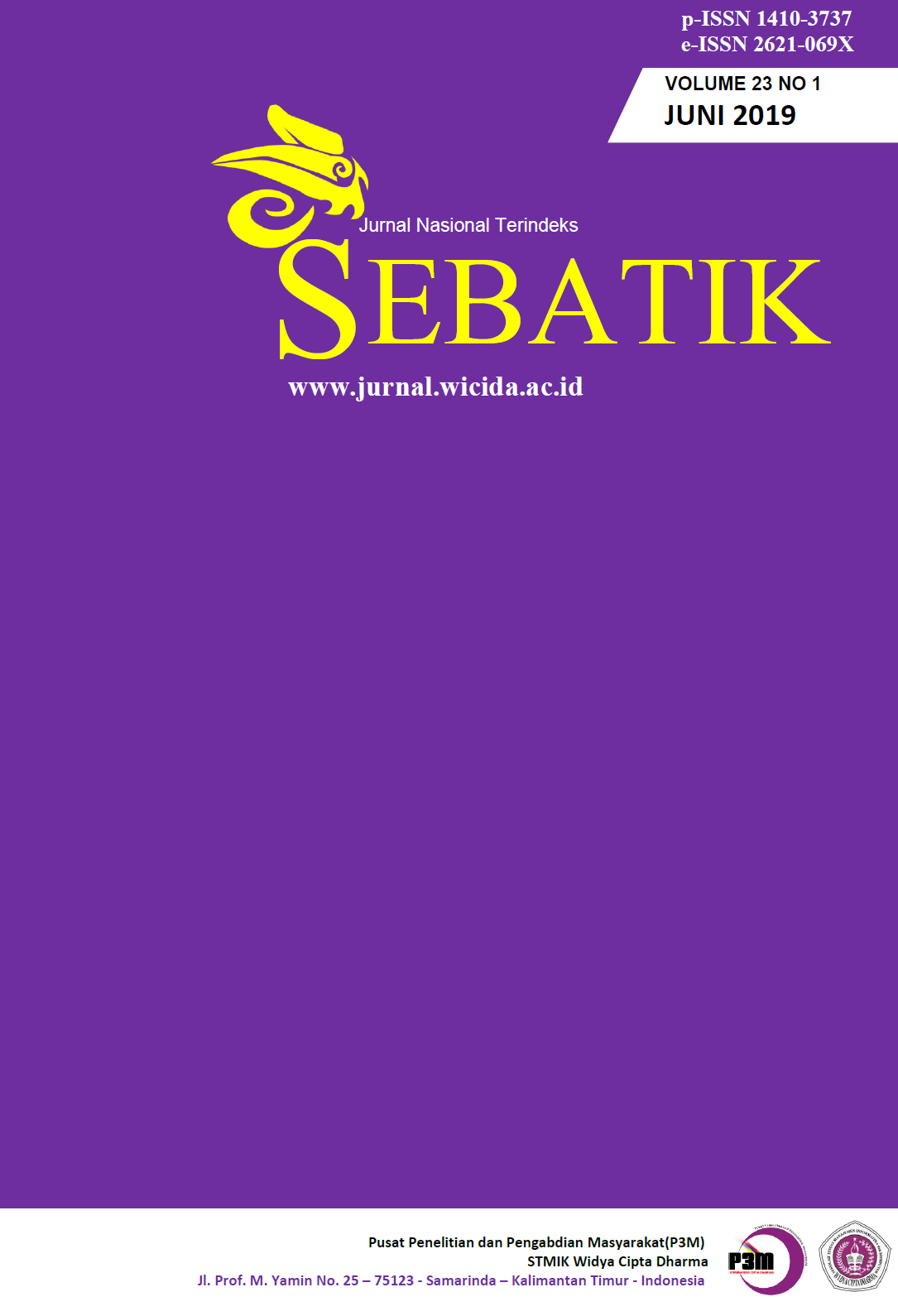 How to Cite
Afriansyah, A. and Basri, H. (2019) "A REVIEW DYNAMIC VIBRATION ON DRILL STRING IN DRILLING OPERATION", Sebatik, 23(1), pp. 1-8. Available at: https://jurnal.wicida.ac.id/index.php/sebatik/article/view/436 (Accessed: 22October2021).
The copyright of this article is transferred to SEBATIK and STMIK Widya Cipta Dharma, when the article is accepted for publication. the authors transfer all and all rights into and to paper including but not limited to all copyrights in the SEBATIK. The author represents and warrants that the original is the original and that he/she is the author of this paper unless the material is clearly identified as the original source, with notification of the permission of the copyright owner if necessary.
A Copyright permission is obtained for material published elsewhere and who require permission for this reproduction. Furthermore, I / We hereby transfer the unlimited publication rights of the above paper to SEBATIK. Copyright transfer includes exclusive rights to reproduce and distribute articles, including reprints, translations, photographic reproductions, microforms, electronic forms (offline, online), or other similar reproductions.
The author's mark is appropriate for and accepts responsibility for releasing this material on behalf of any and all coauthor. This Agreement shall be signed by at least one author who has obtained the consent of the co-author (s) if applicable. After the submission of this agreement is signed by the author concerned, the amendment of the author or in the order of the author listed shall not be accepted.