ANALISIS COST VOLUME PROFIT DALAM MENINGKATKAN PENDAPATAN PADA UKM BALIKPAPAN
Siti Rahmayuni

Manajemen, Sekolah Tinggi Ilmu Ekonomi Balikpapan

Risky Masmuddin

Manajemen, Sekolah Tinggi Ilmu Ekonomi Balikpapan
Keywords:
Break Even Point, UKM, Profit, Cost, Volume
Abstract
Perkembangan akan dunia usaha sungguhlah pesat, seiring perkembangan pesat tersebut persaingan makin meningkat, baik perusahaan yang bergerak pada usaha kecil menengah maupun perusahaan yang go public, Usaha yang harus dilakukan dalam mengatasi hal tersebut adalah membuat perencanaan laba, Perencanaan laba memiliki hubungan yang erat dengan volume penjualan, hasil penjualan, biaya produksi serta biaya operasi perusahaan. Analisis biaya volume laba akan memudahkan perusahaan dalam menentukan target pendapatan dan jumlah biaya yang dikeluarkan dalam upaya mencapai laba yang telah ditentukan tersebut. Tujuan dari penelitian ini adalah Untuk merencanakan laba dengan menggunakan Analisis Biaya-Volume-Laba pada UKM Balikpapan, Untuk mengetahui berapa penjualan yang harus dipertahankan UKM agar tidak mengalami kerugian, metode penelitian ini menggunakn metode pengumpulan data yang didapat melalui observasi dan wawancara serta metode pengolahan data dengan mengumpulkan data mulai dari bahan baku sampai dengan gaji karyawan dan menghitungnya untuk mendapatkan seberapa besar Break Event Poin yang harus didapat, penghitungan Break Even Poin yaitu total revenue dan total cost harus sama, atau dapat juga dihitung dengan rumus Fixed Cost dibagi price dikurangi Variabel Cost, pada pembahasan penelitian didapat beberapa penghitungan Break Event Poin yaitu menghitung titik impas pada jumlah unit, kemudian jumlah rupiah agar para pemilk usaha mengetahui seberapa besar modal yang harus dikeluarkan dan seberapa besar penjualan yang harus dilakukan, adapun hasil penelitian ini adalah Untuk mengembalikan modal usaha maka setiap pengusaha UKM dengan menjual barang produksinya atau barang dagangannya berdasarkan jumlah yang ditentukan dan dapat menargetkan laba yang dinginkan, Dan dengan haasil penelitian ini didapat beberapa UKM yang mengalami peningkatan pada pendaptannya sehingga berpengaruh terhadap laba
Downloads
Download data is not yet available.
References
Blocher., Edward J. Stout., David E dan Cokins., Gary, 2011. Manajemen Biaya. Edisi Kelima. Buku Satu. Salemba Empat. Jakarta
Carter, William.K, dan Milton F. Usry, 2016. Akuntansi Manajemen. PT. Rajagravindo Persada. Jakarta
Dewi, Ardina, Suardani, .2018. Cost-Volume-Profit (CVP) Analysis as a Profit Planning of Tour Packages at PT Tour East Indonesia, Denpasar. Journal of Applied Sciences in Accounting, Finance, and Tax, [S.l.], v. 1, n. 1, p. 7-13
Enkeleda .2018. Role of Analysis CVP (Cost-Volume-Profit) as Important Indicator for Planning and Making Decisions in the Business Environment European Journal of Economics and Business Studies p 104
Ekergil .2017. cost-volume-profit analysis on the basis of the product mix generated by each customer's Journal of Business Research-Türk. P 488
Hongren, Charles T., Datar, Srikant M., dan Foster, 2018. Akuntansi Biaya Penekanan Manajerial, Jilid 1. Edisi Kesebelas. Indeks. Jakarta
Ihemeje .2015. Cost-volume-profit Analysis and Decision Making in the Manufacturing Industries of Nigeria Journal of International Business Research and Marketing p 7-15
Kasmir. 2010. Aanalisis Laporan Keuangan.ed.2. Yogyakarta: BPFE Group
Mulyadi, 2010. Akuntansi Biaya. Edisi Empat. BPFE. Yogyakarta
Seung 2015. Cost-Volume-Profit Analysis for a Multi-Product Company: Micro Approach International Journal of Accounting and Financial p23
Sugiyono. 2008. Metodologi penelitian Kuantitatif, Kualitatif, dan R& D. Bandung: Alfabeta.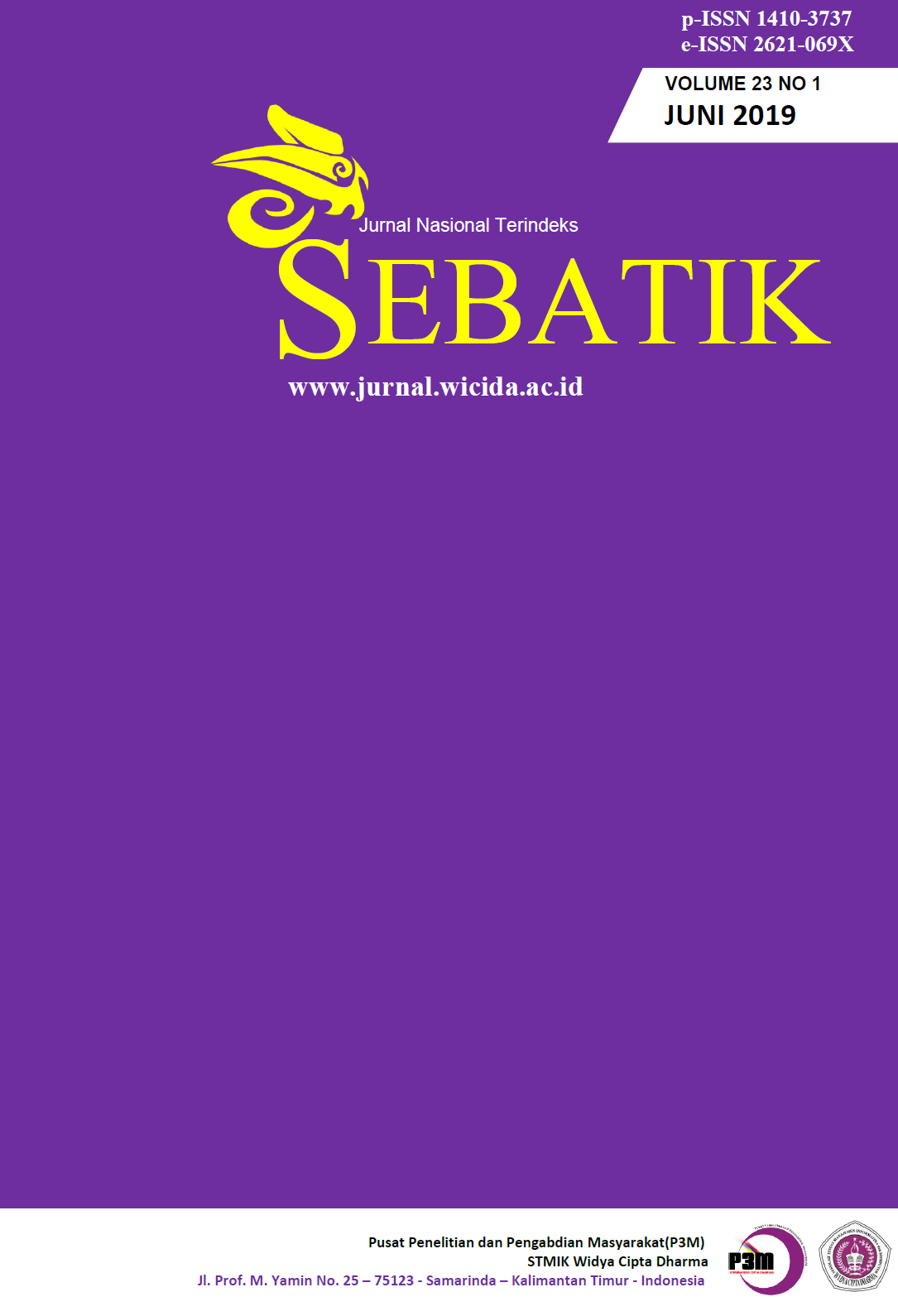 How to Cite
Rahmayuni, S. and Masmuddin, R. (2019) "ANALISIS COST VOLUME PROFIT DALAM MENINGKATKAN PENDAPATAN PADA UKM BALIKPAPAN", Sebatik, 23(1), pp. 15-19. Available at: https://jurnal.wicida.ac.id/index.php/sebatik/article/view/438 (Accessed: 21October2021).
The copyright of this article is transferred to SEBATIK and STMIK Widya Cipta Dharma, when the article is accepted for publication. the authors transfer all and all rights into and to paper including but not limited to all copyrights in the SEBATIK. The author represents and warrants that the original is the original and that he/she is the author of this paper unless the material is clearly identified as the original source, with notification of the permission of the copyright owner if necessary.
A Copyright permission is obtained for material published elsewhere and who require permission for this reproduction. Furthermore, I / We hereby transfer the unlimited publication rights of the above paper to SEBATIK. Copyright transfer includes exclusive rights to reproduce and distribute articles, including reprints, translations, photographic reproductions, microforms, electronic forms (offline, online), or other similar reproductions.
The author's mark is appropriate for and accepts responsibility for releasing this material on behalf of any and all coauthor. This Agreement shall be signed by at least one author who has obtained the consent of the co-author (s) if applicable. After the submission of this agreement is signed by the author concerned, the amendment of the author or in the order of the author listed shall not be accepted.