SISTEM INFORMASI PENGAJUAN CUTI PEGAWAI NEGERI SIPIL DAERAH KOTA SAMARINDA BERBASIS WEB
Ahmad Rofiq Hakim

STMIK Widya Cipta Dharma

Azahari Lathyf

STMIK Widya Cipta Dharma

Robby Ari Cahyadi Cahyadi

STMIK Widya Cipta Dharma
Keywords:
Website, Sistem Informasi, Cuti Pegawai
Abstract
Aplikasi Sistem Informasi Pengajuan Cuti Pegawai Negeri Sipil Daerah Kota Samarinda Berbasis WEB merupakan aplikasi yang dibangun untuk proses pengajuan cuti yang berbasis web.
Penelitian ini dilakukan pada Badan Kepegawaian Daerah (BKD) Kota Samarinda dengan menggunakan metode penelitian yaitu metode pengumpulan data, studi lapangan, studi pustaka, analisis kebutuhan, desain sistem, dan implementasi sistem.Flow Of Document (FOD), Flowchart, Contex Diagram (CD), Data Flow Diagram (DFD), Hierarchy Input Proces Output (HIPO), Entity RelationShip Diagram (ERD), Site Map. Aplikasi Ini dibangun menggunakan software yaitu Bahasa Pemrograman PHP, HTML, DreamWeaver MX, database yang digunakan MySQL. Aplikasi yang dibangun beroperasi pada Sistem Operasi Windows.
Adapun Aplikasi Sistem Informasi Pengajuan Cuti Pegawai Negeri Sipil Daerah Kota Samarinda Berbasis WEB telah membantu pihak Badan Kepegawaian Daerah (BKD) dalam mendata dan menginformasikan pengajuan cuti pegawai secara cepat dan tepat , juga dapat memberikan informasi kepada pegawai untuk mengetahui proses cuti di setujui ataupun tidak di setujui.
Downloads
Download data is not yet available.
References
Al Fatta, 2007, Analisis Perancangan Sistem lnformasi, Yogyakarta : ANDI, edisi I

Jogiyanto HM, 2006, Analisis dan Desain Sistem lnformasi, Andi Yogyakarta, Yogyakarta

Kristanto, 2000, Konsep dan Perancangan Database, PT Elex Media Komputindo, Kelompok Gramedia, Jakarta

Kusumo A.S, 2000, Microsoft Visual Basic 6.0, PT Elex Media Komputindo, Kelompok Gramedia, Jakarta, 1997,

Metodelogi Pengembangan Sistem lnformasi, PT. Elex Media Komputindo Kelompok Gramedia, Jakarta

KadirAbdul, 2006, Konsep & Tuntunan Praktis Basis Data, Penerbit Andi Yogyakarta

Scoot, 2006, Prinsip-prinsip Sistem lnformasi Manajemen, PT Raja Grafindo Persada

Pressman, Roger S, (2002), Rekayasa Prangkat Lunak: Pendekatan Praktisi (Buku I). Andi, Yogyakarta

Proboyekti. 2008. Software Process Model I.

Undang-undang Republik Indonesia Nomor 43 Tahun1999 Tentang Perubahan atas Undang-undang Nomor 8 Tahun1974 Tentang pokok-pokok Kepegawaian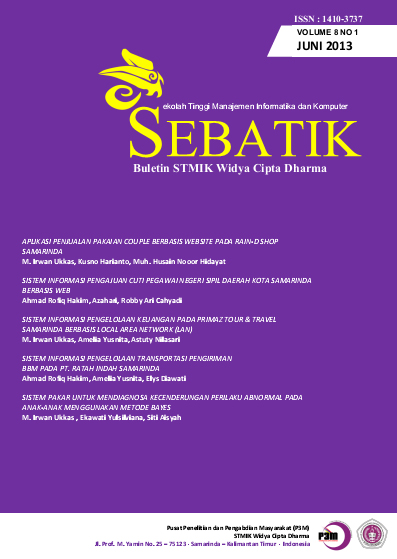 How to Cite
Hakim, A. R., Lathyf, A. and Cahyadi, R. A. C. (2018) "SISTEM INFORMASI PENGAJUAN CUTI PEGAWAI NEGERI SIPIL DAERAH KOTA SAMARINDA BERBASIS WEB", Sebatik, 8(1), pp. 8-14. Available at: https://jurnal.wicida.ac.id/index.php/sebatik/article/view/44 (Accessed: 19June2021).
The copyright of this article is transferred to SEBATIK and STMIK Widya Cipta Dharma, when the article is accepted for publication. the authors transfer all and all rights into and to paper including but not limited to all copyrights in the SEBATIK. The author represents and warrants that the original is the original and that he/she is the author of this paper unless the material is clearly identified as the original source, with notification of the permission of the copyright owner if necessary.
A Copyright permission is obtained for material published elsewhere and who require permission for this reproduction. Furthermore, I / We hereby transfer the unlimited publication rights of the above paper to SEBATIK. Copyright transfer includes exclusive rights to reproduce and distribute articles, including reprints, translations, photographic reproductions, microforms, electronic forms (offline, online), or other similar reproductions.
The author's mark is appropriate for and accepts responsibility for releasing this material on behalf of any and all coauthor. This Agreement shall be signed by at least one author who has obtained the consent of the co-author (s) if applicable. After the submission of this agreement is signed by the author concerned, the amendment of the author or in the order of the author listed shall not be accepted.