ANALISIS RISIKO TEKNOLOGI INFORMASI PADA APLIKASI SAP DI PT SERASI AUTORAYA MENGGUNAKAN ISO 31000
Grialdo Willy Lantang

Program Studi Sistem Informasi, Fakultas Teknologi Informasi, Universitas Kristen Satya Wacana

Ariya Dwika Cahyono

Program Studi Komputerisasi Akuntansi, Fakultas Teknologi Informasi, Universitas Kristen Satya Wacana

Melkior Nikolar Ngalumsine Sitokdana

Program Studi Sistem Informasi, Fakultas Teknologi Informasi, Universitas Kristen Satya Wacana
Keywords:
Risiko, Teknologi Informasi, ISO 31000
Abstract
Program System Application and Processing (SAP) merupakan software utama yang digunakan  di PT. Serasi Autoraya. Analisis risiko yang digunakan pada PT. Serasi Autoraya adalah ISO 31000. Hasil dari penelitian ini digunakan sebagai alat bantu bagi pemangku kebijakan dari perusahaan untuk dapat menyusun dokumentasi terkait dengan manajemen risiko perusahaan di kemudian hari. Proses ini melakukan 3 tahapan yaitu, Identifikasi Risiko (Risk Identification), Analisis Risiko (Risk Analyst), Evaluasi Risiko (Risk Evaluation). Kemudian Tahap yang kedua adalah perlakuan pada risiko (Risk Treatment). Serangkaian proses yang berdasarkan pada ISO 31000, didapatkan hasil tingkatan risiko yang memiliki nilai kemungkinan dan nilai dampak yang tinggi yaitu listrik dan koneksi internet. Dua hal tersebut harus mendapat perhatian khusus karena sangat mengganggu aktivitas yang ada. Kemudian tingkatan risiko yang memiliki nilai kemungkinan dan nilai dampak yang menengah yaitu, data corrupt, overheat, kerusakan perangkat keras, gempa bumi, kebakaran, petir, peretasan terhadap jaringan. Terakhir tingkatan risiko yang memiliki nilai kemungkinan dan nilai dampak yang rendah yaitu web service mati, pencurian perangkat keras, pencurian data, memori penuh, kurangnya Sumber Daya Manusia dan banjir.
Downloads
Download data is not yet available.
References
Agustinus, Nugroho and Cahyono. 2017. 'Analisis Risiko Teknologi Informasi Menggunakan ISO 31000 pada Program HRMS', Jurnal RESTI (Rekayasa Sistem dan Teknologi Informasi), 1(3), pp. 250–258. doi: 10.29207/resti.v1i3.94.
Azmi, Nasution and Wardayani. 2018. 'Memahami Penelitian Kualitatif dalam Akuntansi', Akuntabilitas, 11(1), pp. 159–168. doi: 10.15408/akt.v11i1.6338.
Ernawati and Santoso. 2017. 'Identifikasi dan Analisa Risiko Penerapan Teknologi Informasi di Lingkungan PerguruanTinggi', in. Yogyakarta: SEMINAR NASIONAL Dinamika Informatika 2017 Universitas PGRI, pp. 21–28. Available at: http://senadi.upy.ac.id/prosiding/index.php/sndi/article/viewFile/32/31.
Kadir, A. 2014. Pengenalan Sistem Informasi Edisi Revisi. Yogyakarta: Andi Offset.
Nice and Imbar. 2016. 'Analisis Risiko Teknologi Informasi pada Lembaga Penerbangan dan Antariksa Nasional (LAPAN) pada Website SWIFTS Menggunakan ISO 31000', Jurnal Informatika dan Sistem Informasi (JUISI) Universitas Ciputra, 02(02). Available at: https://journal.uc.ac.id/index.php/JUISI/article/view/237/220.
Qintharah, Y. N. 2019. 'Perancangan Penerapan Manajemen Risiko (Studi Kasus Pada Umkm Saripakuan CV. Jarwal Maega Buana)', JRAK, 10(1), pp. 67–86. Available at: jurnal.unismabekasi.ac.id/index.php/jrak/article/download/1645/1420/%0A%0A.
Sirait and Susanty. 2016. 'Analisis Risiko Operasional Berdasarkan Pendekatan Enterprise Risk Management (ERM ) Pada Perusahaan Pembuatan Kardus di CV Mitra Dunia Palletindo', Industrial Enginerering Online Journal, 5(4). Available at: https://ejournal3.undip.ac.id/index.php/ieoj/article/view/14043/13578.
Suhendra, E. S., Oswari, T. and Setiawan, S. 2013. 'Peran Business Continuity Plan dan Contingency Plan Dalam Meminimalisir Risiko Teknologi Informasi pada Industri Asuransi.', Jurnal Asuransi dan Manajemen Risiko, 1(1), pp. 42–52.
Talitha, Driantami and Perdanakusuma. 2018. 'Analisis Risiko Teknologi Informasi Menggunakan ISO 31000 ( Studi kasus : Sistem Penjualan PT Matahari Department Store Cabang Malang Town Square )', Jurnal Pengembangan Teknologi Informasi dan Ilmu Komputer, 2(11), pp. 4991–4998. Available at: http://j-ptiik.ub.ac.id/index.php/j-ptiik/article/view/3159.
Wahidmurni. 2017. Pemaparan Metode Penelitian Kualitatif. Malang. Available at: http://repository.uin-malang.ac.id/1984/2/1984.pdf.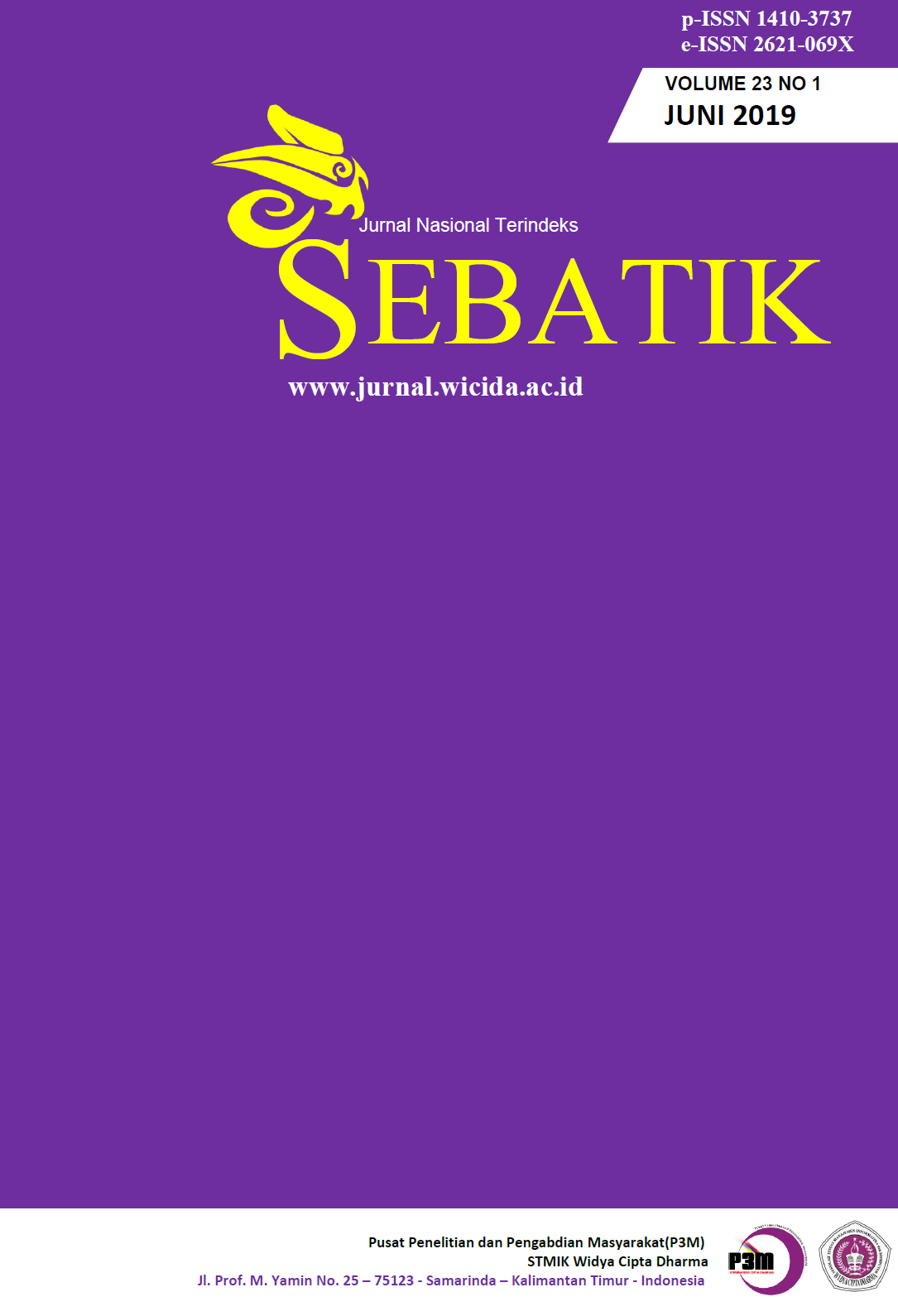 How to Cite
Lantang, G., Cahyono, A. and Sitokdana, M. (2019) "ANALISIS RISIKO TEKNOLOGI INFORMASI PADA APLIKASI SAP DI PT SERASI AUTORAYA MENGGUNAKAN ISO 31000", Sebatik, 23(1), pp. 36-43. Available at: https://jurnal.wicida.ac.id/index.php/sebatik/article/view/441 (Accessed: 28November2021).
The copyright of this article is transferred to SEBATIK and STMIK Widya Cipta Dharma, when the article is accepted for publication. the authors transfer all and all rights into and to paper including but not limited to all copyrights in the SEBATIK. The author represents and warrants that the original is the original and that he/she is the author of this paper unless the material is clearly identified as the original source, with notification of the permission of the copyright owner if necessary.
A Copyright permission is obtained for material published elsewhere and who require permission for this reproduction. Furthermore, I / We hereby transfer the unlimited publication rights of the above paper to SEBATIK. Copyright transfer includes exclusive rights to reproduce and distribute articles, including reprints, translations, photographic reproductions, microforms, electronic forms (offline, online), or other similar reproductions.
The author's mark is appropriate for and accepts responsibility for releasing this material on behalf of any and all coauthor. This Agreement shall be signed by at least one author who has obtained the consent of the co-author (s) if applicable. After the submission of this agreement is signed by the author concerned, the amendment of the author or in the order of the author listed shall not be accepted.