META ANALISIS : KATEGORI MODEL BIAYA KUALITAS DAN PROFITABILITAS
Desi Pujiati

Jurusan Akuntansi, Fakultas Ekonomi, Universitas Gunadarma

Titi Nugraheni

Jurusan Akuntansi, Fakultas Ekonomi, Universitas Gunadarma

Misdiyono Misdiyono

Jurusan Akuntansi, Fakultas Ekonomi, Universitas Gunadarma
Keywords:
Meta Analisis, Biaya Kualitas, Profitabilitas
Abstract
Penelitian mengenai kategori model biaya kualitas dan profitabilitas memiliki persamaan dalam identifikasi, pengukuran dan pelaporan biaya kualitas. Perbedaan hasil penelitian terkait biaya kualitas ada pada tujuan penelitian terkait program perbaikan kualitas setiap perusahaan berbeda. Berdasarkan fenomena tersebut, peneliti melakukan meta analisis berdasarkan tujuan penelitian, variabel, obyek penelitian, populasi / sampel penelitian, teknik pengumpulan data, dan alat analisis yang digunakan. Penelitian ini bertujuan untuk mengetahui dan perkembangan penelitian mengenai model biaya kualitas dan profitabilitas. Penelitian ini menggunakan metode meta-analisis. Meta analisis merupakan telaah atas sejumlah hasil penelitian dalam masalah yang sejenis. Unit analisis dalam penelitian adalah dokumen-dokumen tertulis tentang penelitian model biaya kualitas  yang berupa artikel jurnal dan laporan penelitian yang diambil secara purposive berdasarkan kesesuaiannya dengan tema penelitian. Analisis data yang digunakan adalah analisis data kuantitatif dengan prosentase dan analisis data kualitatif untuk data hasil analisis deskriptif terhadap 21 penelitian terkait model biaya kualitas. Temuan hasil meta analisis berdasarkan tujuan penelitian, variabel penelitian yang digunakan, populasi/sampel peneltian, teknik pengumpulan data dan alat analisis menunjukkan bahwa kategori model biaya kualitas dapat berkontribusi dalam mengevaluasi optimalisasi pencapaian kualitas.
Downloads
Download data is not yet available.
References
Abdelsalam dan Ghad. 2009. Cost of Quality in Dubai: An Analytical Case Study of Residential Construction Projects. International Journal of Project Management, 4(1), 40-52.
Anugraheni, H. 2018. Meta Analisis Model Pembelajaran Problem Based Learning dalam Meningkatkan Keterampilan Berpikir Kritis di Sekolah Dasar. A Journal of Language, Literature, Culture, and Education, 14(1), 9-18.
Daunoriene, A dan Staniskiene, E, (2016), The Quality Costs Assessment in the Aspect of Value Added Chain. Quality Innovation Prosperity, 2(2), 119-145.
Erviasyah, A. (2013). Analisis Pengaruh Biaya Kualitas Terhadap Produk Rusak Pada PT. Nusa Toyotetsu Corporation. Management Analysis Journal, November, 1-7
Fayza,M. (2016). Quality Cost dan Its Relationship to Revenue Sh aring in Supply Chain. Accounting dan Finance Research, 5(3), 174-189.
Gantino R., dan Erwin. (2009). Pengaruh Biaya Kualitas terhadap Penjualan pada PT.Guardian Pharmatama. Journal of Applied Finance dan Accounting, 2(2), 138–168.
Hansen R. D., dan Mowen M,M. (2009). Akuntansi Manajemen. Buku 2, Edisi 8, Jakarta: Penerbit Salemba Empat.
Heizer, J., dan Render, B. (2015). Operations Nabajemen (Manajemen Operasi) edisi 11, penterjemah: Dwi Anugerah Watu S dan Undra Almahdy, Salemba Empat.
Holota, M, H., J dan Kotusa, M. (2016). The Management Of Quality Costs Analysis Model. Serbian Journal of Management, 11(1), 119 – 127.
Jafar, A., Mohammad, T., F., dan Fariba, E. (2010). Effect of the Quality Costing System on Implementation dan Execution of Optimum Total Quality Management. International Journal of Business dan Management, 5(8), 19-26.
Jafari, A., dan Heravi, G. (2011). PAF Model for Quality Cost Estimation in Mass-Housing Projects. Construction. Challenges in the New Decade, 1-8.
Kirlioglu, H., dan Cevic, Z. (2013). Measuring dan Reporting Cost of Quality in a Turkish Manufacturing Company: A Case Study in Electric Industry. Journal of Economic dan Social Studies, 3(2), 87-99.
Khozein, A., Mohammadi, J., & Zarmehri, M, A. 2013. Cost of quality and quality optimization in manufacturing. European Online Journal of Natural and Social Sciences, 2(3).Hal 1070-1081.
Ningtyas, H., & Lubis,H, Z. 2018. Pengaruh Biaya Kualitas Terhadap Jumlah Penjualan. Jurnal Riset Akuntansi & Bisnis, 18(1), 1-13.
Mantri, S., & Jaju, S. (2016). Cost Of Quality Management in Indian Industries: A Practical Insight. International Journal for Quality Research, 11(3), 491 –506.
Marchel, S .M ,T., & Ilat, V. (2014). Penerapan Biaya Kualitas untuk Meningkatkan Efisiensi Produksi Pada UD. Sinar Sakti Manado. Jurnal EMBA, 2(2), 1712-1722.
Mohandas V, P., & Sankaranarayanan, S, R.(2008). Cost of Quality Analysis: Driving Bottom-line Performance. International Journal of Strategic Cost Management, 3(2), 1-8.
Safi'i & Vidy. 2017. Perancangan Sistem Informasi Badan Penjaminan Mutu Internal STMIK Balikpapan Berbasis Website Responsive. METIK Jurnal, 1(2), 1-7.
Mukhtar, C., Ali, R., Md Z., Hamid, Z,A., % Ayub, A, R. (2010). Quality Cost in The Contruction Industry-Preliminary Findings in Malaysia. Journal of Design and Built Environment, 6 (6), 29-43.
Murugan, R., & Kanagi, K. (2011). The Implementation of Cost of Quality (COQ) Reporting System in Malaysian Manufacturing Companies : Difficulties Encountered dan Benefits Acquired. International Journal of Business dan Social Science. 2(6), 243-247.
Neyestani, B., Juanzon, J, B,P., & Joseph B, P. (2017). Impact of ISO 9001 Standard on the Quality Cost ofConstruction Projects in the Philippines. Manila International Conference on Trends in Engineering and Technology. January, 23-24,55-63.
Ramadhan, S., & Bucheery, R. (2005). Quality Management Through ISO Certification And Quality Costs Reporting: A Study Of Bahraini Companies. International Business & Economics Research Journal, 4(9),11-26.
Rasamanie, M., & Kanapathy. (2011). The Implementation of Cost of Quality (COQ) Reporting System in Malaysian Manufacturing Companies : Difficulties Encountered dan Benefits Acquired. International Journal of Business dan Social Science, 2(6), 243-247.
Sahu, N, M., & Sridhar. (2013). Development of Model for Quality Costing in a Medium Scale Industry – A case study. International Organization Of Scientific Research Journal of Mechanical dan Civil Engineering, 6(4), 19-23.
Sailaja, A., Basak, P, C., & Viswanadhan, K, G. (2015). Costs of Quality: Exploratory Analysis of Hidden Elements dan Prioritization using Analytic Hierarchy Process. International Journal of Supply and Operations Management, 1(4), 489-506.
Sandag, N,E., Tinangon, J., & Waldanouw, S, K. (2014). Analisis Biaya Kualitas dalam Meningkatkan Profitabilitas Perusahaan pada CV Ake Abadi Manado. Jurnal EMBA 1327, 2(2), 1327-1337.
Sugiyono. 2014. Metodologi Penelitian Kuantitatif, Kualitatif dan rasio. Alfabeta: Bandung.
Theresia, C., & Pontoh, W,T. (2017). Penerapan Biaya Kualitas untuk Meningkatkan Efisiensi Produksi pada Dolphin Donut Bakaery. Jurnal EMBA. 5 (2), 2051 – 2060.
Tresnawati, R., Octavia, E., & Herawati, S, S. (2017). The Effect of Efficiency and Quality Cost on Profitability. Review of Integrative Business and Economics Research, 6(1), 296-304.
Villara, K, C., Smith, N, R., & Simonton, J, L. (2012). The Impact of the Cost of Quality on Serial Supply-Chain Network Design. International Journal of Production Research, 50 (19), 5544–5566.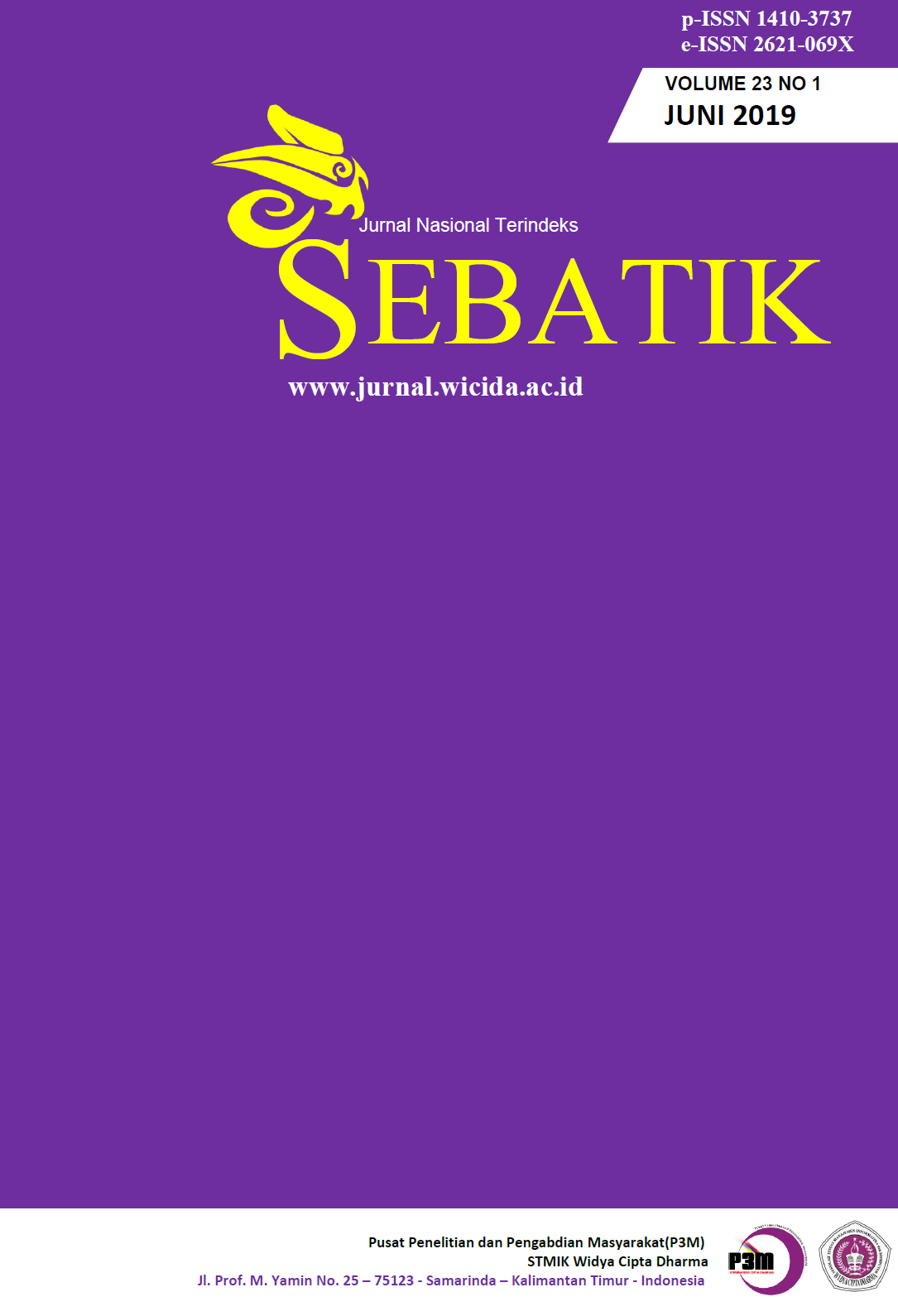 How to Cite
Pujiati, D., Nugraheni, T. and Misdiyono, M. (2019) "META ANALISIS : KATEGORI MODEL BIAYA KUALITAS DAN PROFITABILITAS", Sebatik, 23(1), pp. 84-90. Available at: https://jurnal.wicida.ac.id/index.php/sebatik/article/view/448 (Accessed: 2June2020).
The copyright of this article is transferred to SEBATIK and STMIK Widya Cipta Dharma, when the article is accepted for publication. the authors transfer all and all rights into and to paper including but not limited to all copyrights in the SEBATIK. The author represents and warrants that the original is the original and that he/she is the author of this paper unless the material is clearly identified as the original source, with notification of the permission of the copyright owner if necessary.
A Copyright permission is obtained for material published elsewhere and who require permission for this reproduction. Furthermore, I / We hereby transfer the unlimited publication rights of the above paper to SEBATIK. Copyright transfer includes exclusive rights to reproduce and distribute articles, including reprints, translations, photographic reproductions, microforms, electronic forms (offline, online), or other similar reproductions.
The author's mark is appropriate for and accepts responsibility for releasing this material on behalf of any and all coauthor. This Agreement shall be signed by at least one author who has obtained the consent of the co-author (s) if applicable. After the submission of this agreement is signed by the author concerned, the amendment of the author or in the order of the author listed shall not be accepted.