PERANCANGAN BANGUN ALAT MONITORING NOTIFIKASI TEGANGAN GENSET BERBASIS INTERNET OF THINGS DAN SMS GATEWAY
Muhammad Safii

Program Studi Manajemen Informatika, STMIK Balikpapan

Vidy Vidy

Program Studi Teknik Informatika, STMIK Balikpapan
Keywords:
Genset, IoT, SMART, UPS, Arduino
Abstract
Monitoring besaran listrik secara online perlu dilakukan untuk mengetahui kondisi real dari sebuah system tenaga listrik. Teknologi Internet of things (IoT) dimungkinkan untuk memantau secara langsung kondisi tersebut. Pemantauan harus memberikan informasi kompleks dengan konsep SMART (Specific, Measurable, Attainable, Relevant, Time-bound) yaitu spesifik, terukur, dapat dicapai, relevan, dan dalam rentang waktu. Sumber energi listrik persediaannya terbatas, seperti halnya minyak, batubara, air, nuklir dan lain sebagainya. Untuk itu, perlu dilakukan usaha agar hemat dan efisien dalam pemanfaatannya. Dalam implementasinya Suplai energi listrik sangat berperan penting pada perusahaan untuk operasional sehingga suplai energi listrik tidak boleh berhenti. Oleh karena itu perusahaan tersebut perlu  menggunakan dua alat bantuback-up suplai utama STG yaitu UPS (Uninterruptible Power Supply) dan generator set (genset). Akan tetapi pada saat ini sistem monitoring catu daya genset yang ada hanya berupa lampu indikator pada panel genset, sehingga perlu dilakukan monitoring genset secara onsite. Prototype sistem yang dibuat terdiri dari komponen – komponen elektronik seperti sensor arus, sensor tegangan, rangkaian pengkondisian sinyal, Arduino UNO, dan Ethernet Shield serta IComSat v1.1 SIM900A GSM/GPRS. Masing-masing komponen diuji sebelum dirangkai menjadi sebuah system
Downloads
Download data is not yet available.
References
Z. Pei, L. Fangxing dan B. Navin , Next-Generation Monitoring, Analysis, and Control for the Future Smart Control Center, IEEE,
G. Korteum, F. kawsar, D. Fitton dan V. Sundramoorthy, Smart objects as building blocks for the internet of things. Internet Computing, New York: IEEE, 2012
Fitriandi, Afrizal, dkk.2016. Rancang Bangun Alat Monitoring Arus dan Tegangan Berbasis Mikrokontroler dengan SMS Gateway. Jurnal Rekayasa dan Teknologi Elektro. Volume 10, No. 2, Mei 2016
Firdaus, M Wildan, dkk. 2017. Sistem Kontrol dan Monitoring Genset Melalui Internet Control System and Monitoring Genset via Internet. Vol.4, No.1 April 2017 ,Page 36
Sidehabi,Sitti Wetenriajeng dan Nurhayati Jabir, 2015, Pengontrolan Genset Jarak Jauh Melalui Website Berbasis Mikrokontroller Arduino MEGA 2560-16AU.Seminar Nasional.Makassar
Syahwil, Muhammad., 2013, Panduan Mudah Simulasi dan Praktek Mikrokontroller Arduino, C.V Andi Offset ,Yogyakarta.
K. Peffers, T. Tuunanen, M. A. Rothenberger dan S. Chatterjee, "A Design Science Research Methodology for Information Systems Research," Journal of Management Information Systems, vol. 24, no. 3, pp. 45-78, 2007
B. Susetyo, Statistika untuk Analisis Data Penelitian, Bandung: PT Refika Aditama, 2012.
Sulindawati, dan Fathoni, M. 2010. Pengantar Analisa Perancangan Sistem. Medan: STMIK Triguna Dharma. Vol. 9, No. 2.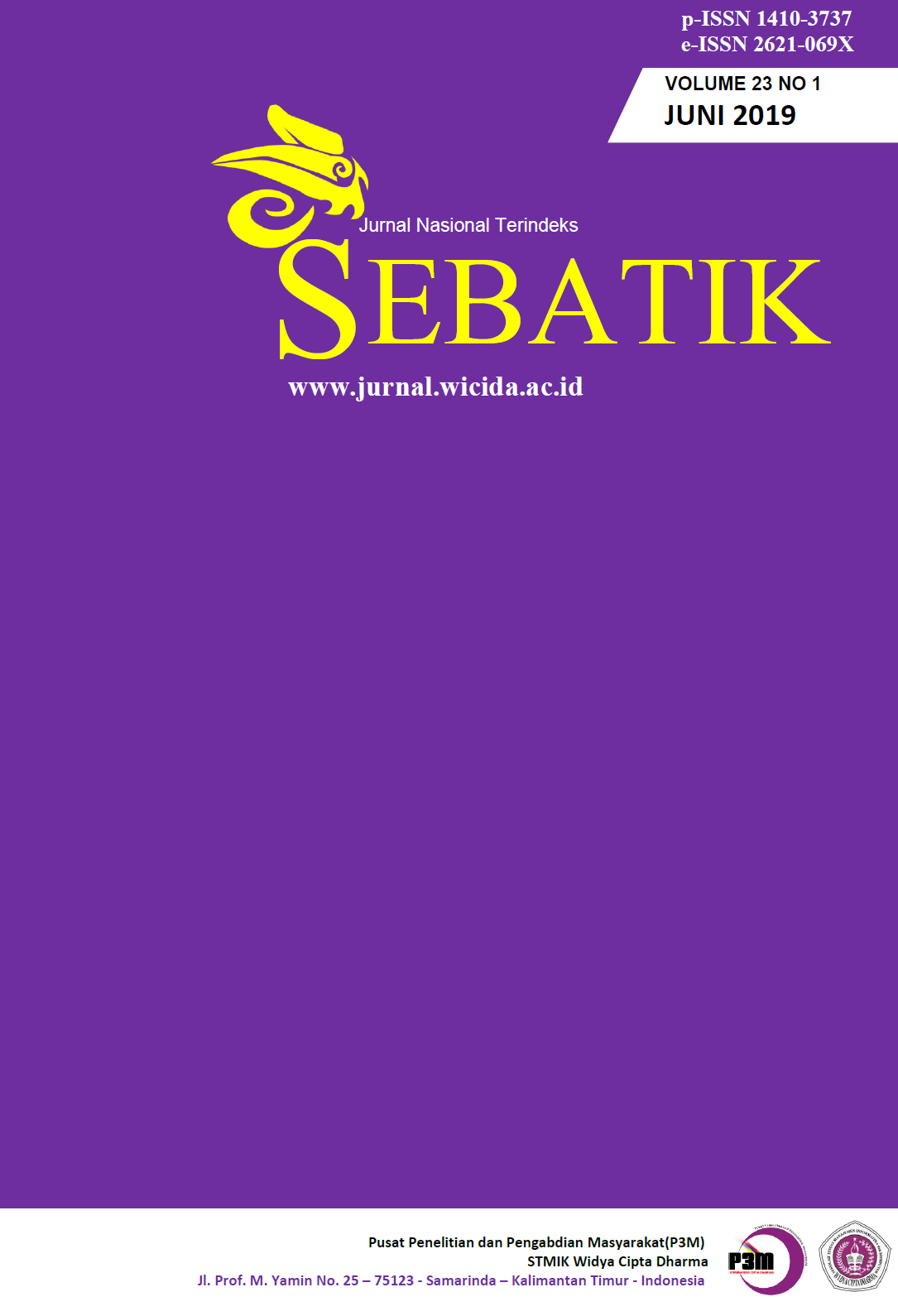 How to Cite
Safii, M. and Vidy, V. (2019) "PERANCANGAN BANGUN ALAT MONITORING NOTIFIKASI TEGANGAN GENSET BERBASIS INTERNET OF THINGS DAN SMS GATEWAY", Sebatik, 23(1), pp. 178-184. Available at: https://jurnal.wicida.ac.id/index.php/sebatik/article/view/466 (Accessed: 5June2020).
The copyright of this article is transferred to SEBATIK and STMIK Widya Cipta Dharma, when the article is accepted for publication. the authors transfer all and all rights into and to paper including but not limited to all copyrights in the SEBATIK. The author represents and warrants that the original is the original and that he/she is the author of this paper unless the material is clearly identified as the original source, with notification of the permission of the copyright owner if necessary.
A Copyright permission is obtained for material published elsewhere and who require permission for this reproduction. Furthermore, I / We hereby transfer the unlimited publication rights of the above paper to SEBATIK. Copyright transfer includes exclusive rights to reproduce and distribute articles, including reprints, translations, photographic reproductions, microforms, electronic forms (offline, online), or other similar reproductions.
The author's mark is appropriate for and accepts responsibility for releasing this material on behalf of any and all coauthor. This Agreement shall be signed by at least one author who has obtained the consent of the co-author (s) if applicable. After the submission of this agreement is signed by the author concerned, the amendment of the author or in the order of the author listed shall not be accepted.