PREDIKSI KEBUTUHAN LISTRIK TIGA FASE DENGAN JARINGAN SYARAF TIRUAN BERDASARKAN DATA ERTE SYSTEM UNIVERSITAS LAMPUNG
Dikpride Despa

Jurusan Teknik Elektro, Fakultas Teknik, Universitas Lampung

F X Arinto

Jurusan Teknik Elektro, Fakultas Teknik, Universitas Lampung

Jofanda Delano

Jurusan Teknik Elektro, Fakultas Teknik, Universitas Lampung

Meizano Ardhi Muhammad

Jurusan Teknik Elektro, Fakultas Teknik, Universitas Lampung
Keywords:
Internet Of Things, Jaringan Syaraf Tiruan, Listrik Tiga Fase, Backpropagation, Prediksi
Abstract
Electricity Real-Time Estimation (ERTE) System Universitas Lampung, melalui pemanfaatan IoT (Internet of Things), memberikan informasi mengenai pemakaian listrik tiga fase dalam waktu nyata dan menympannya secara historis. Data tersebut dapat digunakan untuk melakukan prediksi kebutuhan listrik masa depan. Jaringan Syaraf Tiruan merupakan metode yang memungkinkan melakukan prediksi berdasarkan pengamatan pada pola data yang ada seperti layaknya otak manusia. Penelitian dilakukan dalam empat bagian, pertama adalah penentuan lapisan masukan (input layer) terdiri dari tanggal, hari, hari libur, jam, ruangan, dan pemakaian listrik serta lapisan keluaran (output layer) terdiri dari prediksi kebutuhan listrik; kedua adalah pelatihan model; ketiga adalah pengujian Jaringan Syaraf Tiruan. Semua bagian tersebut dibagi ke masing-masing fase RST. Pada bagian keempat, dilakukan prediksi kebutuhan listrik berdasarkan hasil estimasi dari setiap fase. Setelah dilakukan pelatihan dan pengujian dari model jaringan syaraf tiruan, prediksi kebutuhan listrik tiga fase menggunakan Jaringan Syaraf Tiruan memiliki tingkat akurasi yang tinggi, yaitu 99,11%. Hal ini menunjukkan bahwa Jaringan Syaraf Tiruan dengan Backpropagation dapat digunakan untuk melakukan prediksi kebutuhan daya listrik dengan cukup akurat. Backpropagation menurunkan tingkat error yang cukup rendah sehingga hasil prediksi dapat dijadikan dasar dalam melakukan pengelolaan dan perencanaan perkiraan kebutuhan daya listrik untuk gedung yang menggunakan listrik tiga fase.
Downloads
Download data is not yet available.
References
Asghar, M. H., Negi, A. & Mohammadzadeh, N., 2015. Principle application and vision in Internet of Things (IoT). Noida, IEEE.
Atika Sari, D., 2006. Prediksi Kebutuhan Beban Jangka Pendek Menggunakan Jaringan Syaraf Tiruan Backpropagation, Semarang: Universitas Diponegoro.
Delano, J., 2018. Estimasi Kebutuhan Daya Listrik Menggunakan Jaringan Syaraf Tiruan Backpropagation Pada Gedung H Fakultas Teknik Universitas Lampung, Bandar Lampung: Universitas Lampung.
Despa, D. et al., 2019. DASHBOARD PENGAWASAN BESARAN LISTRIK WAKTU NYATA. Barometer, 4(1), pp. 151-154.
Despa, D. et al., 2018. Monitoring dan Manajemen Energi Listrik Gedung Laboratorium Berbasis Internet of Things (IoT). Malang, Fortei.
Despa, D., Nama, G. F., Muhammad, M. A. & Anwar, K., 2018. The Implementation Internet of Things(IoT) Technology in Real Time Monitoring of Electrical Quantities. London, IOP Publishing.
Jek Siang, J., 2005. Jaringan Syaraf Tiruan dan Pemrogramannya Menggunakan Matlab. Yogyakarta: ANDI.
Kusumadewi, S., 2004. Membangun Jaringan Syaraf Tiruan Menggunakan MATLAB & EXECL LINK. Yogyakarta: Graha Ilmu.
Pan, J. et al., 2015. An Internet of Things Framework for Smart Energy in Buildings: Designs, Prototype, and Experiments. IEEE Internet of Things Journal, 2(6), pp. 527 - 537.
Ramakrishnan, R. & Gaur, L., 2016. Smart electricity distribution in residential areas: Internet of Things (IoT) based advanced metering infrastructure and cloud analytics. Pune, 2016 International Conference on Internet of Things and Applications (IOTA).
Shrouf, F. & Miragliotta, G., 2015. Energy management based on Internet of Things: practices and framework for adoption in production management. Journal of Cleaner Production, 100(1), pp. 235-246.
Tan, Y. S., Ng, Y. T. & Low, J. S. C., 2017. Internet-of-Things Enabled Real-Time Monitoring of Energy Efficiency on Manufacturing Shop Floors. s.l., Procedia CIRP 61, p. 376–381.
Yanto, M., Sovia, R. & Mandala, E. P. W., 2018. JARINGAN SYARAF TIRUAN PERCEPTRON UNTUK PENENTUAN POLA SISTEM IRIGASI LAHAN PERTANIAN DI KABUPATEN PESISIR SELATAN SUMATRA BARAT. Sebatik, pp. 111-115.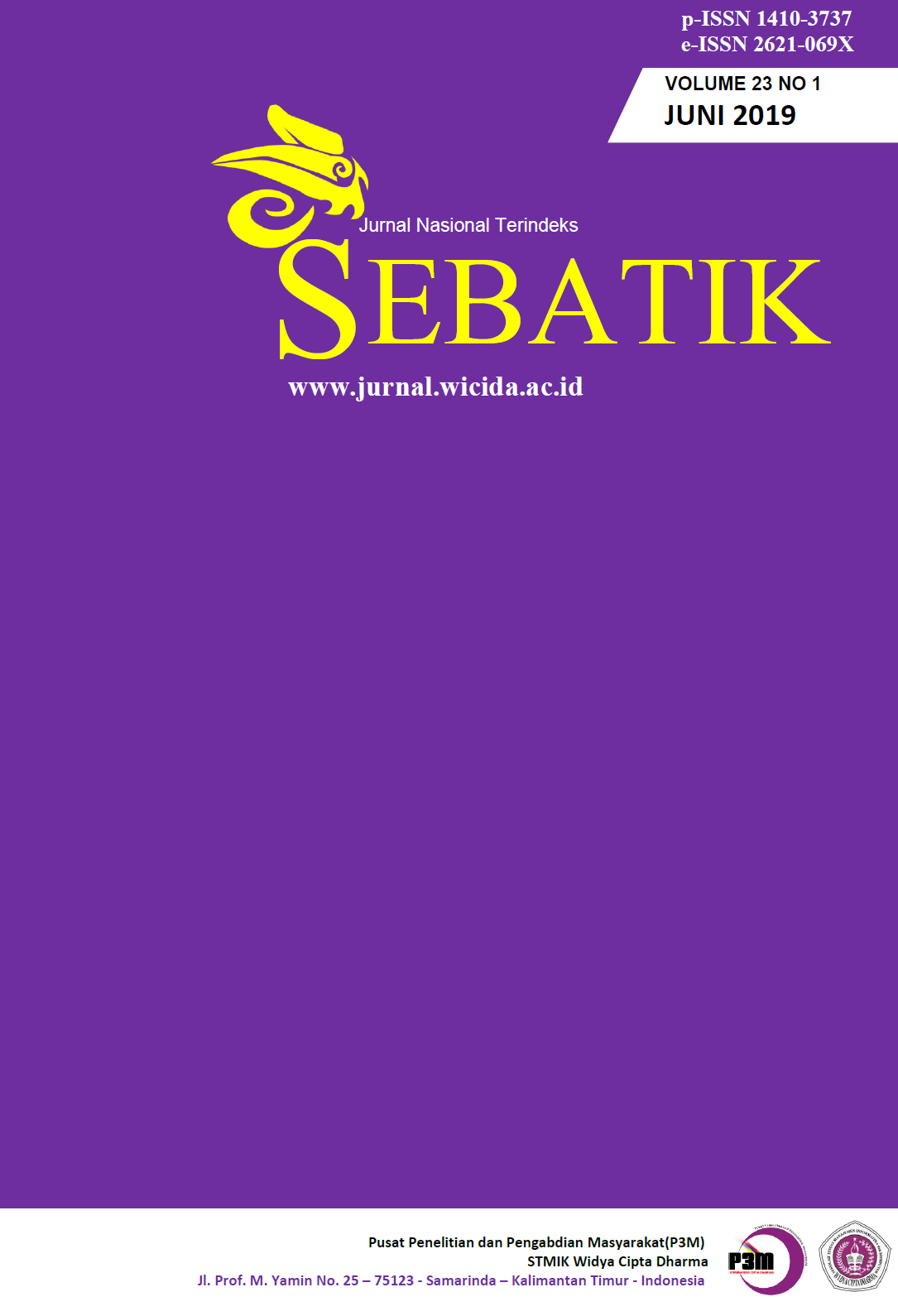 How to Cite
Despa, D., Arinto, F., Delano, J. and Muhammad, M. (2019) "PREDIKSI KEBUTUHAN LISTRIK TIGA FASE DENGAN JARINGAN SYARAF TIRUAN BERDASARKAN DATA ERTE SYSTEM UNIVERSITAS LAMPUNG", Sebatik, 23(1), pp. 203-210. Available at: https://jurnal.wicida.ac.id/index.php/sebatik/article/view/470 (Accessed: 2June2020).
The copyright of this article is transferred to SEBATIK and STMIK Widya Cipta Dharma, when the article is accepted for publication. the authors transfer all and all rights into and to paper including but not limited to all copyrights in the SEBATIK. The author represents and warrants that the original is the original and that he/she is the author of this paper unless the material is clearly identified as the original source, with notification of the permission of the copyright owner if necessary.
A Copyright permission is obtained for material published elsewhere and who require permission for this reproduction. Furthermore, I / We hereby transfer the unlimited publication rights of the above paper to SEBATIK. Copyright transfer includes exclusive rights to reproduce and distribute articles, including reprints, translations, photographic reproductions, microforms, electronic forms (offline, online), or other similar reproductions.
The author's mark is appropriate for and accepts responsibility for releasing this material on behalf of any and all coauthor. This Agreement shall be signed by at least one author who has obtained the consent of the co-author (s) if applicable. After the submission of this agreement is signed by the author concerned, the amendment of the author or in the order of the author listed shall not be accepted.