SELEKSI CALON PENERIMAAN SISWA BARU DENGAN METODE SIMPLE ADDITIVE WEIGHTING (STUDI KASUS: SMPIT CORDOVA SAMARINDA)
Heliza Rahmania Hatta

Program Studi Ilmu Komputer, FKTI, Universitas Mulawarman

Iis Andriani

Program Studi Ilmu Komputer, FKTI, Universitas Mulawarman

Dyna Marisa Khairina

Program Studi Ilmu Komputer, FKTI, Universitas Mulawarman

Septya Maharani

Program Studi Ilmu Komputer, FKTI, Universitas Mulawarman
Keywords:
Calon, SAW, Seleksi, Sistem Penunjang Keputusan, Siswa Baru
Abstract
Sekolah Menengah Pertama Islam Terpadu (SMPIT) Cordova merupakan salah satu sekolah swasta di Samarinda yang berbasis pendidikan islam, dimana akreditas dari sekolah tersebut sampai tahun 2017 adalah A. Sehingga memberikan pengaruh terhadap jumlah calon siswa baru yang mendaftar dan dari tahun ke tahun calon siswa baru yang mendaftar melebihi kuota yang ada. Salah satu cara meningkatkan mutu Sekolah dengan membangun sebuah sistem penunjang keputusan yang dapat menyeleksi calon siswa baru untuk meminimalisir kesalahan yang dilakukan oleh panitia penyeleksi calon siswa baru Sekolah Menengah Pertama Islam Terpadu (SMPIT) Cordova Samarinda. Penelitian ini bertujuan untuk digunakan untuk membantu mengambil keputusan dalam meyeleksi calon siswa baru di SMPIT CORDOVA Samarinda menggunakan metode SAW (Simple Additive Weighting). Hasil dari penelitian ini adalah metode SAW dapat diterapkan pada studi kasus seleksi calon siswa baru di SMPIT Cordova Samarinda.
Downloads
Download data is not yet available.
References
Ariani, A., Abdillah, L.A. and Syakti, F., 2013. Sistem pendukung keputusan kelayakan TKI ke luar negeri menggunakan FMADM. arXiv preprint arXiv:1312.5162.
Harpad, B. and Salmon, S., 2018. Penerapan Metode Ahp Dan Metode Topsis Dalam Sistem Pendukung Keputusan Pemilihan Asisten Laboratorium Komputer Pada Stmik Widya Cipta Dharma Samarinda. Sebatik, 19(1), pp.28-34.
Hatta, H.R., Khairina, D.M. and Amaliya, R., 2016. Decision Support Systems For the Selection of Outstanding Students by Using Analytic Hierarchy Proses Method (Case Study: LKP El-Rahma Samarinda). ITSMART: Jurnal Teknologi dan Informasi, 5(1), pp.1-6.
Hatta, H.R., 2017. Pemilihan Lahan Terbaik untuk Tanaman Kelapa Sawit menggunakan Metode Simple Additive Weighting. Prosiding SENIATI, 3(1), pp.14-1.
Hatta, H.R., Gunawan, B. and Khairina, D.M., 2017. Pemilihan Pemain Terbaik Futsal Dengan Metode Simple Multi Attribute Rating Tecnique, Studi Kasus: Turnamen Futsal Di Samarinda. Jurnal Informatika, 11(1), pp.1-8.
Khairina, D.M., Ramadhani, F., Maharani, S. and Hatta, H.R., 2015, October. Department recommendations for prospective students Vocational High School of information technology with Naïve Bayes method. In 2015 2nd International Conference on Information Technology, Computer, and Electrical Engineering (ICITACEE) (pp. 92-96). IEEE.
Khairina, D.M., Asrian, M.R. and Hatta, H.R., 2016, October. Decision support system for new employee recruitment using weighted product method. In 2016 3rd International Conference on Information Technology, Computer, and Electrical Engineering (ICITACEE) (pp. 297-301). IEEE.
Kurniasih, D.L., 2017. Sistem pendukung keputusan pemilihan laptop dengan metode TOPSIS. Pelita Informatika: Informasi dan Informatika, 3(2).
Lailiyah, S., Salmon, S. and Haeda, N., 2016. Sistem Pendukung Keputusan Menentukan Anak Asuh Pena Prestasi Menggunakan Metode Saw (Simple Additive Weighting) Pada Lembaga Amil Zakat Dana Peduli Ummat Kalimantan Timur. Sebatik, 15(1), pp.25-30.
Murdianto, H., Khairina, D.M. and Hatta, H.R., 2016, September. Sistem Pendukung Keputusan Pemilihan Karyawan Terbaik Per Triwulan PT. Cahaya Fajar Kaltim PLTU Embalut Tanjung Batu Menggunakan Metode Simple Additive Weighting. In Prosiding SAKTI (Seminar Ilmu Komputer dan Teknologi Informasi) (Vol. 1, No. 1, pp. 24-29).
Ramadiani, Marissa, D., Jundillah, M.L. and Hatta, H.R., 2018. Simple Additive Weighting to Diagnose Rabbit Disease. In E3S Web of Conferences (Vol. 31, p. 10002). EDP Sciences.
Suryani, M.A.I., Arifin, Z. and Hatta, H.R., 2017. Pemilihan Paket Wisata Menggunakan Metode Analytical Hierarchy Process (AHP). Informatika Mulawarman: Jurnal Ilmiah Ilmu Komputer, 12(2), pp.64-68.
Turban, Efraim. 2005. Decision Support System and Intelligent, edisi Bahasa Indonesia jilid 1. Yogyakarta: Penerbit Andi.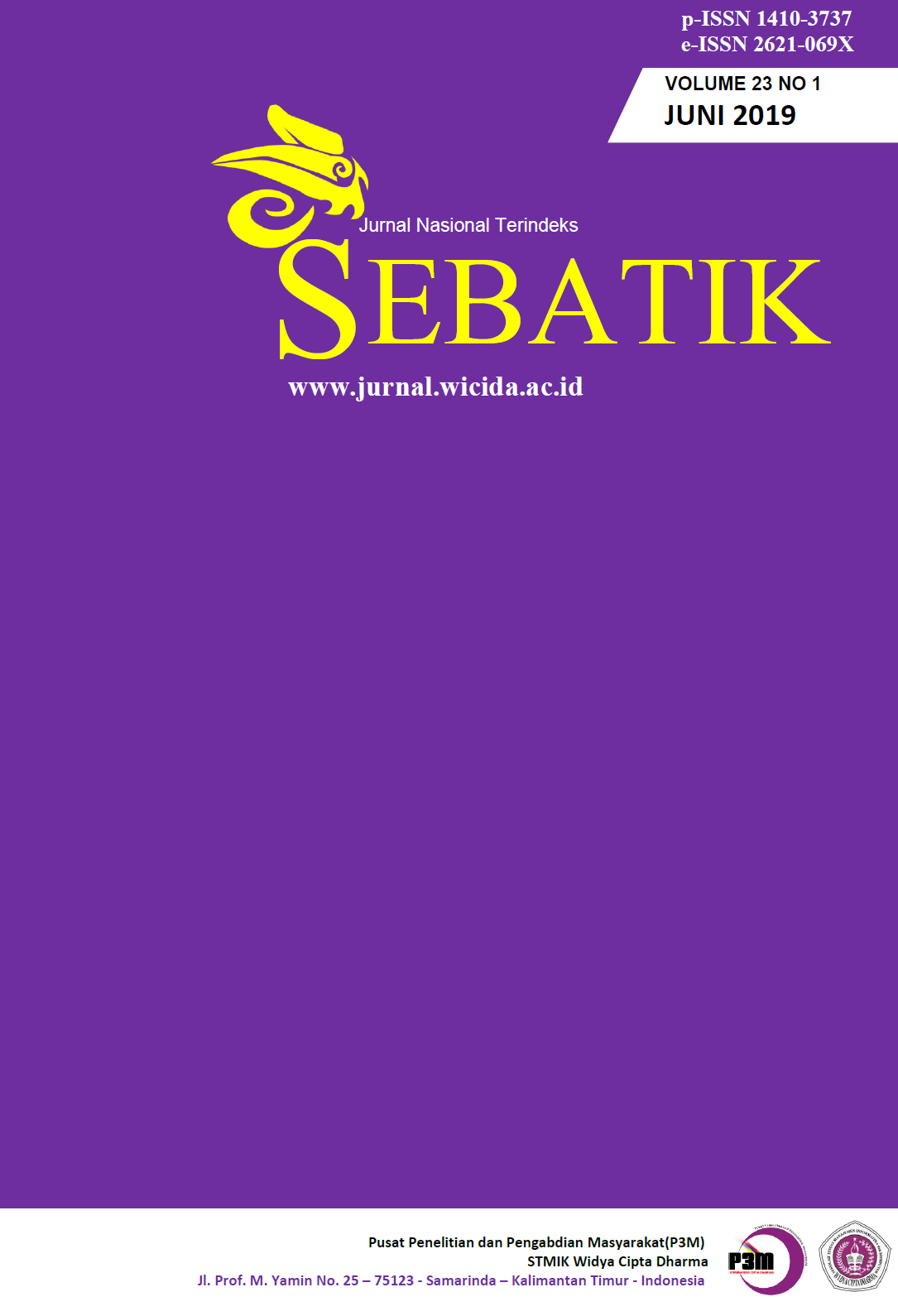 How to Cite
Hatta, H., Andriani, I., Khairina, D. and Maharani, S. (2019) "SELEKSI CALON PENERIMAAN SISWA BARU DENGAN METODE SIMPLE ADDITIVE WEIGHTING (STUDI KASUS: SMPIT CORDOVA SAMARINDA)", Sebatik, 23(1), pp. 236-241. Available at: https://jurnal.wicida.ac.id/index.php/sebatik/article/view/475 (Accessed: 5June2020).
The copyright of this article is transferred to SEBATIK and STMIK Widya Cipta Dharma, when the article is accepted for publication. the authors transfer all and all rights into and to paper including but not limited to all copyrights in the SEBATIK. The author represents and warrants that the original is the original and that he/she is the author of this paper unless the material is clearly identified as the original source, with notification of the permission of the copyright owner if necessary.
A Copyright permission is obtained for material published elsewhere and who require permission for this reproduction. Furthermore, I / We hereby transfer the unlimited publication rights of the above paper to SEBATIK. Copyright transfer includes exclusive rights to reproduce and distribute articles, including reprints, translations, photographic reproductions, microforms, electronic forms (offline, online), or other similar reproductions.
The author's mark is appropriate for and accepts responsibility for releasing this material on behalf of any and all coauthor. This Agreement shall be signed by at least one author who has obtained the consent of the co-author (s) if applicable. After the submission of this agreement is signed by the author concerned, the amendment of the author or in the order of the author listed shall not be accepted.