SISTEM INFORMASI MONITORING GURU AGAMA KATHOLIK TINGKAT SEKOLAH DASAR BERBASIS WEB
Ahmad Rofiq Hakim

STMIK Widya Cipta Dharma

Ekawati Yulsilviana

STMIK Widya Cipta Dharma

Cornelius Kurniawan

STMIK Widya Cipta Dharma
Keywords:
Sistem Informasi, Monitoring, Guru Agama Katholik, WEB
Abstract
Website merupakan suatu bentuk informasi yang dapat memberikan kemudahan kepada user dalam melakukan proses laporan priodik serta mendapatkan informasi seputar kegiatan yang dibuat oleh pengawas dimana dan kapan pun user berada.
Penelitian dilakukan pada Kantor Kementerian Agama Kota Samarinda yang terletak di Jalan Harmonika. Metode pengumpulan data pada penelitian ini terdiri dari studi pustaka, wawancara, dan pengamatan langsung ke lapangan. Alat bantu pengembangan sistem yaitu flow of document, flowchart, context diagram, data flow diagram, entity relationship diagram, Site Map. Adapun kebutuhan perangkat lunak yang digunakan untuk membangun website antara lain menggunakan Web Server Apache, Database MySQL, Web Developer menggunakan PHP, Editor dan Web Design menggunakan Macromedia Dreamweaver MX serta Mozilla Firefox sebagai Browser.
Hasil penelitian sudah melalui beberapa pengujian yaitu menggunakan pengujian blackbox, white box dan pengujian betha. Banyak saran yang telah diberikan oleh para responden, maka saran-saran yang dapat diberikan penulis yaitu sistem ini masih dapat dikembangkan agar menjadi sistem website yang lebih baik dan efisien sesuai dengan kebutuhan dan perkembangan teknologi dan juga diperlukan pelatihan dalam bidang teknologi informasi sehingga penerapannya dapat dilaksanakan dengan baik.
Downloads
Download data is not yet available.
References
Andi. 2005. Aplikasi Manajemen Database Pendidikan Berbasis Web dengan PHP dan MySQL. Yogyakarta: Andi Yogyakarta.

Fathansyah. 2004, Basis Data, Informatika Bandung.

Jogiyanto HM. 2005, Analisa dan Desain, Yogyakarta: Andi offset.

Kadir, Abdul. 2003, Pengenalan Sistem Informasi. Yogyakarta : Andi.

Kristanto Andi, 2007, Perancangan Sistem Informasi dan Aplikasinya, Yogyakarta : Gava Media.

Nugroho, Bunafit. 2004. PHP & MySQL dengan Editor Dreamweaver MX. Yogyakarta: Andi Yogyakarta.

Purbo, Onno W dan Sembiring, Akhmad D. 2000. Buku Pintar Internet APACHE WEB SERVER. Jakarta: PT. Elex Media Komputindo

Pusat Bahasa Departemen Pendidikan Nasional 2008, Kamus Besar Bahasa Indonesia, Edisi IV, Jakarta : Balai Pustaka.

Pressman,Roger S,2002, Rekayasa Perangkat Lunak : pendekatan praktisi (buku I), Yogyakarta : Andi

Prayitno M.Sc.Ed 2005 Paduan Kegiatan Pengawasan Bimbingan dan Konseling di Sekolah.

Suyantoro 2007, Web Design Theory and fractices. Yogyakarta : Andi

Sutabri, Tata,2004, Analisa sistem informasi, Yogyakarta : Andi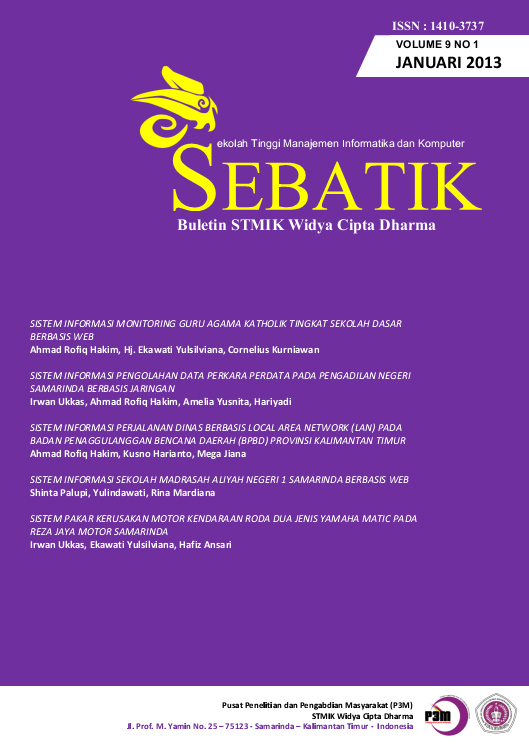 How to Cite
Hakim, A. R., Yulsilviana, E. and Kurniawan, C. (2018) "SISTEM INFORMASI MONITORING GURU AGAMA KATHOLIK TINGKAT SEKOLAH DASAR BERBASIS WEB", Sebatik, 9(1), pp. 1-7. Available at: https://jurnal.wicida.ac.id/index.php/sebatik/article/view/48 (Accessed: 17February2020).
The copyright of this article is transferred to SEBATIK and STMIK Widya Cipta Dharma, when the article is accepted for publication. the authors transfer all and all rights into and to paper including but not limited to all copyrights in the SEBATIK. The author represents and warrants that the original is the original and that he/she is the author of this paper unless the material is clearly identified as the original source, with notification of the permission of the copyright owner if necessary. The author states that he has the authority and authority to make and carry out this task.
The author states that:
This paper has not been published in the same form elsewhere.
This will not be submitted elsewhere for publication prior to acceptance/rejection by this Journal.
A Copyright permission is obtained for material published elsewhere and who require permission for this reproduction. Furthermore, I / We hereby transfer the unlimited publication rights of the above paper to SEBATIK. Copyright transfer includes exclusive rights to reproduce and distribute articles, including reprints, translations, photographic reproductions, microforms, electronic forms (offline, online), or other similar reproductions. Author's can fill it on https://drive.google.com/file/d/1MZAv5k69pPFQ890CTFbzReVSfxCDVWbE/view
The author's mark is appropriate for and accepts responsibility for releasing this material on behalf of any and all coauthor. This Agreement shall be signed by at least one author who has obtained the consent of the co-author (s) if applicable. After the submission of this agreement is signed by the author concerned, the amendment of the author or in the order of the author listed shall not be accepted.
Rights / Terms and Conditions Saved
The author keeps all proprietary rights in every process, procedure, or article creation described in Work.
The author may reproduce or permit others to reproduce the work or derivative works for the author's personal use or for the use of the company, provided that the source and the Informatika Mulawarman copyright notice are indicated, the copy is not used in any way implying the Journal of Informatika Mulawarman (JIM) approval of the product or service from any company, and the copy itself is not offered for sale.
Although authors are permitted to reuse all or part of the Works in other works, this does not include granting third-party requests to reprint, republish, or other types of reuse.