SISTEM PAKAR MENDETEKSI KERUSAKAN PADA MOBIL SUZUKI DENGAN ALGORITMA RETE
Ahmad Fajri

Teknik Informatika, Universitas Amikom Yogyakarta

Prihandoko Prihandoko

Ilmu Komputer, Universitas Gunadarma
Keywords:
Sistem Pakar, Kerusakan Mobil, Suzuki, Algoritma RETE, PHP, Mysql
Abstract
Penelitian ini dilakukan bertujuan untuk membuat Sistem Pakar Mendeteksi Kerusakan pada mobil Suzuki Dengan Algoritma RETE. Alat bantu pengembangan sistem yang digunakan flowchart dan Algoritma RETE dengan menggunakan bahasa pemrograman PHP serta database MySQL. Maka dihasilkan sebuah Sistem Pakar mendeteksi kerusakan mobil Suzuki Dengan Algoritma RETE yang dapat memberi kemudahan pada para mekanik PT. Samekarindo Indah yang ingin melakukan diagnosa kerusakan mobil Suzuki dengan menggunakan bahasa pemrograman PHP dan MySQL.
Downloads
Download data is not yet available.
References
Arief M Rudianto, 2011, Pemprograman Web Dinamis Menggunakan PHP dan MySQL, Andi Offset, Yogyakarta.
Hayadi, B. H. 2018. Sistem Pakar. Deepublish.
Irwansyah, E., & Moniaga, J. V. 2014. Pengantar Teknologi Informasi. deePublish.
Peter F.J. Lucas & Linda J. Van der Gaag, 1991, Principles of Expert Systems, Amsterdam : Penerbit Addison-Wesley.
Rukun, K., & Hayadi, B. H. 2018. Sistem Informasi Berbasis Expert System. Deepublish.
SIS, PT, 2012, Suzuki Ertiga: Pedoman Perbaikan, Jakarta: PT. Suzuki Indomobil Sales 2012. S
Sutabri, Tata, 2012. Analisa Sistem Informasi. Yogyakarta : Andi.
Turban Efraim, 2010, Mesin Inferensi dan Tahapan Pengembangan Sistem Pakar,Yogyakarta : Penerbit Andi Offset.
Ukkas, M. I., Palupi, S., & Pradiba, I. 2014. Sistem Pakar Diagnosa Jenis-jenis Penyakit Demam Panas pada Balita dengan Menggunakan Metode Fuzzy Logic Berbasis Web. Sebatik, 12(1), 24-30.
Ukkas, M. I., Yulsilviana, E., & Aisyah, S. 2012. Sistem Pakar Untuk Mendiagnosa Kecenderungan Perilaku Abnormal Pada Anak-anak Menggunakan Metode Bayes. Sebatik, 8(1), 30-33.

Pahrudin, P. 2019. Etika Profesi Komputer. Goresan Pena Kuningan.
Ramadiani, Hidayanto, A. N., Azainil, Hatta, H. R., Khairina, D. M., & Maharani, S. 2019. MODEL DAN BENTUK PENELITIAN E-LEARNING MENGGUNAKAN STRUCTURAL EQUATION MODEL. Samarinda: Unmul Press.
Andrea, R., & Palupi, S. (2018). Membangun Edugame "Boni Kids–Borneo Animal Kids" Permainan Match-up dengan Teknik Pengacakan Shuffle dan Pengembangan Agen Cerdas dengan Model Finite State Machine (Fsm). Sebatik, 19(1), 6-10.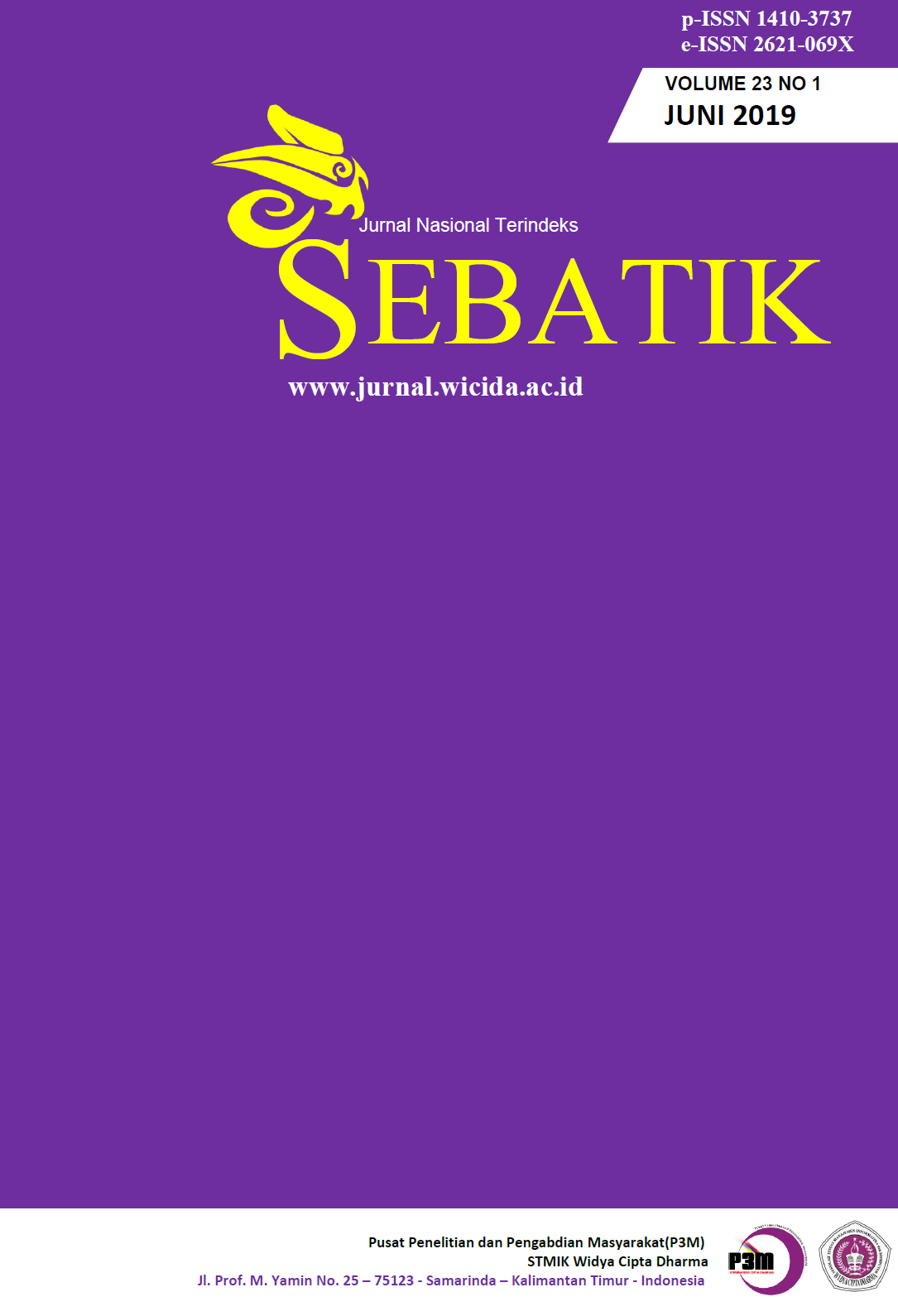 How to Cite
Fajri, A. and Prihandoko, P. (2019) "SISTEM PAKAR MENDETEKSI KERUSAKAN PADA MOBIL SUZUKI DENGAN ALGORITMA RETE", Sebatik, 23(1), pp. 277-282. Available at: https://jurnal.wicida.ac.id/index.php/sebatik/article/view/480 (Accessed: 2June2020).
The copyright of this article is transferred to SEBATIK and STMIK Widya Cipta Dharma, when the article is accepted for publication. the authors transfer all and all rights into and to paper including but not limited to all copyrights in the SEBATIK. The author represents and warrants that the original is the original and that he/she is the author of this paper unless the material is clearly identified as the original source, with notification of the permission of the copyright owner if necessary.
A Copyright permission is obtained for material published elsewhere and who require permission for this reproduction. Furthermore, I / We hereby transfer the unlimited publication rights of the above paper to SEBATIK. Copyright transfer includes exclusive rights to reproduce and distribute articles, including reprints, translations, photographic reproductions, microforms, electronic forms (offline, online), or other similar reproductions.
The author's mark is appropriate for and accepts responsibility for releasing this material on behalf of any and all coauthor. This Agreement shall be signed by at least one author who has obtained the consent of the co-author (s) if applicable. After the submission of this agreement is signed by the author concerned, the amendment of the author or in the order of the author listed shall not be accepted.