MEMBANGUN PERMAINAN EDUKASI ANDROID "FLORA THE EXLPORER" PENGENALAN TUMBUH-TUMBUHAN
Rahmad Rizky Fauzi

Teknik Informatika, STMIK Widya Cipta Dharma

Lilyana Lilyana

Manajemen Informatika, STMIK Widya Cipta Dharmaa

Ahmad Fahrijal Pukeng

Teknik Informatika, STMIK Widya Cipta Dharma
Keywords:
Tumbuhan, Permainan Edukasi, Android, Shuffle Random, Multimedia
Abstract
Permainan edukasi berbasis simulasi didesain untuk mensimulasikan permasalahan yang ada sehingga diperoleh ilmu yang dapat digunakan untuk menyelesaikan permasalahan tersebut. Permainan simulasi dengan tujuan edukasi ini dapat digunakan sebagai salah satu media edukasi yang memiliki pola pembelajaran learning by doing. Berdasarkan pola yang dimiliki oleh permainan tersebut, pemain dituntut untuk belajar sehingga dapat menyelesaikan permasalahan yang ada. Dalam pembuatan permainan edukasi android "Flora The Explorer pengenalan tumbuh-tumbuhan. Aplikasi yang digunakan dalam membuat permainan adalah Swish max4 dan dengan tahapan pengembangan multimedia, serta menerapkan algoritma shuffle random. Diharapkan permainan ini tidak menjadi monoton dan pemain tidak dapat mengingat posisi gelembung pada permainan dengan adanya algoritma shuffle random
Downloads
Download data is not yet available.
References
Adnyana. M.A. 2011, Modul Swishmax. http : //ilmukomputer.org / 2008/11/ 25 /animasiflashdengan-swishmax-2/. diakses pada tanggal 8 September 2012.
Andrea, R. 2013, Teknik Pengacakan Posisi – Find Me The Game Prosiding Senaik. Samarinda : Unmul Press.
Binanto, I. 2010, Multimedia Digital-Dasar Teori dan Pengembangannya. Yogyakarta : Andi
Budiarso, Z., & Nurraharjo, E. 2018. Implementasi Algoritma Random Pada Permainan Ketangkasan. Dinamik, 23(2), 97-100.
De Freitas, S. 2018. Are games effective learning tools? A review of educational games. Journal of Educational Technology & Society, 21(2), 74-84.
Elliani. 2014, Membangun Game edukasi Smart&Fun Hijaiyah Berbasis Android. Samarinda : STMIK Widya Cipta Dharma.
Ismail, A. 2009, Education Games. Jakarta : Proumedia.
Safaat, N. 2012, (Edisi Revisi). Pemograman Aplikasi Mobile Smartphone dan Tablet PC Berbasis Android. Informatika. Bandung.
Nugroho, A. 2010, Rekayasa Perangkat Lunak Berorientasi Objek dengan Metode USDP, Yogyakarta : Penerbit Andi Offset.
Pressman, R. 2010, Software Engineering: A Practitioner's Approach. McGraw-Hill.
Ramadiani, dkk. 2019. MODEL DAN BENTUK PENELITIAN E-LEARNING MENGGUNAKAN STRUCTURAL EQUATION MODEL.Samarinda: UNMUL Press.
Setiawati, 2008. Education Games. Jakarta : Proumedia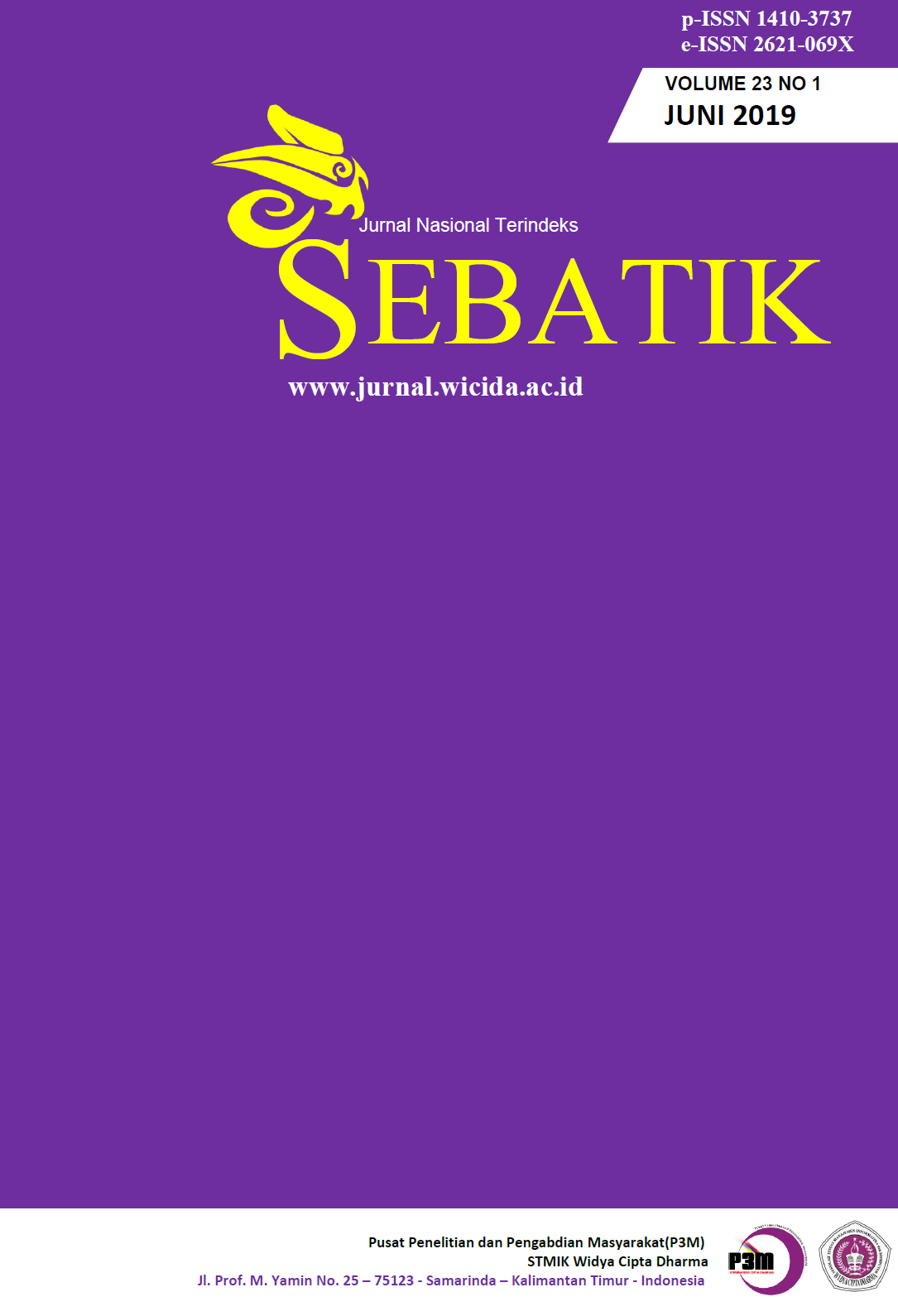 How to Cite
Fauzi, R., Lilyana, L. and Pukeng, A. (2019) "MEMBANGUN PERMAINAN EDUKASI ANDROID 'FLORA THE EXLPORER' PENGENALAN TUMBUH-TUMBUHAN", Sebatik, 23(1), pp. 271-276. Available at: https://jurnal.wicida.ac.id/index.php/sebatik/article/view/495 (Accessed: 5June2020).
The copyright of this article is transferred to SEBATIK and STMIK Widya Cipta Dharma, when the article is accepted for publication. the authors transfer all and all rights into and to paper including but not limited to all copyrights in the SEBATIK. The author represents and warrants that the original is the original and that he/she is the author of this paper unless the material is clearly identified as the original source, with notification of the permission of the copyright owner if necessary.
A Copyright permission is obtained for material published elsewhere and who require permission for this reproduction. Furthermore, I / We hereby transfer the unlimited publication rights of the above paper to SEBATIK. Copyright transfer includes exclusive rights to reproduce and distribute articles, including reprints, translations, photographic reproductions, microforms, electronic forms (offline, online), or other similar reproductions.
The author's mark is appropriate for and accepts responsibility for releasing this material on behalf of any and all coauthor. This Agreement shall be signed by at least one author who has obtained the consent of the co-author (s) if applicable. After the submission of this agreement is signed by the author concerned, the amendment of the author or in the order of the author listed shall not be accepted.