SISTEM INFORMASI PERJALANAN DINAS BERBASIS LOCAL AREA NETWORK (LAN) PADA BADAN PENAGGULANGGAN BENCANA DAERAH (BPBD) PROVINSI KALIMANTAN TIMUR
Ahmad Rofiq Hakim

STMIK Widya Cipta Dharma

Kusno Harianto

STMIK Widya Cipta Dharma

Mega Jiana

STMIK Widya Cipta Dharma
Keywords:
Sistem Informais, Perjalanan Dinas, LAN
Abstract
Sistem Informasi Perjalanan Dinas merupakan sistem yang dibangun untuk proses surat perintah perjalanan dinas (SPPD) berupa input data pegawai, kegiatan, penandatangan, transport, biaya.
Penelitian ini dilakukan pada Badan Penaggulanggan Bencana Daerah (BPBD) Provinsi Kalimantan Timur yang beralokasi di Samarinda dengan menggunakan metode penelitian yaitu metode pengumpulan data, studi lapangan, studi pustaka, analisis kebutuhan, desain sistem, dan implementasi sistem. Program yang telah dibangun berjudul Sistem Informasi Perjalanan Dinas Berbasis Jaringan dengan desain sistem mengunakan Flow Of Document (FOD), Data Flow Diagram (DFD), dan Entity Relationship Diagram (ERD) ERD.
Aplikasi Ini dibangun menggunakan software yaitu Foxpro 9.0, database yang digunakan MYSQL. Sistem yang dibangun beroperasi pada Sistem Operasi Windows. Dari hasil implementasi sistem, dapat disimpulkan bahwa dengan penggunaan software dapat membantu bagian rekam medis dalam mengelola rekam medis pasien pada Badan Penaggulanggan Bencana Daerah (BPBD) Provinsi Kalimantan Timur.
Diharapkan program ini dapat dikembangkan berbasis web, sehingga dapat di akses secara luas dan penggunaan dana perjalanan dinas jadi lebih transparan.
Downloads
Download data is not yet available.
References
Fathansyah. 2005, Buku Teks Komputer Basis Data, Penerbit Informatika, Bandung

Jogiyanto.HM, 2005, Analisis dan Desain Sistem Informasi, Andi Yogyakarta, Yogyakarta

Kadir Abdul, 2008, Konsep & Tuntunan Praktis Basis Data, Penerbit Andi Yogyakarta

Kristanto andri, 2003, Perancangan Sistem Informasi danAplikasinya, Yogyakarta: gava media.

Madcoms, 2008, Microsoft Visual Basic 6.0 dan Cristal Report 2008 , Penerbit Andi.

Pressman, Roger S, 2002, Rekayasa Perangkat Lunak :pendekatan praktisi (buku I), Yogyakarta : Andi

Ramadhan, Arief, 2004, 36 Jam Belajar Visual Foxpro 8.0, Jakarta : PT. Elex Media Komputindo.

Suarna, 2007 Petunjuk Teoritis Pengantar LAN, Pengenalan jaringan, Penerbit Informatika, Bandung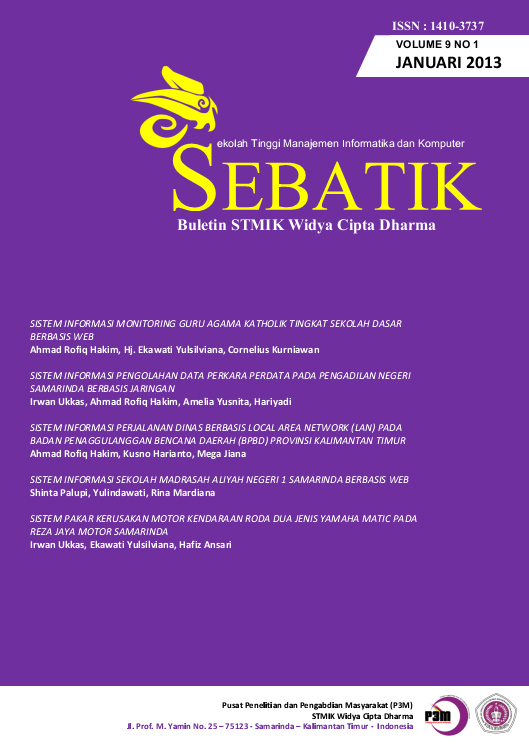 How to Cite
Hakim, A. R., Harianto, K. and Jiana, M. (2018) "SISTEM INFORMASI PERJALANAN DINAS BERBASIS LOCAL AREA NETWORK (LAN) PADA BADAN PENAGGULANGGAN BENCANA DAERAH (BPBD) PROVINSI KALIMANTAN TIMUR", Sebatik, 9(1), pp. 16-22. Available at: https://jurnal.wicida.ac.id/index.php/sebatik/article/view/50 (Accessed: 6May2021).
The copyright of this article is transferred to SEBATIK and STMIK Widya Cipta Dharma, when the article is accepted for publication. the authors transfer all and all rights into and to paper including but not limited to all copyrights in the SEBATIK. The author represents and warrants that the original is the original and that he/she is the author of this paper unless the material is clearly identified as the original source, with notification of the permission of the copyright owner if necessary.
A Copyright permission is obtained for material published elsewhere and who require permission for this reproduction. Furthermore, I / We hereby transfer the unlimited publication rights of the above paper to SEBATIK. Copyright transfer includes exclusive rights to reproduce and distribute articles, including reprints, translations, photographic reproductions, microforms, electronic forms (offline, online), or other similar reproductions.
The author's mark is appropriate for and accepts responsibility for releasing this material on behalf of any and all coauthor. This Agreement shall be signed by at least one author who has obtained the consent of the co-author (s) if applicable. After the submission of this agreement is signed by the author concerned, the amendment of the author or in the order of the author listed shall not be accepted.