SISTEM INFORMASI SEKOLAH MADRASAH ALIYAH NEGERI 1 SAMARINDA BERBASIS WEB
Shinta Palupi

STMIK Widya Cipta Dharma

Yulindawati Yulindawati

STMIK Widya Cipta Dharma

Rina Mardiana

STMIK Widya Cipta Dharma
Keywords:
Informasi , Sekolah, Madrasah Aliyah ,Website, Waterfall, Blackbox , Beta.
Abstract
Penelitian ini dibuat untuk mengatasi berbagai kendala yang dihadapi oleh Madrasah Aliyah Negeri 1 Samarinda , dalam membangun website ini didukung sistem database MySQL dan menggunakan Dreamweaver sebagai web editor yang didukung Apache sebagai web server, serta bantuan dari alat bantu pengembangan system flowchart serta menggunakan   bahasa PHP ( PHP Hypertext Preprocessor ) yang memiliki fasilitas diantaranya halaman utama, galery ,sejarah dan informasi lainnya yang berkaitan dengan sekolah .
Metode yang digunakan dalam pengembangan web ini adalah waterfall sedangkan metode pengujian yang dipakai adalah blackbox dan beta .
Dengan dibangunnya website ini maka akan diperoleh manfaat yang besar bagi sekolah , juga memberikan kemudahan dalam menerima dan memberi informasi-informasi yang dibutuhkan oleh setiap Siswa , guru dan Seluruh Masyarakat pada umumnya.
Downloads
Download data is not yet available.
References
Hengky Prihatna, 2005, Kiat Praktik Menjadi Webmaster Profesional

Jogiyanto HM., 2003, Analisis & Desain Sistem Informasi Manajement, Andi Yogyakarta,

Madcoms, 2008, Aplikasi program PHP dan MYSQL Untuk Membuat Website Interaktif, Andi, Yogyakarta.

Musyawarah, 2004, Macromedia Studio MX ( Integrasi Aplikasi Untuk Membangun Website ), Andi Yogyakarta.

Mulyanta, edy s. 2002. macromedia studio MX (integrasi aplikasi untuk membangun website). Andi. Yogyakarta.

Nugroho, Adi. 2010, Rekayasa Perangkat Lunak Dengan Metode USDP, Yogyakarta: Penerbit Andi

Nugroho, 2004, PHP & My SQL dengan editor Dreamewaver MX, Andi, Yogyakarta.

Nugroho, bunafit 2007, Membuat Website Sendiri Dengan PHP dan MYSQL , Andi, Yogyakarta

Pressman, Roger S, 2003, Rekayasa Perangkat Lunak: pendekatan praktisi (Buku I). Andi, Yogyakarta.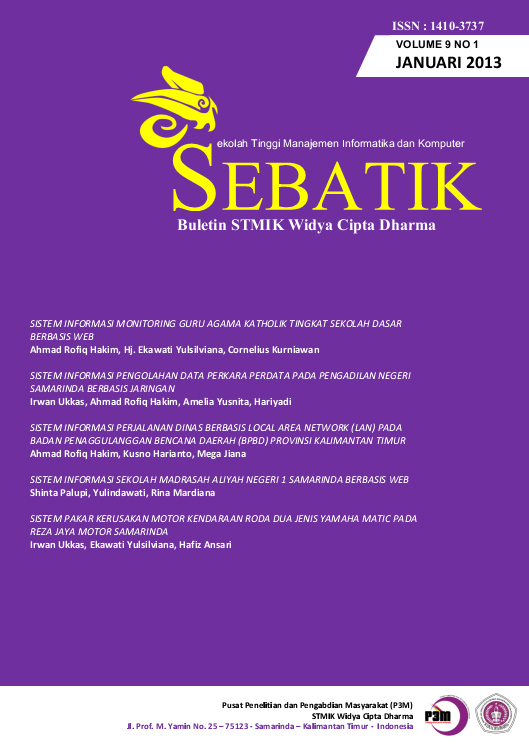 How to Cite
Palupi, S., Yulindawati, Y. and Mardiana, R. (2018) "SISTEM INFORMASI SEKOLAH MADRASAH ALIYAH NEGERI 1 SAMARINDA BERBASIS WEB", Sebatik, 9(1), pp. 23-29. Available at: https://jurnal.wicida.ac.id/index.php/sebatik/article/view/51 (Accessed: 22October2021).
The copyright of this article is transferred to SEBATIK and STMIK Widya Cipta Dharma, when the article is accepted for publication. the authors transfer all and all rights into and to paper including but not limited to all copyrights in the SEBATIK. The author represents and warrants that the original is the original and that he/she is the author of this paper unless the material is clearly identified as the original source, with notification of the permission of the copyright owner if necessary.
A Copyright permission is obtained for material published elsewhere and who require permission for this reproduction. Furthermore, I / We hereby transfer the unlimited publication rights of the above paper to SEBATIK. Copyright transfer includes exclusive rights to reproduce and distribute articles, including reprints, translations, photographic reproductions, microforms, electronic forms (offline, online), or other similar reproductions.
The author's mark is appropriate for and accepts responsibility for releasing this material on behalf of any and all coauthor. This Agreement shall be signed by at least one author who has obtained the consent of the co-author (s) if applicable. After the submission of this agreement is signed by the author concerned, the amendment of the author or in the order of the author listed shall not be accepted.