SISTEM PAKAR KERUSAKAN MOTOR KENDARAAN RODA DUA JENIS YAMAHA MATIC PADA REZA JAYA MOTOR SAMARINDA
Ekawati Yulsilviana

STMIK Widya Cipta Dharma

Hafiz Ansari

STMIK Widya Cipta Dharma
Keywords:
Sistem Pakar, Forward Chaining, Diagnosa Kerusakan Motor.
Abstract
Tulisan ini memuat bagaimana melakukan diagnosa kerusakan pada motor Yamaha matic dengan menggunakan metode Forward Chaining dan Certainty Factor Sebagai tolak ukur tingkat kepercayaan dari sistem.
Forward Chaining sebuah metode Pencocokan fakta atau pernyataan dimulai dari bagian sebelah kiri. Dengan kata lain, penalaran dimulai dari fakta terlebih dahulu, lalu dicari rule yang sesuai dengan fakta – fakta dengan menginputkan dari macam kerusakan, ke fakta Gejala yang dirasakan pengguna untuk menguji kebenaran hipotesa sehinggga menghasilkan sebuah atau beberapa solusi.
Metode pengembangan sistem yang digunakan pada tulisan ini menggunakan waterfall. Adapun langkah – langkah dari waterfall itu sendiri yaitu: Kebutuhan Sistem, Spesifikasi Kebutuhan Sistem perangkat lunak, Design perangkat lunak, Implementasi perangkat lunak, Uji mesin formal, operasi dan perawatan sistem. Metode pe ngujian yang di gunakan di dalam tulisan ini menggunakan white box dan Black box.
Aplikasi yang dikembangkan digunakan untuk mengetahui gejala-gejala kerusakan dan mencari solusi yang tepat terhadap kerusakan yang dialami terhadap kendaraan roda dua jenis Yamaha merk mio soul pada Reza Jaya Motor Samarinda, agar teknisi dapat mengetahui segaja jenis kerusakan terdapat kendaraan yang masuk untuk diservice atau diperbaiki.
Downloads
Download data is not yet available.
References
Anonim, 2002, Kamus Besar Bahasa Indonesia, edisi ketiga Departemen Pendidikan dan kebudayaan dan balai pustaka, Jakarta.

Anonim, 2007, panduan service Yamaha mio soul.

Arhami, Muhammad, 2005, Konsep Dasar Sistem Pakar, Yogyakarta : Penerbit Andi

Divisi Penelitian dan Pengembangan MADCOMS. 2008, Microsoft Access 2007, Yogyakarta: Penerbit Andi offset

Fathansyah, 2004, Basis Data, Penerbit Informatika, Bandung.

Kristanto, 2003 Andri, Perancangan Sistem Informasi Dan Aplikasinya, Jakarta, Penerbit Gaya Media.

Kusrini, 2006, Sistem Pakar Teori dan Aplikasi, Yogyakarta: Penerbit Andi

Pressman, Roger, 2002, Rekayasa Perangkat Lunak Pendekatan Praktisi (Buku I), Yogyakarta : Penerbit Andi & McGraw-Hill Book Co.

Suparman, 2002 : Mengenal Artificial Intelegence, Andi Offset, Yogyakarta

Simarmata, Janner, 2010, Rekayasa Perangkat Lunak, Yogyakarta : Andi Offset.

Wahana Komputer Semarang, 2003, Tip & Trik Pemrograman Visual Basic 6.0, Yogyakarta: Penerbit Andi Offset

Yuswanto, 2003, Pemrograman Visual Basic 6.0, Penerbit Informatika, Bandung.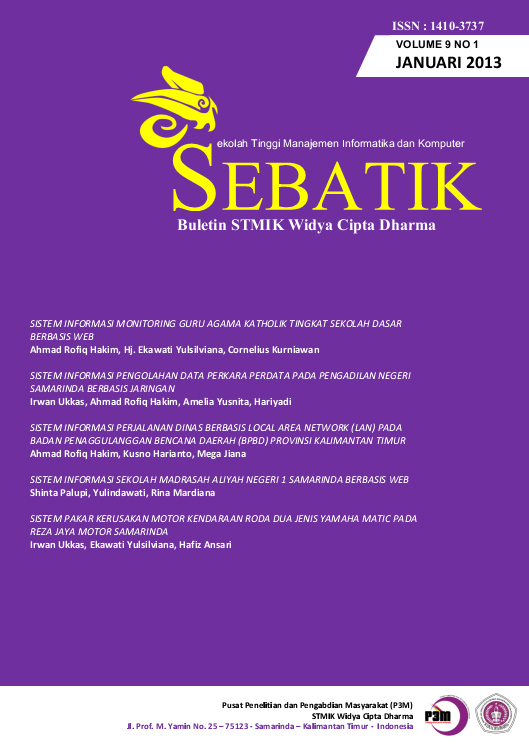 How to Cite
Yulsilviana, E. and Ansari, H. (2018) "SISTEM PAKAR KERUSAKAN MOTOR KENDARAAN RODA DUA JENIS YAMAHA MATIC PADA REZA JAYA MOTOR SAMARINDA", Sebatik, 9(1), pp. 30-35. Available at: https://jurnal.wicida.ac.id/index.php/sebatik/article/view/52 (Accessed: 17February2020).
The copyright of this article is transferred to SEBATIK and STMIK Widya Cipta Dharma, when the article is accepted for publication. the authors transfer all and all rights into and to paper including but not limited to all copyrights in the SEBATIK. The author represents and warrants that the original is the original and that he/she is the author of this paper unless the material is clearly identified as the original source, with notification of the permission of the copyright owner if necessary. The author states that he has the authority and authority to make and carry out this task.
The author states that:
This paper has not been published in the same form elsewhere.
This will not be submitted elsewhere for publication prior to acceptance/rejection by this Journal.
A Copyright permission is obtained for material published elsewhere and who require permission for this reproduction. Furthermore, I / We hereby transfer the unlimited publication rights of the above paper to SEBATIK. Copyright transfer includes exclusive rights to reproduce and distribute articles, including reprints, translations, photographic reproductions, microforms, electronic forms (offline, online), or other similar reproductions. Author's can fill it on https://drive.google.com/file/d/1MZAv5k69pPFQ890CTFbzReVSfxCDVWbE/view
The author's mark is appropriate for and accepts responsibility for releasing this material on behalf of any and all coauthor. This Agreement shall be signed by at least one author who has obtained the consent of the co-author (s) if applicable. After the submission of this agreement is signed by the author concerned, the amendment of the author or in the order of the author listed shall not be accepted.
Rights / Terms and Conditions Saved
The author keeps all proprietary rights in every process, procedure, or article creation described in Work.
The author may reproduce or permit others to reproduce the work or derivative works for the author's personal use or for the use of the company, provided that the source and the Informatika Mulawarman copyright notice are indicated, the copy is not used in any way implying the Journal of Informatika Mulawarman (JIM) approval of the product or service from any company, and the copy itself is not offered for sale.
Although authors are permitted to reuse all or part of the Works in other works, this does not include granting third-party requests to reprint, republish, or other types of reuse.