APLIKASI PENDATAAN SERVIS BARANG BERBASIS CLIENT SERVER PADA TOKO ACCURATE JAYA SANGATTA
Shinta Palupi

STMIK Widya Cipta Dharma

Yulindawati Yulindawati

STMIK Widya Cipta Dharma

Victor Sarangnga

STMIK Widya Cipta Dharma
Keywords:
Servis Barang, Pendataan, Client Server
Abstract
Penelitian yang dilakukan bertujuan untuk membangun sebuah aplikasi pendataan servis barang berbasis client -server, aplikasi tersebut dibuat untuk mempermudah pendataan sekaligus kontrol terhadap barang yang akan diservis dan juga membantu karyawan agar pekerjaan dapat berlangsung lebih efisien dengan meminimalisir segala proses yang masih dilakukan secara manual.
Penelitian ini dilakukan pada Toko Accurate Jaya Computer di Jl. Yos Sudarso , Teluk Llingga Kota Sangatta. Metode pengumpulan data yang digunakan yaitu studi lapangan dan studi pustaka. Untuk metode pengembangan sistem yang digunakan yaitu waterfall. Untuk metode analisis dan desain sistem penulis menggunakan Data Flow Diagram (DFD), Hierarchy Plus Input Output (HIPO), Entity Relationship Diagram (ERD) serta struktur Database input output system. Perangkat lunak yang digunakan adalah Microsoft Visual Basic 6.0 sebagai bahasa pemrograman, Seagate Crystal Report 8 untuk pembuatan laporan, dan Microsoft Access 2007 untuk pembuatan database. Untuk Ujicoba/Testing Penulis Menggunakan Black Box dan White Box.
Dari hasil penelitian ini diperoleh sebuah aplikasi berbasis Microsoft Visual Basic 6.0 yang berbasis client-Server, yang bertujuan untuk mengatasi berbagai kendala dalam hal-hal yang menyangkut servis barang pada Toko Accurate Jaya, baik dalam hal pendataan barang masuk, pendataan pelanggan, inventarisasi biaya kerusakan, proses persetujuan servis dan konfirmasi kerusakan terhadap konsumen, hingga pembuatan laporan servis barang. Tujuan dari fungsi client -server pada aplikasi itu sendiri dimaksudkan agar data dapat diakses oleh semua karyawan, baik administrator maupun teknisi pada satu perangkat server sehingga tidak perlu dilakukan cross-check atau sinkronisasi data.
Downloads
Download data is not yet available.
References
Amsyah, 2001, Data dan Informasi, Penerbit Andi Offshet, Yogyakarta

Andino Maseleno, 2003, Kamus Istilah Komputer dan Informatika, Edisi Ketiga, Penerbit Gaya Media, Jakarta.

Anonim, 2001, Kamus Besar Bahasa Indonesia, edisi ketiga Departemen Pendidikan dan kebudayaan dan balai pustaka, Jakarta.

Bannock, Graham et al, 2003, Dictionary of Economics, Penguin Books.

Covington dan Downing, 2002, Application programming, Penerbit Bina Nusantara, Jakarta

Wahid, 2001, Application Programming Interface (API), Penerbit Gaya Media, Jakarta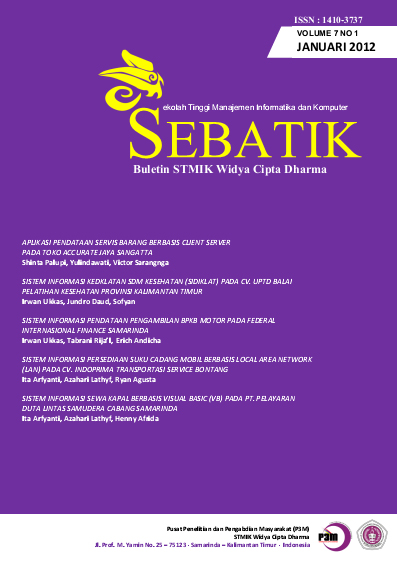 How to Cite
Palupi, S., Yulindawati, Y. and Sarangnga, V. (2018) "APLIKASI PENDATAAN SERVIS BARANG BERBASIS CLIENT SERVER PADA TOKO ACCURATE JAYA SANGATTA", Sebatik, 7(1), pp. 1-6. Available at: https://jurnal.wicida.ac.id/index.php/sebatik/article/view/53 (Accessed: 28November2021).
The copyright of this article is transferred to SEBATIK and STMIK Widya Cipta Dharma, when the article is accepted for publication. the authors transfer all and all rights into and to paper including but not limited to all copyrights in the SEBATIK. The author represents and warrants that the original is the original and that he/she is the author of this paper unless the material is clearly identified as the original source, with notification of the permission of the copyright owner if necessary.
A Copyright permission is obtained for material published elsewhere and who require permission for this reproduction. Furthermore, I / We hereby transfer the unlimited publication rights of the above paper to SEBATIK. Copyright transfer includes exclusive rights to reproduce and distribute articles, including reprints, translations, photographic reproductions, microforms, electronic forms (offline, online), or other similar reproductions.
The author's mark is appropriate for and accepts responsibility for releasing this material on behalf of any and all coauthor. This Agreement shall be signed by at least one author who has obtained the consent of the co-author (s) if applicable. After the submission of this agreement is signed by the author concerned, the amendment of the author or in the order of the author listed shall not be accepted.