SISTEM INFORMASI SEWA KAPAL BERBASIS VISUAL BASIC (VB) PADA PT. PELAYARAN DUTA LINTAS SAMUDERA CABANG SAMARINDA
Ita Arfyanti

STMIK Widya Cipta Dharma

Azahari Lathyf

STMIK Widya Cipta Dharma

Henny Afrida

STMIK Widya Cipta Dharma
Keywords:
Sistem, Informasi, Sewa Kapal Berbasis VB 6.0
Abstract
PT. Duta Lintas Samudera Samarinda adalah merupakan salah satu instansi yang bergerak dalam bidang jasa. Sampai saat ini pengolahan data Sewa Kapal masih dilakukan dengan cara manual dan menggunakan perangkat komputer dengan pengolahan data laporan menggunakan aplikasi Ms. Excel.
Metode yang digunakan pada penelitian ini meliputi metode pengumpulan data yaitu penelitian lapangan dan penelitian kepustakaan. Sedangkan metode pengembangan sistem yang digunakan dalam pengembangan sistem informasi ini adalah metode waterfall terdiri dari perencanaan sistem, analisis sistem, desain sistem, penerapan sistem, dan perawatan sistem. Dengan bantuan tools seperti flow of document (FOD), data flow document (DFD), hierarchy input proses output (HIPO), Dan Entiti Relation Of Documen (ERD), tstruktur database dan desain input output program.
Penelitian ini menghasilkan suatu Sistem Informasi Sewa Kapal Berbasis VB yang dapat Digunakan oleh Administrasi, Aktivitas yang dapat dilakukan dengan sistem ini meliputi penyewaan kapal, dan beberapa laporan.
Sistem ini dikembangkan dengan pemrograman Microsoft Visual Basic 6.0 dan databasenya dibangun dengan menggunakan MySQL, karena kebutuhan yang selalu berkembang, maka kekurangan pada sistem ini nantinya dapat diperbaiki pada pengembangan sistem selanjutnya.
Downloads
Download data is not yet available.
References
Director Jenderal Perhubungan Laut 2003, Konsep Dasar Perkapalan di Indonesia, Pelindo Jakatra.

G.R. Terry Organisasi Perusahaan, "balal Pustaka, :Jakarta1994.

Jogiyanto, HM, 2003, Analisis & Disain Sistem Informasipendekatan terstruktur teori dan praktek aplikasi bisnis, Andi Offset, Yogyakarta.

Jogiyanto, HM, 2003, Analisis & Disain Sistem Informasi Andi Offset, Yogyakarta

Kamus besar bahasa Indonesia, 2003, Balai Pustaka, Jakarta.

Jhanner Silalahi 2010, AP BP3IP STMT Trisakti angkatan X Kinerja Operasional, Blogspot .Com

Jogianto HM, 2009, Visual Basic sebagai alat kendali peralatan Elektronik, Penerbit, Andi Offset, Yogyakarta.

Kadir Abdul 2003, Pengenalan Sistem Informasi, Andi Offset,Yogyakarta.

Koesnoen 2009, Undang-Undang Hukum , KUHD Pasal 320. Jakarta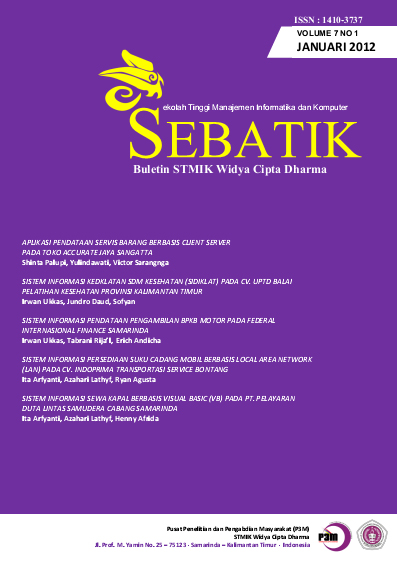 How to Cite
Arfyanti, I., Lathyf, A. and Afrida, H. (2018) "SISTEM INFORMASI SEWA KAPAL BERBASIS VISUAL BASIC (VB) PADA PT. PELAYARAN DUTA LINTAS SAMUDERA CABANG SAMARINDA", Sebatik, 7(1), pp. 26-31. Available at: https://jurnal.wicida.ac.id/index.php/sebatik/article/view/57 (Accessed: 17February2020).
The copyright of this article is transferred to SEBATIK and STMIK Widya Cipta Dharma, when the article is accepted for publication. the authors transfer all and all rights into and to paper including but not limited to all copyrights in the SEBATIK. The author represents and warrants that the original is the original and that he/she is the author of this paper unless the material is clearly identified as the original source, with notification of the permission of the copyright owner if necessary. The author states that he has the authority and authority to make and carry out this task.
The author states that:
This paper has not been published in the same form elsewhere.
This will not be submitted elsewhere for publication prior to acceptance/rejection by this Journal.
A Copyright permission is obtained for material published elsewhere and who require permission for this reproduction. Furthermore, I / We hereby transfer the unlimited publication rights of the above paper to SEBATIK. Copyright transfer includes exclusive rights to reproduce and distribute articles, including reprints, translations, photographic reproductions, microforms, electronic forms (offline, online), or other similar reproductions. Author's can fill it on https://drive.google.com/file/d/1MZAv5k69pPFQ890CTFbzReVSfxCDVWbE/view
The author's mark is appropriate for and accepts responsibility for releasing this material on behalf of any and all coauthor. This Agreement shall be signed by at least one author who has obtained the consent of the co-author (s) if applicable. After the submission of this agreement is signed by the author concerned, the amendment of the author or in the order of the author listed shall not be accepted.
Rights / Terms and Conditions Saved
The author keeps all proprietary rights in every process, procedure, or article creation described in Work.
The author may reproduce or permit others to reproduce the work or derivative works for the author's personal use or for the use of the company, provided that the source and the Informatika Mulawarman copyright notice are indicated, the copy is not used in any way implying the Journal of Informatika Mulawarman (JIM) approval of the product or service from any company, and the copy itself is not offered for sale.
Although authors are permitted to reuse all or part of the Works in other works, this does not include granting third-party requests to reprint, republish, or other types of reuse.