SISTEM PAKAR ILMU FARAIDH BERBASIS WEB DENGAN METODE FOORWARD CHAINING DAN DEPTH FIRST SEARCH
Ahmad Rofiq Hakim

STMIK Widya Cipta Dharma

Tabrani Rijai

STMIK Widya Cipta Dharma

Miftachus Sholichin

STMIK Widya Cipta Dharma
Keywords:
Sistem, Pakar, Faraidh, Web, Forward Chaining, Depth First Depth
Abstract
Penelitian ini dilakukan bertujuan untuk dapat membuat dan mengembangkan sebuah sistem yang interaktif, sehingga dapat membantu masyarakat muslim khususnya untuk memperoleh informasi dan memahami tentang penghitungan faraidh. Dalam penelitian ini menggunakan metode Forward Chaining dan Depth First Search. Adapun alat bantu yang digunakan antara lain Flowchart, Web Server Xamp, Database MySql, Web Developer menggunakan PHP, Editor dan Web Desain menggunakan Macromedia Dreamweaver Cs6.
Dari hasil penelitian yang diperoleh, yakni penelitian ini menghasilkan sebuah sistem pakar yang ditujukan kepada masyarakat pengguna atau yang menggunakan untuk tahu masalah faraidh dan penerpan hukum ini di kalangan masyarakat, agar tidak terjadi kesalahan baik penghitungan dan kesalah pahaman.
Downloads
Download data is not yet available.
References
Arhami, 2005, Konsep Dasar Sistem Pakar, Yogyakarta: Penerbit Andi

Hasan,A. 2003, AL-Fara'id Ilmu Pembagian Waris, Surabaya: Pustaka Progesif.

Kadir, Abdul. 2010, Panduan Menyusun Laporan Tugas Akhir,Skripsi,Dan Tesis Menggunakan Microsoft Word, Yokyakarta: Penerbit MediaKom.

Kadir,Abdul. 2003, Pemograman Web mencangkup: Html,CSS,Javascript, dan PHP ,Yogyakarta:Penerbit Andi.

Peranginangin,Kasiman. 2006, Aplikasi web dengan PHP dan MySQL,Yogyakarta: Penerbit Andi.

Komputer, Wahana. 2010, Panduan belajar MySql Database Server, Jakarata: PenerbitMedia kita.

Kusrini. 2006, Sistem pakar teori dan aplikasi,Yokyakarta:Penerbit Andi.

Lusiana,Elvi. 2011, Cara mudah &benar Membagi harta waris,Jakarta: Penerbit Qultum media.

Mediakom, Redaksi. 2012, Progam Kasir Retail Siap Pakai Update, Yokyakarta: Penerbit MediaKom.

Nugroho,Bunafit. 2012, Panduan Proyek Sistem penjualan Retail Mini Market berbasis multi User dengan Visual Basic 6 dan MySQL, Yokyakarta : Mediakom.

Pressman, Roger. S, 2002, Rekayasa Perangkat Lunak, Yogyakarta:Andi Offset

Rindya,Dhanny. 2010, Aplikasi Perhitungan waris berorientasi objek menggunakan java,Samarinda: Polnes Samarinda.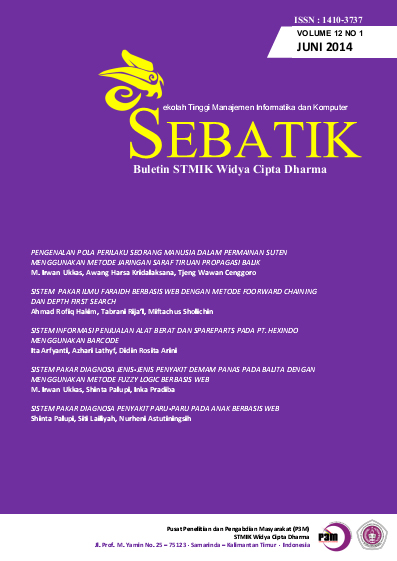 How to Cite
Hakim, A. R., Rijai, T. and Sholichin, M. (2018) "SISTEM PAKAR ILMU FARAIDH BERBASIS WEB DENGAN METODE FOORWARD CHAINING DAN DEPTH FIRST SEARCH", Sebatik, 12(1), pp. 9-17. Available at: https://jurnal.wicida.ac.id/index.php/sebatik/article/view/64 (Accessed: 22October2021).
The copyright of this article is transferred to SEBATIK and STMIK Widya Cipta Dharma, when the article is accepted for publication. the authors transfer all and all rights into and to paper including but not limited to all copyrights in the SEBATIK. The author represents and warrants that the original is the original and that he/she is the author of this paper unless the material is clearly identified as the original source, with notification of the permission of the copyright owner if necessary.
A Copyright permission is obtained for material published elsewhere and who require permission for this reproduction. Furthermore, I / We hereby transfer the unlimited publication rights of the above paper to SEBATIK. Copyright transfer includes exclusive rights to reproduce and distribute articles, including reprints, translations, photographic reproductions, microforms, electronic forms (offline, online), or other similar reproductions.
The author's mark is appropriate for and accepts responsibility for releasing this material on behalf of any and all coauthor. This Agreement shall be signed by at least one author who has obtained the consent of the co-author (s) if applicable. After the submission of this agreement is signed by the author concerned, the amendment of the author or in the order of the author listed shall not be accepted.