SISTEM PAKAR DIAGNOSA JENIS-JENIS PENYAKIT DEMAM PANAS PADA BALITA DENGAN MENGGUNAKAN METODE FUZZY LOGIC BERBASIS WEB
Muhammad Irwan Ukkas

STMIK Widya Cipta Dharma

Shinta Palupi

STMIK Widya Cipta Dharma

Inka Pradiba

STMIK Widya Cipta Dharma
Keywords:
Sistem Infrensi Fuzzy, Metode Tsukamoto, Penyakit Demam Panas
Abstract
Selama ini sudah ada beberapa metode dalam melakukan diagnosa penyakit, terutama dalam bentuk sistem pakar. Pada tugas akhir ini, akan digunakan fuzzy inference sistem dengan metode Tsukamoto untuk menentukan jenis-jenis penyakit demam panas yang mungkin diderita oleh pasien. Input yang dibutuhkan adalah gejala-gejala yang dialami oleh pasien. Basis pengetahuan dibangun dengan menggunakan kaidah produksi (IF-THEN). α-predikat (Fire strength) yang diperoleh pada setiap aturan fuzzy untuk setiap penyakit pada basis pengetahuan, kemudian dikomposisikan dengan menggunakan rata-rata terbobot. Hasil rata-rata terbobot ini merupakan output tingkat resiko penyakit.
Dengan Menerapkan metode diatas, maka lebih dihasilkan sebuah sistem pakar diagnosa jenis-jenis penyakit demam panas yang dapat memberikan kemudahan kepada masyarakat untuk mendapatkan informasi tentang gejala-gejala penyakit demam panas. Sistem ini juga dapat membantu kinerja pakar yaitu dengan mudah menambah, mengganti dan menghapus data (pengetahuannya).
Downloads
Download data is not yet available.
References
Arhami, Muhammad, 2005, Konsep Dasar Sistem Pakar, Andi Offset, Yogyakarta

Graham, Robin dan Burns Tony, 2005, Lecture Notes On Dermatologi : Edisi Kedelapan, Jakarta : Erlangga

Jogiyanto, HM, 2005, Analisis & Desain Sistem Informasi, Andi Offset, Yogyakarta

Kadir, Abdul, 2003, Pengenalan Sistem Informasi, Yogyakarta : Andi

Kadir, Abdul, 2005, Dasar Pemrograman WEB dengan ASP, Yogyakarta : Andi

Kristanto, Andi, 2003. Perancangan Sistem Informasi dan Aplikasinya. Yogyakarta : Gava Media.

Kusrini, 2006, Sistem Pakar, Teori dan Aplikasi, Yogyakarta : Andi

Kusumadewi Sri, 2003, Artificial Intelligence (Teknik dan Aplikasinya), Graha Ilmu, Yogyakarta

Kusmadewi Sri dan Hartati Sri, 2010, Neuro – Fuzzy Integrasi Sistem Fuzzy & Jaringan Syaraf Edisi 2, Graha Ilmu, Yogyakarta.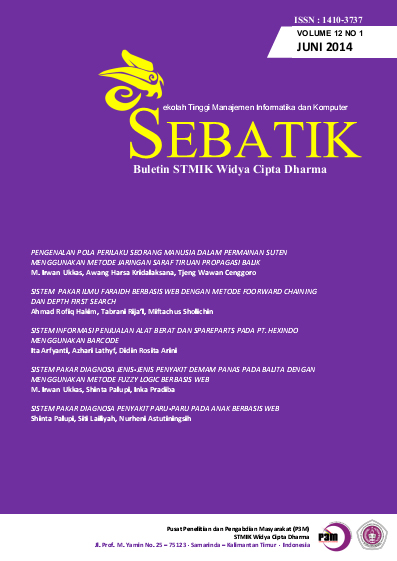 How to Cite
Ukkas, M., Palupi, S. and Pradiba, I. (2018) "SISTEM PAKAR DIAGNOSA JENIS-JENIS PENYAKIT DEMAM PANAS PADA BALITA DENGAN MENGGUNAKAN METODE FUZZY LOGIC BERBASIS WEB", Sebatik, 12(1), pp. 24-30. Available at: https://jurnal.wicida.ac.id/index.php/sebatik/article/view/66 (Accessed: 22October2021).
The copyright of this article is transferred to SEBATIK and STMIK Widya Cipta Dharma, when the article is accepted for publication. the authors transfer all and all rights into and to paper including but not limited to all copyrights in the SEBATIK. The author represents and warrants that the original is the original and that he/she is the author of this paper unless the material is clearly identified as the original source, with notification of the permission of the copyright owner if necessary.
A Copyright permission is obtained for material published elsewhere and who require permission for this reproduction. Furthermore, I / We hereby transfer the unlimited publication rights of the above paper to SEBATIK. Copyright transfer includes exclusive rights to reproduce and distribute articles, including reprints, translations, photographic reproductions, microforms, electronic forms (offline, online), or other similar reproductions.
The author's mark is appropriate for and accepts responsibility for releasing this material on behalf of any and all coauthor. This Agreement shall be signed by at least one author who has obtained the consent of the co-author (s) if applicable. After the submission of this agreement is signed by the author concerned, the amendment of the author or in the order of the author listed shall not be accepted.