SISTEM PENDUKUNG KEPUTUSAN MENENTUKAN ANAK ASUH PENA PRESTASI MENGGUNAKAN METODE SAW (SIMPLE ADDITIVE WEIGHTING) PADA LEMBAGA AMIL ZAKAT DANA PEDULI UMMAT KALIMANTAN TIMUR
Siti Lailiyah

STMIK Widya Cipta Dharma

Salmon Salmon

STMIK Widya Cipta Dharma

Nur Haeda

STMIK Widya Cipta Dharma
Keywords:
Sistem Pendukung Keputusan, Penerimaan, Calon, Anak Asuh, Simple Additive Weighting
Abstract
Sistem Pendukung Keputusan Penentuan Anak Asuh , merupakan sistem yang dibuat untuk membantu dalam pengambilan keputusan dalam penentuan anak asuh pada lembaga Amil Zakat Dana Peduli Ummat dengan menggunakan bantuan metode Simple Additive Weighting (SAW).
Simple additive weighting adalah pendekatan untuk menyelesaikan persoalan multi attribute decision making. Konsep utama dari metode ini adalah mencari penjumlahan dari semua atribut pada setiap alternatif. Metode simple additive weighting membutuhkan proses normalisasi matriks ke skala atau nilai yang dapat dibandingkan dengan nilai dari alternatif lain dan menemukan alternatif terbaik. Nilai dari alternatif tersebut harus melewati proses normalisasi matriks sebelumnya.
Dengan perhitungan antar semua atribut setiap alternatif, sistem dapat membuat sebuah rekomendasi untuk membantu pembuat keputusan untuk membuat keputusan yang efektif dan efisien dari sebelumnya. Membantu perusahaan untuk menyelesaikan masalah kesulitan dan ketidak akuratan dalam membuat keputusan penentuan calon anak asuh.
Downloads
Download data is not yet available.
References
Aziz Alimul H.A 2005. Pengantar Ilmu Keperawatan Anak 2. Jakarta : Salemba.

Jogiyanto. 2005. Analisis dan Desain Sistem Informasi. Yogyakarta: Penerbit Andi.

Kusumadewi, Sri, 2006. Fuzzy Multi Attribute Decision Making. Yogyakarta: Graha Ilmu.

Kusrini, 2007. Konsep dan Aplikasi Sistem Pendukung Keputusan. Yogyakarta: Andi Offset.

Kusrini dan Andri Koniyo. 207. Tuntunan Praktis membangun Sistem Informasi.

M. Shalahuddin. 2011, Pembelajaran Rekayasa Perangkat Lunak (Terstruktur dan Berorientasi Objek).Bandung : Penerbit Modula.

Pressman Roger. S, 2012. Rekayasa Perangkat Lunak : Pendekatan Praktisi, Yogyakarta : Andi.

Supartini, Y., 2004. Buku Ajar Konsep Dasar Keperawatan Anak. Jakarta : Buku Kedokteran EGC.

Sudiantoro, 2005. Konsep pendukung Keputusan, Penerbit Gramedia.

Turban, 2005, Dessicion Support System and Intelligent System, Yogyakarta: Penerbit Andi.

Winarno, Edy dan Zaki, Ali, 2012. Step by Step Visual Basic .NET. Jakarta : PT.Elex Media Komputindo.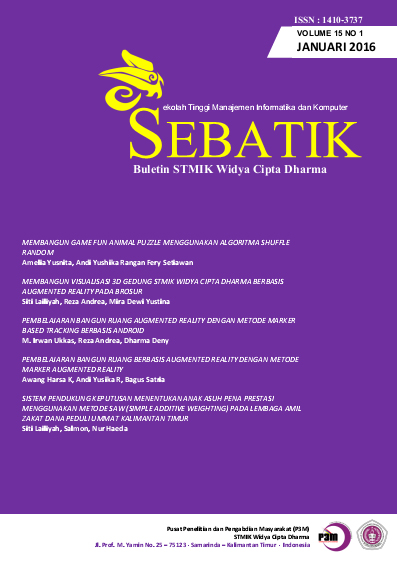 How to Cite
Lailiyah, S., Salmon, S. and Haeda, N. (2016) "SISTEM PENDUKUNG KEPUTUSAN MENENTUKAN ANAK ASUH PENA PRESTASI MENGGUNAKAN METODE SAW (SIMPLE ADDITIVE WEIGHTING) PADA LEMBAGA AMIL ZAKAT DANA PEDULI UMMAT KALIMANTAN TIMUR", Sebatik, 15(1), pp. 25-30. Available at: https://jurnal.wicida.ac.id/index.php/sebatik/article/view/72 (Accessed: 22October2021).
The copyright of this article is transferred to SEBATIK and STMIK Widya Cipta Dharma, when the article is accepted for publication. the authors transfer all and all rights into and to paper including but not limited to all copyrights in the SEBATIK. The author represents and warrants that the original is the original and that he/she is the author of this paper unless the material is clearly identified as the original source, with notification of the permission of the copyright owner if necessary.
A Copyright permission is obtained for material published elsewhere and who require permission for this reproduction. Furthermore, I / We hereby transfer the unlimited publication rights of the above paper to SEBATIK. Copyright transfer includes exclusive rights to reproduce and distribute articles, including reprints, translations, photographic reproductions, microforms, electronic forms (offline, online), or other similar reproductions.
The author's mark is appropriate for and accepts responsibility for releasing this material on behalf of any and all coauthor. This Agreement shall be signed by at least one author who has obtained the consent of the co-author (s) if applicable. After the submission of this agreement is signed by the author concerned, the amendment of the author or in the order of the author listed shall not be accepted.