ANALISIS PENERIMAAN MAHASISWA UKSW TERHADAP PENGGUNAAN iSALATIGA MENGGUNAKAN TECHNOLOGY ACCEPTANCE MODEL (STUDI KASUS : DINAS PERPUSTAKAAN DAN KEARSIPAN KOTA SALATIGA)
Paulo Emilio Thenu

Program Studi Sistem Informasi, Fakultas Teknologi Informasi, Universitas Kristen Satya Wacana

Melkior N. N. Sitokdana

Program Studi Sistem Informasi, Fakultas Teknologi Informasi, Universitas Kristen Satya Wacana
Keywords:
DINPERSIP, iSalatiga, Technology Acceptance Model
Abstract
Aplikasi iSalatiga merupakan platform media sosial yang diluncurkan oleh Dinas Perpustakaan dan Kearsipan Kota Salatiga (DINPERSIP). Aplikasi iSalatiga membuat penggunanya lebih efisisen dalam membaca. iSalatiga bisa diakses melalui PC, dekstop, dan mobile (smartphone-based application). Tujuan dari penelitian ini adalah untuk menganalisa penerimaan mahasiswa UKSW terhadap penggunaan aplikasi iSalatiga dengan menggunakan Technology Acceptance Model (TAM). Digunakan metode deskriptif kuantitatif pada penelitian ini, dengan membagi kuesioner kepada pengunjung perpustakaan Kota Salatiga. Dari hasil penelitian ini, dapat disimpulkan bahwa penerimaan mahasiswa UKSW terhadap penggunaan aplikasi iSalatiga ditentukan oleh 3 variabel yang saling mempunyai pengaruh positif. Yaitu pengaruh positif antara persepsi kemudahan pengguna (Perceived Ease of Use) dengan sikap pengguna (Attitude Toward) terhadap iSalatiga, pengaruh positif antara sikap pengguna (Attitude Toward) dengan niat perilaku untuk menggunakan (Behavioral Intention) aplikasi iSalatiga, dan pengaruh positif antara niat perilaku untuk menggunakan (Behavioral Intention) dengan kondisi sesunggunya (Actual Use) dalam menggunakan iSalatiga secara nyata
Downloads
Download data is not yet available.
References
Hendro Gunawan, Lynawati. 2018. "Analisis Penerimaan Teknologi Smart city Kota Purwekerto Dengan Model Technology Acceptance Model (TAM)".
Ni Luh Nyoman Sherina Dewi, I Wayan Suartana. 2014. "Analisis Technology Acceptance Model (TAM) Terhadap Pengguna Sistem Informasi di Nusa Dua Beach Hotel & Spa".
Fran Sayekti, Pulasna Putarta. 2016. "Technology Acceptance Model (TAM) Dalam Pengujian Model Penerimaan Sistem Informasi Keuangan Daerah".
Wiratna Sujarweni, V. 2015. SPSS Untuk Penelitian. Yogyakarta: Pustaka Baru Press.
Sugiono, 2014. Metode penelitian kuantitatif, kualitatif dan kombinasi. Bandung: Alfabeta.
Creswell, J. W. 2014. Reseacrh Design Qualitativ, Quantitatif and Mixed Methods Approaches, 4 Edition. London:Sage.
Agung Prasetyo Patara. 2016. "Analisis Penerimaan Pengguna Terhadap Aplikasi Salatiga Mobile Library".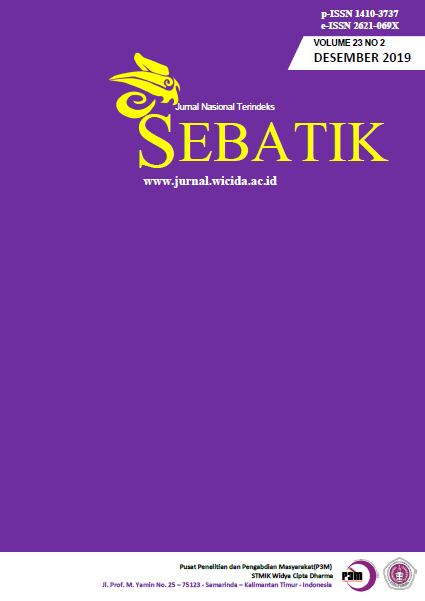 How to Cite
Thenu, P. and Sitokdana, M. (2019) "ANALISIS PENERIMAAN MAHASISWA UKSW TERHADAP PENGGUNAAN iSALATIGA MENGGUNAKAN TECHNOLOGY ACCEPTANCE MODEL (STUDI KASUS : DINAS PERPUSTAKAAN DAN KEARSIPAN KOTA SALATIGA)", Sebatik, 23(2), pp. 324-329. Available at: https://jurnal.wicida.ac.id/index.php/sebatik/article/view/777 (Accessed: 22October2021).
The copyright of this article is transferred to SEBATIK and STMIK Widya Cipta Dharma, when the article is accepted for publication. the authors transfer all and all rights into and to paper including but not limited to all copyrights in the SEBATIK. The author represents and warrants that the original is the original and that he/she is the author of this paper unless the material is clearly identified as the original source, with notification of the permission of the copyright owner if necessary.
A Copyright permission is obtained for material published elsewhere and who require permission for this reproduction. Furthermore, I / We hereby transfer the unlimited publication rights of the above paper to SEBATIK. Copyright transfer includes exclusive rights to reproduce and distribute articles, including reprints, translations, photographic reproductions, microforms, electronic forms (offline, online), or other similar reproductions.
The author's mark is appropriate for and accepts responsibility for releasing this material on behalf of any and all coauthor. This Agreement shall be signed by at least one author who has obtained the consent of the co-author (s) if applicable. After the submission of this agreement is signed by the author concerned, the amendment of the author or in the order of the author listed shall not be accepted.