APLIKASI PENCARIAN USTADZ UNTUK WILAYAH KOTA MAKASSAR MENGGUNAKAN ALGORITMA FLOYD WARSHALL DAN HAVERSINE FORMULA BERBASIS ANDROID
Rifaldy Ramadhan Latief

Program Studi Pascasarjana Sistem Komputer, Stmik Handayani Makassar

Andani Achmad

Program Studi Pascasarjana Sistem Komputer, Stmik Handayani Makassar

Supriadi Sahibu

Program Studi Pascasarjana Sistem Komputer, Stmik Handayani Makassar
Keywords:
Pencarian, Dakwah, Ustadz, Android
Abstract
Dakwah adalah kegiatan yang bersifat menyeru, mengajak dan memanggil orang untuk beriman dan taat kepada Allah sesuai garis aqidah, syariat dan akhlak islam. Kegiatan berdakwah sering dilaksanakan oleh umat Islam dalam berbagai kegiatan keislaman yang dilakukan oleh para pendakwah/penceramah. Namun masih sulit untuk menentukan jadwal dan lokasinya. Dikota Makasar sendiri, terdapat banyak Masjid dan lokasi ceramah yang masih minim informasi alamatnya, sehingga penceramah sering kali kesulitan menemukan lokasi ceramah. Tujuan dari penelitian ini adalah untuk memudahkankan masyarakat mencari penceramah dan memudahkan penceramah mencari lokasi ceramah dengan merancang suatu sistem pencarian sebagai media informasi penyedia jasa dakwah untuk masyarakat. Dalam melakukan penelitian ini, jenis penelitian yang digunakan adalah metode penelitian kualitatif dengan menggunakan strategi Design dan creation sebagai konsep yang sangat tepat untuk mengolah penelitian ini. Hasil dari penelitian ini berupa aplikasi mobile dimana masyarakat dapat mencari penceramah dan penceramah dapat menentukan lokasi ceramah dengan lebih mudah. Berdasarkan pernyataan diatas, bahwa ustadz Sangat berperan penting dalam kehidupan sehari-hari. Untuk itu perlu dibuatkan sebuah aplikasi berbasis Android yang dapat membantu masyarakat muslim kota Makassar untuk mencari penceramah disetiap kegiatan keislaman untuk mengisi acara dakwah.
Downloads
Download data is not yet available.
References
Rosa, dan M. Shalahuddin. Modul Pembelajaran Rekayasa Perangkat Lunak (Terstruktur dan Berorientasi Objek). Bandung: Modula, 2011.
M. Rudyanti Arief, 2004. Pemograman Web Dinamis Menggunakan PHP dan MySQL. Yogyakarta. Penerbit: Andi.
Norman L, Enger, 2004. Analisa Sistem Informasi. Yogyakarta. Penerbit: Andi.
Prajudi Atmosudirdjo, 2004. Administrasi dan Management Umum. Jakarta penerbit : Ghalia Indonesia.
Rosa A.S-M Salahudin, 2011. Modul Pembelajaran Rekayasa Perangkat Lunak (Terstruktur Dan Berorientasi Objek). Bandung Penerbit: Modula
Connolly, Thomas M., Carolyn E. Begg. 2005. Database Systems : A practical approach to design, implamentation, and management, fourth edition. USA : Pearson EducationLimited
Akhyar, "Dakwah Dan Perubahan Sosial". Jurnal. Surabaya, 2014.
Hakim, Luqman. "Sistem Informasi Penjadwalan Kunjungan Perpustakaan Keliling Berbasis Web dengan SMS Gateway pada Kantor Perpustakaan dan Arsip Daerah Kabupaten Kudus". Tesis. Kudus: Fakultas Teknik Universitas Muria. 2014.
Lutfi Parmuarip, Wildan Muslim, Yeni Mulyani, "Alasan Penggunaan Smartphone di Kalangan Mahasiswa Politeknik Negeri Bandung". Tesis. Bandung: Jurusan Teknik Komputer dan Informatika Politeknik Negeri Bandung. 2012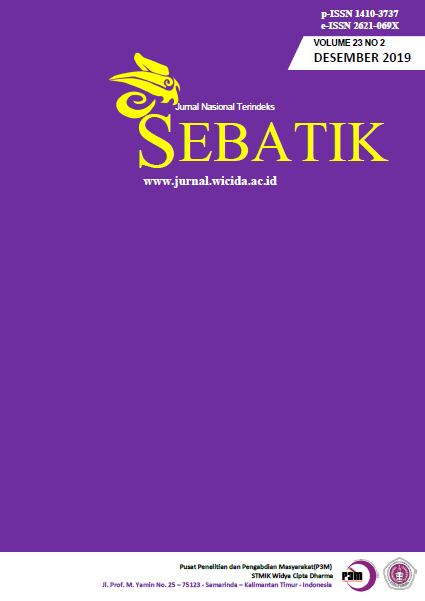 How to Cite
Latief, R., Achmad, A. and Sahibu, S. (2019) "APLIKASI PENCARIAN USTADZ UNTUK WILAYAH KOTA MAKASSAR MENGGUNAKAN ALGORITMA FLOYD WARSHALL DAN HAVERSINE FORMULA BERBASIS ANDROID", Sebatik, 23(2), pp. 337-342. Available at: https://jurnal.wicida.ac.id/index.php/sebatik/article/view/780 (Accessed: 4April2020).
The copyright of this article is transferred to SEBATIK and STMIK Widya Cipta Dharma, when the article is accepted for publication. the authors transfer all and all rights into and to paper including but not limited to all copyrights in the SEBATIK. The author represents and warrants that the original is the original and that he/she is the author of this paper unless the material is clearly identified as the original source, with notification of the permission of the copyright owner if necessary. The author states that he has the authority and authority to make and carry out this task.
The author states that:
This paper has not been published in the same form elsewhere.
This will not be submitted elsewhere for publication prior to acceptance/rejection by this Journal.
A Copyright permission is obtained for material published elsewhere and who require permission for this reproduction. Furthermore, I / We hereby transfer the unlimited publication rights of the above paper to SEBATIK. Copyright transfer includes exclusive rights to reproduce and distribute articles, including reprints, translations, photographic reproductions, microforms, electronic forms (offline, online), or other similar reproductions. Author's can fill it on https://drive.google.com/file/d/1MZAv5k69pPFQ890CTFbzReVSfxCDVWbE/view
The author's mark is appropriate for and accepts responsibility for releasing this material on behalf of any and all coauthor. This Agreement shall be signed by at least one author who has obtained the consent of the co-author (s) if applicable. After the submission of this agreement is signed by the author concerned, the amendment of the author or in the order of the author listed shall not be accepted.
Rights / Terms and Conditions Saved
The author keeps all proprietary rights in every process, procedure, or article creation described in Work.
The author may reproduce or permit others to reproduce the work or derivative works for the author's personal use or for the use of the company, provided that the source and the Informatika Mulawarman copyright notice are indicated, the copy is not used in any way implying the Journal of Informatika Mulawarman (JIM) approval of the product or service from any company, and the copy itself is not offered for sale.
Although authors are permitted to reuse all or part of the Works in other works, this does not include granting third-party requests to reprint, republish, or other types of reuse.