AUDIT SISTEM MANAJEMEN KEAMANAN INFORMASI PUSAT TEKNOLOGI INFORMASI DAN KOMUNIKASI PENERBANGAN DAN ANTARIKSA (PUSTIKPAN) MENGGUNAKAN SNI ISO/IEC 27001:2013
Yudhistira Candra Pradipta

Program Studi Sistem Informasi, Fakultas Teknologi Informasi Universitas Kristen Satya Wacana

Yani Rahardja

Program Studi Sistem Informasi, Fakultas Teknologi Informasi Universitas Kristen Satya Wacana

Melkior Nikolar Ngalumsine Sitokdana

Program Studi Sistem Informasi, Fakultas Teknologi Informasi Universitas Kristen Satya Wacana
Keywords:
Audit Sistem Informasi, Tata Kelola, Manajemen Keamanan, Teknologi Informasi, ISO/IEC 27001:2013
Abstract
Penerapan tata kelola Teknologi Informasi dan Komunikasi (TIK) saat ini sudah menjadi kebutuhan dan tuntutan di setiap instansi penyelenggara pelayanan publik mengingat peran TIK yang semakin penting bagi upaya peningkatan kualitas layanan sebagai salah satu realisasi dari tata kelola pemerintahan yang baik (Good Corporate Governance). Untuk maksud tersebut maka perlu dilakukan penelitian  untuk mengaudit Sistem Manajemen Keamanan Informasi di  Pusat Teknologi Informasi dan Komunikasi Penerbangan dan Antariksa (PUSTIKPAN) menggunakan ISO/IEC 27001:2013. Berdasarkan hasil penelitian tersebut ditemukan bahwa bahwa Annex 7 memiliki tingakatan paling rendah diantara Annex lainnyadikarenakan pada dokumen intruksi kerja terkait labeling belum terdaftar dalam dokumen induk sehingga perlu disesuaikan kembali dokumen induknya. Selain itu, masih ada dari klausul dan annex lainnya masih terdapat beberapa dokumen dan formulir yang kurang sesuai antara judul dengan yang tercantum pada kebijakan/prosedur yang ada sehingga kurang adanya sinkronisasi. Kemudian secara keseluruhan penggunaan ISO/IEC 27001:2013 telah terlaksana dengan baik karena memiliki rata-rata nilai maturity level 97,25% dengan level 5 Optimised. Hampir dari seluruh klausul dan annex memenuhi standar ISO/IEC 27001:2013 terlaksana sehingga dari hasil penelitian ini diharapkan PUSTIKPAN dapat meningkatkan kembali dalam pengarsipan dokumen agar memudahkan auditor dalam melakukan audit internal ataupun eksternal serta dapat terlaksananya seluruh kegiatan sesuai dengan standar ISO/IEC 27001:2013.
Downloads
Download data is not yet available.
References
Bakri, M. and Irmayana. N, 2017. Keamanan Informasi SIMHP BPKP Menggunakan Standar ISO 27001, Jurnal TEKNOKOMPAK, 11(2), pp. 41–44.
Erfina, Utami and Sunyoto, 2018. Evaluasi Tingkat Kematangan Keamanan Informasi Pada Sistem Informasi Manajemen Universitas Cokroaminoto Palopo, Jurnal Ilmiah d'Computare, 8. Available at: journal.uncp.ac.id/index.php/computare/article/view/981.
Indrawati and Hernikawati, 2016. Perancangan Sistem Informasi Manajemen Audit Sistem Elektronik (Simase) Untuk Pelayanan Publik Information System of Electronic System Audit Management (Simase) Design for Public Service, Jurnal IPTEK-KOM: Jurnal Ilmu Pengetahuan dan Teknologi Komunikasi, 18(1), pp. 51–68. Available at: https://jurnal.kominfo.go.id/index.php/iptekkom/article/view/51-68.
Isnaeni, W. and Kumaidi. K, 2015. Evaluasi Implementasi PKP Dalam Pembelajaran Biologi di SMAN Kota Semarang Menggunakan Pendekatan Mixed-Method, Jurnal Penelitian dan Evaluasi Pendidikan, 19(1), pp. 109–121. doi: 10.21831/pep.v19i1.4561.
Kadir, A, 2014 Pengenalan Sistem Informasi Edisi Revisi. Yogyakarta: Andi Offset.
Kusumajaya, R. A., Sembiring, I. and Purnomo. H, 2010. Audit Internal Keamanan Sistem Informasi Keuangan Stekom, pp. 39–44.
LAPAN, 2016. Renstra_Lapan_2015-2019_Rev'.
Ramdhany, T. and Asikin, M. D, 2018. Audit Sistem Informasi Aplikasi Starclick Menggunakan Framework Cobit 4 . 1 Domain Deliver and Support Di Pt . Telekomunikasi Regional Iii Jawa Barat, 11(1).
Santosa and Kuswanto, 2016. Analisa Manajemen Resiko Keamanan Informasi pada Kantor Pelayanan Pajak Pratama XYZ', Jurnal Ilmiah Rekayasa, 9, pp. 108–115.
Sidik, Iriani and Yulianto, 2018. Audit Manajemen Keamanan Teknologi Informasi Menggunakan Standar ISO 27001 : 2005 Di PerguruanTinggi XYZ, MEANS (Media Informasi Analisa dan Sistem), 3(2), pp. 99–106. Available at: http://ejournal.ust.ac.id/index.php/Jurnal_Means/.
Supriyatna, A, 2014. Analisis Tingkat Keamanan Sistem Informasi Akademik dengan Mengkombinasikan Standar Bs-7799 dengan SSE-CMM, Prosiding Seminar Nasional Aplikasi Sains & Teknologi (SNAST), (November), pp. 181–188. doi: 10.1002/jcc.23276.
Yuze, Priyadi and Candiwan, 2016. Analisis Sistem Manajemen Keamanan Informasi Menggunakan ISO/IEC 27001 : 2013 Serta Rekomendasi Model Sistem Menggunakan Data Flow Diagram pada Direktorat Sistem Informasi Perguruan Tinggi, JURNAL SISTEM INFORMASI BISNIS, 6(1), p. 38. doi: 10.21456/vol6iss1pp38-45.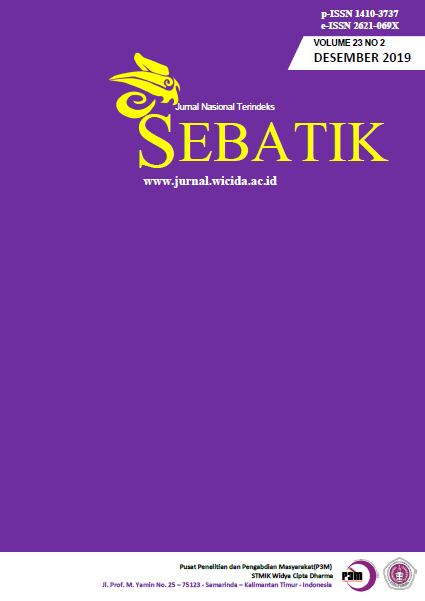 How to Cite
Pradipta, Y., Rahardja, Y. and Sitokdana, M. (2019) "AUDIT SISTEM MANAJEMEN KEAMANAN INFORMASI PUSAT TEKNOLOGI INFORMASI DAN KOMUNIKASI PENERBANGAN DAN ANTARIKSA (PUSTIKPAN) MENGGUNAKAN SNI ISO/IEC 27001:2013", Sebatik, 23(2), pp. 352-358. Available at: https://jurnal.wicida.ac.id/index.php/sebatik/article/view/782 (Accessed: 7April2020).
The copyright of this article is transferred to SEBATIK and STMIK Widya Cipta Dharma, when the article is accepted for publication. the authors transfer all and all rights into and to paper including but not limited to all copyrights in the SEBATIK. The author represents and warrants that the original is the original and that he/she is the author of this paper unless the material is clearly identified as the original source, with notification of the permission of the copyright owner if necessary. The author states that he has the authority and authority to make and carry out this task.
The author states that:
This paper has not been published in the same form elsewhere.
This will not be submitted elsewhere for publication prior to acceptance/rejection by this Journal.
A Copyright permission is obtained for material published elsewhere and who require permission for this reproduction. Furthermore, I / We hereby transfer the unlimited publication rights of the above paper to SEBATIK. Copyright transfer includes exclusive rights to reproduce and distribute articles, including reprints, translations, photographic reproductions, microforms, electronic forms (offline, online), or other similar reproductions. Author's can fill it on https://drive.google.com/file/d/1MZAv5k69pPFQ890CTFbzReVSfxCDVWbE/view
The author's mark is appropriate for and accepts responsibility for releasing this material on behalf of any and all coauthor. This Agreement shall be signed by at least one author who has obtained the consent of the co-author (s) if applicable. After the submission of this agreement is signed by the author concerned, the amendment of the author or in the order of the author listed shall not be accepted.
Rights / Terms and Conditions Saved
The author keeps all proprietary rights in every process, procedure, or article creation described in Work.
The author may reproduce or permit others to reproduce the work or derivative works for the author's personal use or for the use of the company, provided that the source and the Informatika Mulawarman copyright notice are indicated, the copy is not used in any way implying the Journal of Informatika Mulawarman (JIM) approval of the product or service from any company, and the copy itself is not offered for sale.
Although authors are permitted to reuse all or part of the Works in other works, this does not include granting third-party requests to reprint, republish, or other types of reuse.