EVALUASI KINERJA SISTEM INFORMASI CUTI ELEKTRONIK (SiCute) MENGGUNAKAN FRAMEWORK COBIT 5 PADA BADAN KEPEGAWAIAN, PENDIDIKAN DAN PELATIHAN DAERAH KOTA SALATIGA
Juen Ruth Djapandjatay

Sistem Informasi, Fakultas Teknologi Infomasi, Universitas Kristen Satya Wacana

Andeka Rocky Tanaamah

Sistem Informasi, Fakultas Teknologi Infomasi, Universitas Kristen Satya Wacana

Penidas Fiodinggo Tanaem

Sistem Informasi, Fakultas Teknologi Infomasi, Universitas Kristen Satya Wacana
Keywords:
SiCute, Evaluasi, COBIT 5, MEA, BKDIKLATDA Kota Salatiga
Abstract
Sistem Informasi Cuti Elektronik (SiCute) adalah sebuah aplikasi yang digunakan untuk mempermudah proses penyampaian semua informasi terkait pengajuan cuti yang dikelola oleh BKDIKLATDA Kota Salatiga.tujuan penelitian ini untuk mengevaluasi kinerja SiCute yang nantinya akan memberikan gambaran tentang capaian kinerja SiCute.penelitian ini menggunakan COBIT 5 sebagai alat ukur dalam melakukan evaluasi dan hanya berfokus pada satu domain yaitu MEA(Monitor,Evaluate and Assess). data yang diperoleh dari hasil kuisioner pada BKDIKLATDA Kota Salatiga yaitu tingkat kematangan domain MEA01 3,84, MEA02 3,82 dan MEA03 4, dengan nilai rata-rata akhir untuk keseluruhan domain MEA yaitu 3,88. Berdasarkan hasil penilaian tingkat kematangan dapat disimpulkan bahwa SiCute berada pada level 4(Predictable Process) yang berarti segala proses telah diljalankan dengan baik sesuai ketentuan yang ditetapkan untuk mencapai hasil yang diharapkan instansi
Downloads
Download data is not yet available.
References
Ambarwati, A., & Rusady, R.2017. Analisis Implementasi Teknologi Informasi pada Domain Deliver and Support di PT. RDPI. Jurnal INFORM, 2(2). https://doi.org/10.25139/ojsinf.v2i2.315
Belegur, J. A. I., Rudianto, C., & Sitokdana, M. 2018. Evaluasi Tata Kelola Teknologi Informasi Dinas Pariwisata dan Kebudayaan Kota Ambon Menggunakan Framework Cobit 5.0 pada Domain Monitor, Evaluate And Asses (MEA). Aiti, 15(2), 107–114. https://doi.org/10.24246/aiti.v15i2.107-114
Erika, N., Megawaty, & Sauda, S.2017. Implementasi Framework Cobit 5 Dalam Evaluasi Sisstem Informasi Manajemen Rumah Sakit ( Simrs ). Jurnal Teknik Informatika, 1–8. http://if.binadarma.ac.id/sipi/jurnal/Jurnal-jurnal%20niza%20erika.pdf
Kristanto, T., Lestari, L A., & Sulistyowati.2016. Analisis Tingkat Kematangan E-govermnment Menggunakan Framework COBIT 5(Studi Kasus : Dinas Perdagangan dan Perindustrian Kota Surabaya) .Seminar Nasional Sistem Informasi Indonesia.1 november 2016. http://is.its.ac.id/pubs/oajis/index.php/file/download_file/1664
Manual Book SiCute 2018 - Google Docs.pdf. (n.d.).
Noya, S. A., Cahyono, A. D., & Wijaya, A. F. (n.d.). Dinas Perindustrian Dan Tenaga Kerja Kota Salatiga Menggunakan Cobit 5. 3(2018), 1–14.
Wijaya, A. F., & Andani, A. T. 2017. Evaluasi Kinerja Sistem informasi E-Filing Menggunakan COBIT 5 Pada Kantor Pelayanan Pajak Pratama Kota Salatiga.Jurnal Terapan Teknologi Informasi, 1(1), 61–70. https://doi.org/10.1186/s13104-017-3108-5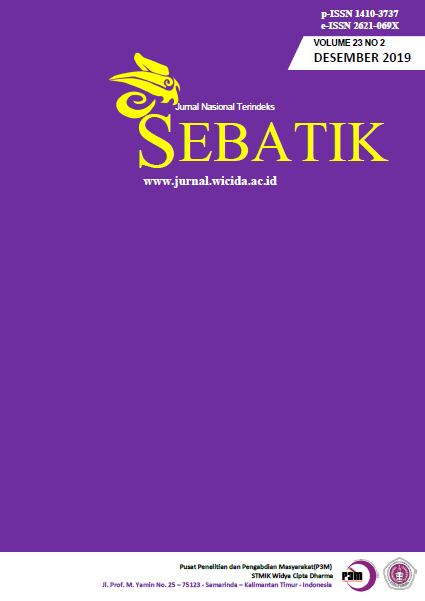 How to Cite
Djapandjatay, J., Tanaamah, A. and Tanaem, P. (2019) "EVALUASI KINERJA SISTEM INFORMASI CUTI ELEKTRONIK (SiCute) MENGGUNAKAN FRAMEWORK COBIT 5 PADA BADAN KEPEGAWAIAN, PENDIDIKAN DAN PELATIHAN DAERAH KOTA SALATIGA", Sebatik, 23(2), pp. 367-373. Available at: https://jurnal.wicida.ac.id/index.php/sebatik/article/view/784 (Accessed: 19January2022).
The copyright of this article is transferred to SEBATIK and STMIK Widya Cipta Dharma, when the article is accepted for publication. the authors transfer all and all rights into and to paper including but not limited to all copyrights in the SEBATIK. The author represents and warrants that the original is the original and that he/she is the author of this paper unless the material is clearly identified as the original source, with notification of the permission of the copyright owner if necessary.
A Copyright permission is obtained for material published elsewhere and who require permission for this reproduction. Furthermore, I / We hereby transfer the unlimited publication rights of the above paper to SEBATIK. Copyright transfer includes exclusive rights to reproduce and distribute articles, including reprints, translations, photographic reproductions, microforms, electronic forms (offline, online), or other similar reproductions.
The author's mark is appropriate for and accepts responsibility for releasing this material on behalf of any and all coauthor. This Agreement shall be signed by at least one author who has obtained the consent of the co-author (s) if applicable. After the submission of this agreement is signed by the author concerned, the amendment of the author or in the order of the author listed shall not be accepted.