EVALUASI TATA KELOLA TEKNOLOGI INFORMASI DI PERPUSTAKAAN DAERAH KOTA SALATIGA DENGAN MENGGUNAKAN IT BALANCED SCORECARD
Vincent Sanjaya

Program Studi Sistem Informasi, Fakultas Teknologi Informasi, Universitas Kristen Satya Wacana

Andeka Rocky Tanaamah

Program Studi Sistem Informasi, Fakultas Teknologi Informasi, Universitas Kristen Satya Wacana

Melkior Nikolar Ngalumsine Sitokdana

Program Studi Sistem Informasi, Fakultas Teknologi Informasi, Universitas Kristen Satya Wacana
Keywords:
Evaluasi Tata Kelola, Teknologi Informasi, IT Balanced Scorecard
Abstract
Hampir semua organisasi telah memanfaatkan dan mengembangkan teknologi informasi dan sistem informasi untuk mendukung proses bisnisnya, baik organisasi profit maupun non-profit. Terutama organisasi Pemerintahan terus menggalahkan penerapan aplikasi Sistem Informasi untuk mewujudkan transparansi, akuntabilitas, efisiensi, dan efektifitas. Proses bisnis kepemerintahan dan layanan publik. Salah satu organisasi Pemerintahan yang langsung melayani publik adalah Perpustakaan Daerah Kota Salatiga. Tujuan dengan adanya penelitian ini adalah melakukan evaluasi kinerja Tata Kelola Teknologi Informasi Perpustakaan Daerah Kota Salatiga dan dapat memberikan manfaat bagi perpustakaan daerah seperti, dalam memberikan rekomendasi kepada manajemen pihak perpustakaan terhadap kinerja SI dan membantu mengoptimalkan sumber daya teknologi informasi. Penelitian ini menggunakan metode kualitatif, teknik pengumpulan data yang digunakan ialah wawancara dan observasi. Hasil dari penelitian di Perpustakaan Daerah Kota Salatiga mendapatkan hasil bahwa perspektif operational execellence dan business contribution telah berjalan dengan baik. Namun pada bagian user orientation mempunyai masalah yaitu buku dan e-book tidak tersedia, pada sistem SKD bermasalah pada jaringannya dan future orientation mempunyai masalah terhadap kapasitas bandwith. Dengan menggunakan IT balanced scorecard peneliti dapat dengan mudah mengklasifikasikan masalah yang ada di Perpustakaan Daerah Kota Salatiga.
Downloads
Download data is not yet available.
References
Irwansyah,E dan Moniaga,V.J. 2014. Pengantar Teknologi Informasi.ed.1.Yogyakarta: deepublish
Jr, Raymond McLeod, 1997. Sistem Informasi Manajemen Versi Bahasa Indonesia. Prenhallindo, Jakarta.
Kaplan, R and Norton, D. 2000. The Balanced Scorecard: Measures That Drive Performance. Harvard Business School Publishing. Massachusetts, United States of America.
Legoh, G. 2016. Analisa Kinerja Sistem Informasi/Teknologi Informasi pada BPPT & PM Kota Salatiga Menggunakan Kerangka IT Balanced Scorecard. Program Studi Sistem Informasi FTI-UKSW
Lobo, M. 2016. Perencanaan Strategis Sistem Informasi Menggunakan IT Balanced Scorecard: studi kasus PT. Satya Mitra Sejahtera. Program Studi Sistem Informasi FTI-UKSW
Pamungkas, R. 2016. Evaluasi Kinerja Sistem Informasi Produksi Perusahaan Manufaktur Menggunakan Metode IT Balanced Scorecard: studi kasus PT. Anugrah Timbers, Salatiga. Salatiga: Fakultas Teknologi Informasi Uksw
Pertiwi, A. 2011. Balanced Scorecard Sebagai Alat Pengukur Kinerja Perguruan Tinggi (IT Telkom). Institut Teknologi Telkom
Purnomo, E. 2002. Sistem Analisis. Andi Offset. Yogyakarta
Rangkuti, F. 2013. Analisis SWOT Teknik Membedah Kasus Bisnis. Gramedia Pustaka Utama. Jakarta. hal.19
Sugiyono. 2016. Metode Penelitian Kuantitatif, Kualitatif, dan R&D. PT Alfabet; Bandung
Van Grembergen, W and Van Bruggen, R. 1997. Measuring and Improving Corporate Information Technology Through The Balanced Scorecard Technique. Wim Van Grembergen. The Netherlands.
Van Grembergen, W and Saull, R. 2001. Aligning Business and Information Technology through the Balanced Scorecard at a Major Canadian Financial Group: its Status Measured with an IT BSC Maturity Model. Proceedings of the 34th Hawaii International Conference on System Sciences.
Van Grembergen, W. 2003. Strategies for information Technology Governance. IGI Publishing Hershey, PA, USA.
Weill, P.,and Ross, J. 2004. IT Governance: How top performers manage IT decision rights for superior results. Boston : Harvard business school press.
Wenno & Jane,J. 2013. Perancangan Sistem Informasi Penggajian Berbasis Web (Studi Kasus Kantor Walikota Ambon). Salatiga: Fakultas Teknologi Informasi Uksw.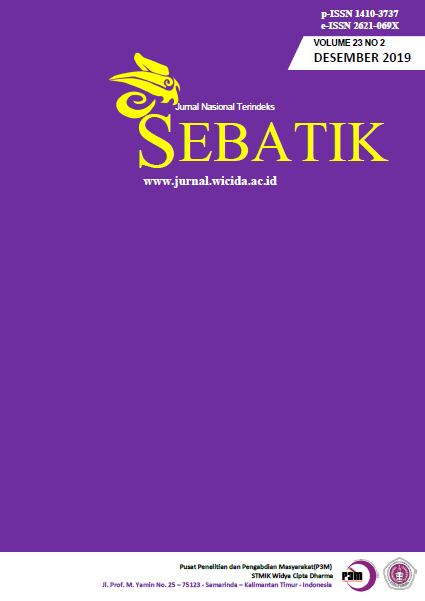 How to Cite
Sanjaya, V., Tanaamah, A. and Sitokdana, M. (2019) "EVALUASI TATA KELOLA TEKNOLOGI INFORMASI DI PERPUSTAKAAN DAERAH KOTA SALATIGA DENGAN MENGGUNAKAN IT BALANCED SCORECARD", Sebatik, 23(2), pp. 374-380. Available at: https://jurnal.wicida.ac.id/index.php/sebatik/article/view/785 (Accessed: 19January2022).
The copyright of this article is transferred to SEBATIK and STMIK Widya Cipta Dharma, when the article is accepted for publication. the authors transfer all and all rights into and to paper including but not limited to all copyrights in the SEBATIK. The author represents and warrants that the original is the original and that he/she is the author of this paper unless the material is clearly identified as the original source, with notification of the permission of the copyright owner if necessary.
A Copyright permission is obtained for material published elsewhere and who require permission for this reproduction. Furthermore, I / We hereby transfer the unlimited publication rights of the above paper to SEBATIK. Copyright transfer includes exclusive rights to reproduce and distribute articles, including reprints, translations, photographic reproductions, microforms, electronic forms (offline, online), or other similar reproductions.
The author's mark is appropriate for and accepts responsibility for releasing this material on behalf of any and all coauthor. This Agreement shall be signed by at least one author who has obtained the consent of the co-author (s) if applicable. After the submission of this agreement is signed by the author concerned, the amendment of the author or in the order of the author listed shall not be accepted.