GAME ONLINE DAN PENGARUHNYA TERHADAP KOMUNIKASI DALAM KELUARGA (STUDI KASUS TAMBAKBAYAN YOGYAKARTA)
Aloysius Bagas Pradipta Irianto

Program Studi Sistem Informasi, Fakultas Teknologi Industri,Universitas Atma Jaya Yogyakarta

Aninda Milenia Putri Wisnu

Program Studi Sistem Informasi, Fakultas Teknologi Industri,Universitas Atma Jaya Yogyakarta

Dhea Indriani Putri Aprilli

Hary Rizki Hermawan

Vincent Immanuel
Keywords:
Pengaruh komunikasi, Game Online, Komunikasi, Komunikasi keluarga, Peran orang tua
Abstract
Game Online merupakan sarana yang digunakan oleh banyak orang untuk menjalin suatu komunitas atau hanya sekedar untuk hiburan semata, dalam hal ini tentu orang tua juga mempunyai peran dalam memberi pengarahan untuk membatasi waktu anak agar tidak kecanduan saat bermain game online. Penelitian ini mengungkap pengaruh game online terhadap komunikasi antara anak dan orang tua di dalam lingkup keluarga. Didapatkan fakta bahwa 52,8% anak lebih sering bermain game lebih lama dibandingkan berkumpul dan bermain bersama anggota keluarga. Fakta lain yang didapat adalah 58,5% anak lebih sering menyendiri saat bermain game dibanding berinteraksi dengan lingkungan sekitarnya. Orang tua juga memiliki peran, 54,7% responden membatasi waktu (jam) bermain game anak sehingga komunikasi tidak terganggu.  58,5% orang tua menyatakan komunikasi anak tidak terganggu.
Downloads
Download data is not yet available.
References
Amarini, I. 2018. "Pencegahan Dampak Negatif Perkembangan Teknologi Informasi Terhadap Pengguna Internet," Kosmik Hukum, 18. doi: 10.30595/kosmikhukum.v18i1.2340.
Aziz, M. S. 2016. "PENGARUH GAME ONLINE TERHADAP PERILAKU KOMUNIKASI ANTAR PERSONAL SISWA KELAS X TSM DI SEKOLAH SMK PGRI 4 KOTA KEDIRI TAHUN PELAJARAN 2015 / 2016 Diajukan untuk Penulisan Skripsi Guna Memenuhi Salah Satu Syarat."
Fajrin, O. R. 2015. "Hubungan Tingkat Penggunaan Teknologi Mobile Gadget dan Eksistensi Permainan Tradisional pada Anak Sekolah Dasar," Jurnal Idea Societa, 2(6), hal. 1–33.
Irianto, A. B. P. 2018. "Automation of Accounting Sysytem in Non Profit Organizations Based On PSAK 45 Standards," in Proceeding of International Conference and Exhibition on Sciences and Technology (ICEST) 2018, hal. 1–8.
Liantoni, F. dkk. 2018. "Peran Teknologi Informasi Untuk Peningkatan Kemampuan Siswa SMA dan SMK Dalam Menghadapi Perkembangan Era Digital," Publikasi Pendidikan, 8. doi: 10.26858/publikan.v8i2.5618.
Mustaffa, C. S. dan Ibrahim, N. Z. M. 2014. "Persepsi dan penggunaan media sosial dari perspektif ibu bapa: Satu Analisis Kualitatif," Malaysian Journal of Communication, 30(Spesial Issue), hal. 43–74.
Nahar, N. dkk. 2018. "Impak Negatif Teknologi Moden Dalam Kehidupan Dan Perkembangan Kanak-Kanak Hingga Usia Remaja (Negative Impact of Modern Technology to the Children's Life and their Development)," UMRAN - International Journal of Islamic and Civilizational Studies, 5. doi: 10.11113/umran2018.5n1.181.
Novitasari, W. dan Khotimah, N. 2016. "Dampak Penggunaan Gadget Terhadap Interaksi Sosial Anak Usia 5-6 Tahun," Jurnal PAUD Teratai, 5(3), hal. 182–186.
Paisol Burlian (2016) Patologi Sosial. Jakarta: Bumi Aksara.
Schimmenti, A. dkk. 2017. "Personality and Internet Gaming Disorder: a Systematic Review of Recent Literature," Current Addiction Reports. doi: 10.1007/s40429-017-0159-6.
Syahran, R. 2015. "Ketergantungan Game Online dan Penanganannya," Jurnal Psikologi & Konseling, 1(1), hal. 84–92.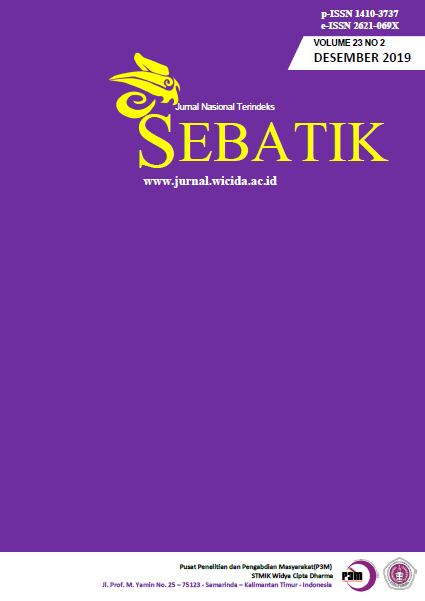 How to Cite
Irianto, A., Wisnu, A., Aprilli, D., Hermawan, H. and Immanuel, V. (2019) "GAME ONLINE DAN PENGARUHNYA TERHADAP KOMUNIKASI DALAM KELUARGA (STUDI KASUS TAMBAKBAYAN YOGYAKARTA)", Sebatik, 23(2), pp. 381-386. Available at: https://jurnal.wicida.ac.id/index.php/sebatik/article/view/786 (Accessed: 19January2022).
The copyright of this article is transferred to SEBATIK and STMIK Widya Cipta Dharma, when the article is accepted for publication. the authors transfer all and all rights into and to paper including but not limited to all copyrights in the SEBATIK. The author represents and warrants that the original is the original and that he/she is the author of this paper unless the material is clearly identified as the original source, with notification of the permission of the copyright owner if necessary.
A Copyright permission is obtained for material published elsewhere and who require permission for this reproduction. Furthermore, I / We hereby transfer the unlimited publication rights of the above paper to SEBATIK. Copyright transfer includes exclusive rights to reproduce and distribute articles, including reprints, translations, photographic reproductions, microforms, electronic forms (offline, online), or other similar reproductions.
The author's mark is appropriate for and accepts responsibility for releasing this material on behalf of any and all coauthor. This Agreement shall be signed by at least one author who has obtained the consent of the co-author (s) if applicable. After the submission of this agreement is signed by the author concerned, the amendment of the author or in the order of the author listed shall not be accepted.