HUBUNGAN LONELINESS DAN PROBLEMATIC INTERNET USE REMAJA PENGGUNA SOSIAL MEDIA
Anugriaty Indah Asmarany

Fakultas Psikologi, Universitas Gunadarma

Nadaa Savira Syahlaa

Fakultas Psikologi, Universitas Gunadarma
Keywords:
Loneliness, Problematic internet use, Pengguna sosial media, Remaja
Abstract
Penelitian ini dilatarbelakangi oleh banyaknya fenomena problematic internet use yang terjadi pada kalangan remaja pengguna sosial media. Tujuan penelitian ini adalah untuk menguji hubungan loneliness dan problematic internet use pada remaja pengguna sosial media. Penelitian ini menggunakan alat ukur berupa skala loneliness dan skala problematic internet use. Responden pada penelitian ini berjumlah 150 remaja pengguna sosial media. Teknik sampling yang digunakan adalah purposive sampling. Teknik analisis data pada penelitian ini dilakukan melalui uji secara kuantitatif dengan metode statistik korelasi dari Karl Pearson. Daya diskriminasi aitem problematic internet use bergerak dari 0,336 sampai dengan 0,521, daya diskriminasi aitem loneliness bergerak dari 0,328 sampai dengan 0,625Hasil yang didapatkan dari penelitian ini adalah terdapat hubungan yang signifikan antara loneliness dan problematic interenet use yaitu nilai koefisien korelasi sebesar 0,194 dan nilai signifikan sebesar 0,017 (p < 0,05). Arah hubungan positif artinya semakin tinggi loneliness semakin tinggi problematic internet use pada remaja pengguna sosial media, sebaliknya semakin rendah loneliness semakin rendah problematic internet use pada remaja pengguna sosial media
Downloads
Download data is not yet available.
References
Baumeister, R. F., & Vohs, K. D. 2007. Social psychology. London: SAGE publication Ltd.
Beard, K. W., & DeAbreu, C. N. (2011). Modification in the proposed diagnostic criteria for internet addictio. Cyberpsychology & Behavior, 4(3), 377-383.
Caplan, S. E. 2003. Preference for online social interaction a theory of problematic internet use and psychosocial well-being. Communication research, 30(6) , 625-648.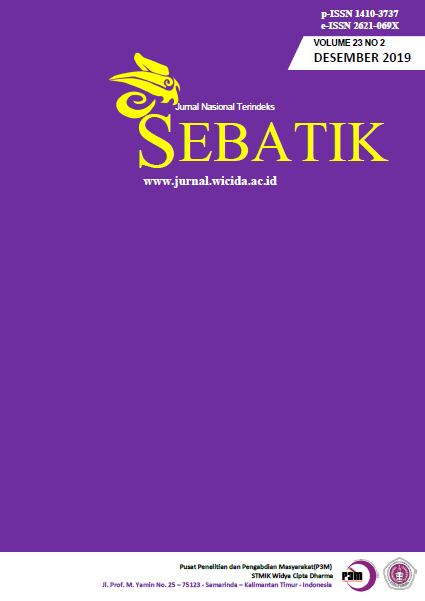 How to Cite
Asmarany, A. and Syahlaa, N. (2019) "HUBUNGAN LONELINESS DAN PROBLEMATIC INTERNET USE REMAJA PENGGUNA SOSIAL MEDIA", Sebatik, 23(2), pp. 387-391. Available at: https://jurnal.wicida.ac.id/index.php/sebatik/article/view/787 (Accessed: 27June2022).
Authors retain all their rights to the published works, such as (but not limited to) the following rights; Copyright and other proprietary rights relating to the article, such as patent rights, The right to use the substance of the article in own future works, including lectures and books, The right to reproduce the article for own purposes, The right to self-archive the article