ANALISIS SISTEM PENGENDALIAN MANAJEMEN DI PT. BANK SULSELBAR
LEVERS OF CONTROL (BELIEF & BOUNDARY SYSTEM):
Sri Astuty Ratnasari Manggu

Manajemen, Fakultas Ekonomi, Universitas Sulawesi Barat

Novia Sandra Dewi

Manajemen, Fakultas Ekonomi, Universitas Sulawesi Barat
Keywords:
Sistem Pengendalian, Levers of Control, Belief System, Boundary System, Bank Daerah
Abstract
Tujuan penelitian ini adalah untuk mengetahui bagaimana penerapan sistem pengendalian manajemen menggunakan model four levers of control di PT Bank Sulselbar. Penelitian ini merupakan penelitian desktiptif kualitatif. Tahapan metode penelitian diantaranya yaitu interview, observasi dan studi pustaka untuk menjelaskan keadaan pada objek penelitian. Hasil penelitian menunjukkan bahwa PT Bank Sulselbar telah menerapkan sistem pengendalian manajemen berdasarkan konsep four levers of control sebagaimana yang dikemukakan oleh Simons (2000) khususnya untuk belief system dan boundary system. Belief system perusahaan tercermin pada visi, misi serta tata nilai yang dimilikinya. Pernyataan visi, misi dan tata nilai telah dibuat dalam bentuk formal dan dikomunikasikan melalui berbagai media (tangible maupun intangible).  Namun, pola komunikasi ini belum diikuti dengan adanya survei untuk mengukur kepedulian dan pemahaman para karyawan terhadap belief system. Boundary system perusahaan meliputi 2 (dua) hal yaitu business conduct boundary dan strategic boundary. Business conduct boundary perusahaan dinyatakan dalam nilai-nilai budaya, kode etik dan PKB (Perjanjian Kerja Bersama) perusahaan. Dalam ketiga pedoman perusahaan tersebut dinyatakan secara jelas mengenai pedoman perilaku yang seharusnya dimiliki dan dilarang bagi karyawan Bank. Sementara itu, strategic boundary Bank yaitu pembatasan bisnis perusahaan terkait usaha perbankan yang menjalankan fungsinya sebagai Bank Pembangunan Daerah untuk membantu Pemerintah Daerah dalam menumbuhkan perekonomian daerah.
Downloads
Download data is not yet available.
References
Adhitama, S & Aulia, D.R.R. 2017. Analisis Penerapan Sistem Pengendalian Manajemen Dengan Menggunakan Model Four Levers of Control di Pusat Pendidikan dan Pelatihan Bea & Cukai. Jurnal Info Artha, Vol. 1 No. 1.
Anandita,D. 2014. Analisis Kemungkinan Penerapan Sistem Pengendalian Manajemen Dengan Model Four Levers of Control di Bank of China Cabang Jakarta. Skripsi Fakultas Ekonomi Universitas Gajah Mada. http://etd.repository.ugm.ac.id/.
Anthony, RN & Govindarajan, V. 2007. Management Control Systems. New York: McGraw-Hill.
Bruining, H., Bonnet, M., & Wright, M. 2004. Management control systems and strategy change in buyouts. Management Accounting Research.
Creswell, J.W. 2014. Research design: Qualitative, quantitative, and mixed methods approach. (Third Edition). Los Angeles: SAGE Publication Inc.
Felita, JP. 2017. Penerapan Levers Of Control Dalam Meningkatkan Kinerja Karyawan Pada PT Kalisari Citra Jaya. Jurnal Ilmiah Universitas Surabaya, Vol. 6 No. 2.
Laporan Tahunan PT Bank Sulselbar, 2016-2019
Moleong, L.J. 2017. Metode penelitian kualitatif. Bandung: PT Remaja Rosda Karya.
Papat N, Tubagus I, & Galih FM. 2012. Pengaruh Kerangka Levers of Control (Loc) Dan Organizational Learning terhadap Peningkatan Organizational Performance (Studi Empiris Pada Perusahaan Manufaktur Di Provinsi Banten). Jurnal Jurusan Akuntansi FE Universitas Sultan Ageng Tirtayasa.
Radianto W. 2015. Mengungkap sistem pengendalian belief system pada universitas yang berbasis entrepreneurship: sebuah studi fenomenologi. Jurnal Manajemen Dan Kewirausahaan, Vol.17, No. 1, Maret 2015: 55–64.
Simons, R. 2000. How New Top Managers Use Control Systems As Levers of Strategic Renewal. Strategic Management Journal, Vol. 15, 169-189. Boston: Harvard Business School Press.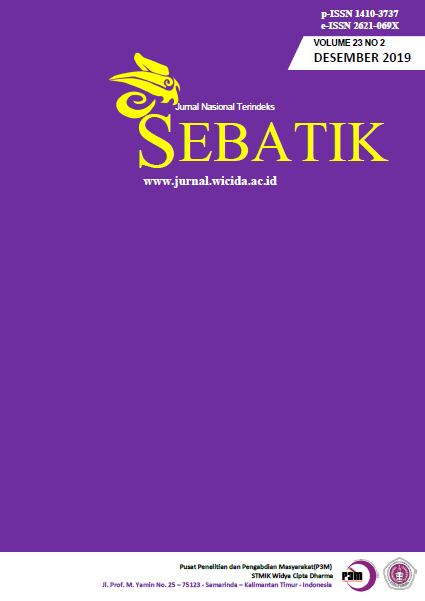 How to Cite
Manggu, S. and Dewi, N. (2019) "ANALISIS SISTEM PENGENDALIAN MANAJEMEN DI PT. BANK SULSELBAR", Sebatik, 23(2), pp. 414-422. Available at: https://jurnal.wicida.ac.id/index.php/sebatik/article/view/792 (Accessed: 28November2021).
The copyright of this article is transferred to SEBATIK and STMIK Widya Cipta Dharma, when the article is accepted for publication. the authors transfer all and all rights into and to paper including but not limited to all copyrights in the SEBATIK. The author represents and warrants that the original is the original and that he/she is the author of this paper unless the material is clearly identified as the original source, with notification of the permission of the copyright owner if necessary.
A Copyright permission is obtained for material published elsewhere and who require permission for this reproduction. Furthermore, I / We hereby transfer the unlimited publication rights of the above paper to SEBATIK. Copyright transfer includes exclusive rights to reproduce and distribute articles, including reprints, translations, photographic reproductions, microforms, electronic forms (offline, online), or other similar reproductions.
The author's mark is appropriate for and accepts responsibility for releasing this material on behalf of any and all coauthor. This Agreement shall be signed by at least one author who has obtained the consent of the co-author (s) if applicable. After the submission of this agreement is signed by the author concerned, the amendment of the author or in the order of the author listed shall not be accepted.