MESIN PENGOLAH SAMPAH PORTABEL MULTIGUNA DENGAN TEKNIK TERMOCONTROL DAN TERMOCOPLE
Agus Ganda Permana

D3 Teknik Telekomunikasi, Fakultas Ilmu Terapan, Universitas Telkom

Muhammad Iqbal

D3 Teknik Telekomunikasi, Fakultas Ilmu Terapan, Universitas Telkom
Keywords:
Sampah, TPA, Portabel, Incinerator, Smokeless, TOSS
Abstract
Sampah merupakan salah satu masalah lingkungan yang kerap terjadi di tengah masyarakat, masalah ini tidak hanya di desa bahkan negara maju pun tidak terlepas dari masalah ini. Beberapa masalah seperti kebutuhan lahan tempat pembuangan akhir (TPA) yang meningkat karena gagalnya pengelolaan sampah secara efektif dan efisien, permasalahan kesehatan dan lingkungan seperti proses pembakaran terbuka sehingga menimbulkan dampak buruk kepada warga sekitar akibat asap dan bau yang menyengat, kualitas air yang dihasilkan pun menurun sehingga masyarkat lebih banyak terserang penyakit.
Teknologi alternatif dalam penelitian ini adalah mengembangkan pengelolaan sampah secara modern, mesin incinerator ini bekerja dengan proses melakukan pembakaran di ruang tertutup secara optimal dan sempurna, sehingga sampah yang dibakar menjadi abu yang dapat digunakan kembali atau ramah lingkungan. Mesin pengolah sampah portabel ini dilengkapi dengan sistem pengendalian (Burner) dan control (Termocontrol & Termocople) untuk memenuhi batas-batas emisi partikel dan gas buang. Incenerator ini menggunakan  proses pengolahan sampah dengan cara pembakaran pada temperatur 400-600°C, sedangkan invensi pada penelitian ini adalah  proses filterisasi membutuhkan suhu 400–1200°C dipastikan asap yang keluar dari tempat pembakaran sampah merupakan gas yang sudah netral dan bersifat smokeless (tanpa asap). Abu yang dihasilkan dari proses pembakaran bisa digunakan untuk bahan bangunan, dibuat bahan campuran kompos atau di buang ke landfill. Sedangkan residu dari sampah yang tidak dapat dibakar seperti sisa logam bisa di daur ulang, sehingga produk ini cocok untuk swakelola tempat olah sampah setempat (TOSS).
Downloads
Download data is not yet available.
References
Agus, R. N., Oktaviyanthi, R., & Sholahudin, U. 2016. 3R : Suatu Alternatif Pengolahan Sampah Rumah Tangga. KAIBON ABHINAYA, 72–76.
Hiskawati, H. 2018. Rancang Bangun dan Uji Sifat Fisis pada Incinerator Sederhana. Retrieved from http://repositori.uin-alauddin.ac.id/id/eprint/11969
Kurniawan, G. A. 2019. System Tempat Olah Sampah Setempat Terpadu Mandiri Ramah Lingkungan (TOSS TMRL). Retrieved November 20, 2019, from 60 menit.com website: https://www.60menit.com/2019/02/aplikasi-system-toss-tmrl-solair-dalam.html
Murarka I.P. 1987. Solid Waste Disposal and Reuse. Press.Florida, Volume I(CRC).
Octa, A. 2019. Proses Pengembangan Produk Baru (New Product Development) | DISTRIBUSI PEMASARAN dotcom. Retrieved November 13, 2019, from Marketing Strategy website: https://distribusipemasaran.com/8-tahap-proses-pengembangan-produk-baru-new-product-development-process/
Puji, N., Dicky, L., & Usdek, W. 2018. IbM Bank Sampah Desa Mojorejo Kota Batu. MATAPPA : Jurnal Pengabdian Kepada Masyarakat, 1, 23–27.
Ramadhan, T. 2019. Daftar Penyakit Akibat Kebiasaan Buang Sampah Sembarangan - Health Liputan6.com. Retrieved November 13, 2019, from https://www.liputan6.com/health/read/3902343/daftar-penyakit-akibat-kebiasaan-buang-sampah-sembarangan
Rhohman, F., & Ilham, N. 2016. Analisa dan evaluasi rancang bangun insinerator sederhana dalam mengelola sampah rumah tangga. Ojs.Unpkediri.Ac.Id. Retrieved from http://ojs.unpkediri.ac.id/index.php/JMN/article/view/13442
Sari, R. 2019. Satgas Smart Village Desa Lengkong. Retrieved November 20, 2019, from 60 menit.com website: https://www.60menit.com/2019/04/satgas-smart-village-desa-lengkong.html
Trisyanti, D. 2018. Riset: 24 Persen Sampah di Indonesia Masih Tak Terkelola. Retrieved November 13, 2019, from CNN website: https://www.cnnindonesia.com/gaya-hidup/20180425101643-282-293362/riset-24-persen-sampah-di-indonesia-masih-tak-terkelola
Zulfinar, Z., & Sembiring, E. 2015. Dinamika Jumlah Sampah Yang Dihasilkan Di Kota Bandung. Jurnal Tehnik Lingkungan, 21(1), 18–28. https://doi.org/10.5614/jtl.2015.21.1.3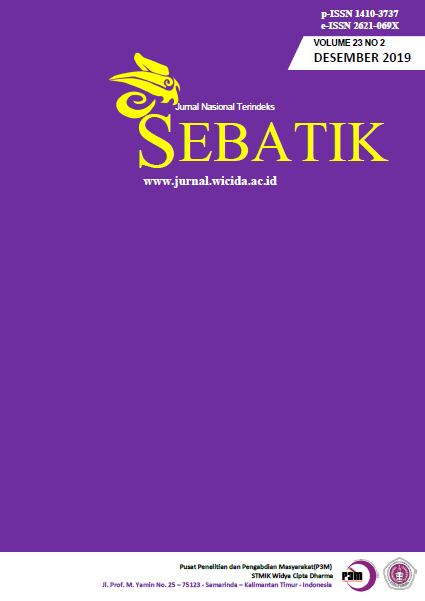 How to Cite
Permana, A. and Iqbal, M. (2019) "MESIN PENGOLAH SAMPAH PORTABEL MULTIGUNA DENGAN TEKNIK TERMOCONTROL DAN TERMOCOPLE", Sebatik, 23(2), pp. 423-430. Available at: https://jurnal.wicida.ac.id/index.php/sebatik/article/view/794 (Accessed: 22April2021).
The copyright of this article is transferred to SEBATIK and STMIK Widya Cipta Dharma, when the article is accepted for publication. the authors transfer all and all rights into and to paper including but not limited to all copyrights in the SEBATIK. The author represents and warrants that the original is the original and that he/she is the author of this paper unless the material is clearly identified as the original source, with notification of the permission of the copyright owner if necessary.
A Copyright permission is obtained for material published elsewhere and who require permission for this reproduction. Furthermore, I / We hereby transfer the unlimited publication rights of the above paper to SEBATIK. Copyright transfer includes exclusive rights to reproduce and distribute articles, including reprints, translations, photographic reproductions, microforms, electronic forms (offline, online), or other similar reproductions.
The author's mark is appropriate for and accepts responsibility for releasing this material on behalf of any and all coauthor. This Agreement shall be signed by at least one author who has obtained the consent of the co-author (s) if applicable. After the submission of this agreement is signed by the author concerned, the amendment of the author or in the order of the author listed shall not be accepted.