MONITORING KETINGGIAN PLATEAU BERBASIS MIKROKONTROLER MENGGUNAKAN ATMEGA 328 DAN SENSOR ALTIMETER
Eko Budihartono

Program Studi DIII Teknik Komputer, Politeknik Harapan Bersama Tegal

Ida Afriliana

Program Mataram No. 9 Tegal
Keywords:
Arduino IDE, ATMega 328, LCD, Sensor Altimeter, Arduino Software (IDE)
Abstract
Pengertian dataran tinggi yaitu dataran luas yang letaknya di daerah tinggi atau pegunungan disebut dengan dataran tinggi, dinamakan juga plato (plateau). Pengukuran tinggi tempat biasanya didasarkan pada perbandingan tekanan udara tempat tersebut dengan permukaan laut sehingga nilainya dinyatakan dalam satuan meter diatas permukaan laut. Perangkat sensor altimeter merupakan salah satu sensor yang digunakan untuk mengukur ketinggian dataran rendah (laut) hingga ke dataran tinggi (bukit), Aplikasi sensor altimeter sebenarnya sudah ada di smartphone atau android namun aplikasi ini bergantung pada koneksi internet sebagai penyedia layanan dan jika berada di dataran tinggi koneksi akan hilang seketika karena koneksi internet tidak terjangkau di atas ketinggian lebih dari 1000 Mdpl. Penelitian ini menggunakan alat sensor Altimeter sebagai pengendali sensor ketinggian. Altimeter merupakan sensor untuk mengukur ketinggian suatu titik dari permukaan laut. Prinsip kerja dari sensor altimeter menggunakan tekanan udara, yaitu dengan bertambahnya suatu ketinggian, maka tekanan udara akan berkurang. Adanya sensor Altimeter dengan berbasis ATMega328 ini semua orang dapat mengukur ketinggian di dataran tinggi tanpa ada kendala jaringan karena ATMega328 dirancang secara khusus tanpa mengandalkan bantuan jaringan atau internet, Alat ini dirancang khusus menggunakan  sensor Altimeter agar lebih praktis untuk mengukur dataran tinggi dari titik nol laut sampai ke dataran tinggi menggunakan sensor altimeter dan aplikasi platium C Arduino IDE dengan cara kerja otomatis. Alat ini hanya membutuhkan baterai atau power bank untuk menampilkan di layar LCD. Pembuatan alat ini dapat menjadi salah satu solusi yang dapat digunakan untuk mempermudah proses pengukuran ketinggian dan suhu di dataran tinggi
Downloads
Download data is not yet available.
References
Alfred Tenggono, Yovan Wijaya Kusuma, W. (2015) 'Sistem Monitoring Dan Peringatan Ketinggian Air Berbasis Web Dan SMS Gateway', 5(2), pp. 119–129.
Amelius Andi Mansawan (2017) 'Potensi Data Satelit Altimeter Untuk Pengukuran Tinggi Paras Laut Di Daerah Pantai Cilacap Dan Benoa'.
Dari, W. (2015) 'Penerapan Metode System Development Life Cycle Pada Pembuatan Sistem Informasi Penjualan Produk Batik Kurowo Jakarta', 3(2), pp. 222–228.
Djuandi, F. (2011) 'Pengenalan arduino', pp. 1–24.
Girsang, I. S. and Perangin-angin, B. (2012) 'Perancangan Monitoring Jarak Jauh Ketinggian Air Pada Bendungan Menggunakan Sistem Android Via Jaringan Wi-Fi', pp. 1–7.
Hadinegara, F. (2018) 'Perancangan Alat Ukur Massa Jenis Udara Menggunakan Sensor BMP280 dan DHT280 berbasis arduino'.
M. Syafik Mukhlis, Yamato, A. R. M. (2015) 'Sistem Mikrokontroler Atmega328 sebagai Pengontrol Suhu Dan Level Air', (Lcd), pp. 1–10.
Meivita, D. N. (2016) 'Rancang Bangun Alat Ukur Kondisi Kesehatan Pada Pendaki Gunung Berbasis Fuzzy Logic', pp. 13–18.
Restanti, B. (2012) 'Prototype Instrumen Alat Ukur Untuk Kondisi Pada Pendaki Gunung'.
Zuly Budiarso, E. N. (2011) 'Sistem Monitoring Tingkat Ketinggian Air Bendungan Bebasis Mikrokontroller'.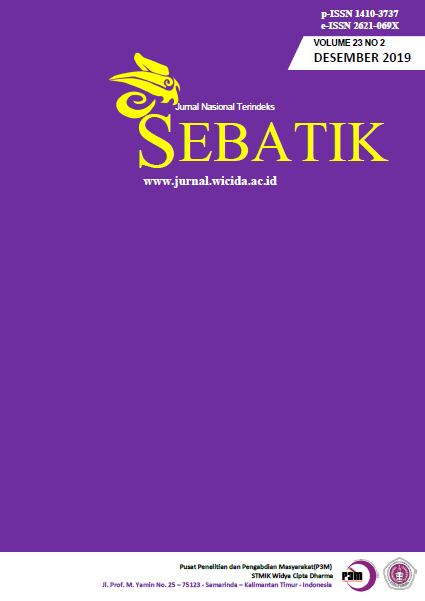 How to Cite
Budihartono, E. and Afriliana, I. (2019) "MONITORING KETINGGIAN PLATEAU BERBASIS MIKROKONTROLER MENGGUNAKAN ATMEGA 328 DAN SENSOR ALTIMETER", Sebatik, 23(2), pp. 440-446. Available at: https://jurnal.wicida.ac.id/index.php/sebatik/article/view/796 (Accessed: 7April2020).
The copyright of this article is transferred to SEBATIK and STMIK Widya Cipta Dharma, when the article is accepted for publication. the authors transfer all and all rights into and to paper including but not limited to all copyrights in the SEBATIK. The author represents and warrants that the original is the original and that he/she is the author of this paper unless the material is clearly identified as the original source, with notification of the permission of the copyright owner if necessary. The author states that he has the authority and authority to make and carry out this task.
The author states that:
This paper has not been published in the same form elsewhere.
This will not be submitted elsewhere for publication prior to acceptance/rejection by this Journal.
A Copyright permission is obtained for material published elsewhere and who require permission for this reproduction. Furthermore, I / We hereby transfer the unlimited publication rights of the above paper to SEBATIK. Copyright transfer includes exclusive rights to reproduce and distribute articles, including reprints, translations, photographic reproductions, microforms, electronic forms (offline, online), or other similar reproductions. Author's can fill it on https://drive.google.com/file/d/1MZAv5k69pPFQ890CTFbzReVSfxCDVWbE/view
The author's mark is appropriate for and accepts responsibility for releasing this material on behalf of any and all coauthor. This Agreement shall be signed by at least one author who has obtained the consent of the co-author (s) if applicable. After the submission of this agreement is signed by the author concerned, the amendment of the author or in the order of the author listed shall not be accepted.
Rights / Terms and Conditions Saved
The author keeps all proprietary rights in every process, procedure, or article creation described in Work.
The author may reproduce or permit others to reproduce the work or derivative works for the author's personal use or for the use of the company, provided that the source and the Informatika Mulawarman copyright notice are indicated, the copy is not used in any way implying the Journal of Informatika Mulawarman (JIM) approval of the product or service from any company, and the copy itself is not offered for sale.
Although authors are permitted to reuse all or part of the Works in other works, this does not include granting third-party requests to reprint, republish, or other types of reuse.