PELATIHAN PEMANFAATAN SALURAN IRIGASI UNTUK PEMBANGKIT LISTRIK MICROHIDRO KEPADA MASYARAKAT DI DESA PAMIJAHAN GUNUNG BUNDER
PROGRAM PENGABDIAN KEPADA MASYARAKAT:
Yani Prabowo

Fakultas Teknologi Informasi, Universitas Budi Luhur

Suwasti Broto

Teknik elektro, Universitas Budi Luhur

Grace Gata

Fakultas Teknologi Informasi, Universitas Budi
Keywords:
Turbin, Microhidro, Irigasi, Listrik, Tenaga Air
Abstract
Listrik sampai saat ini sudah menjadi kebutuhan yang cukup penting, tetapi belum semua wilayah dapat terjangkau oleh aliran listrik. Hal tersebut bisa disebabkan karena suatu wilayah mempunyai medan yang sulit diakses oleh sarana transportasi. Bermacam cara dapat digunakan untuk menghasilkan sumber daya listrik seperti menggunakan bahan bakar minyak, menggunakan pembangkit listrik tenaga matahari dan bisa menggunaan tenaga air. Desa Gunung Bunder Pamijahan Bogor mempunyai potensi air yang dapat dimanfaatkan sebagai pembangkit listrik tenaga microhidro, tetapi sampai saat ini warga sekitar belum mengetahui bagaimana cara memanfaatkan aliran sungai tersebut. Melalui kegiatan pengabdian pada masyarakat oleh Universitas Budi Luhur, telah dilakukan pelatihan dan penyuluhan untuk pembuatan pembangkit listrik tenaga air dengan kincir model vortex  dengan menggunakan bahan-bahan yang mudah didapatkan disekitar desa. Pemilihan menggunakan turbin vortex berdasarkan pertimbangan ketingian pada lokasi kincir tersebut yang hanya memiliki ketinggian 4.33 meter tetapi memiliki aliran debit yang cukup untuk mengerakan turbin. Potensi yang berhasil didapat dari penelitian ini dengan beda ketinggian (head) 2.6 meter dari panjang lintasan 4 stasiun dengan jarak masing masing antar stasiun 26 meter.  Kecepatan air rata-rata 10 liter perdetik akan menghasilkan daya sebesar 254.604 watt. Hal tersebut masih dapat dikembangan untuk mendapatkan daya yang maksimal dengan mengkondisikan saluran air pada saluran irigasi.
Downloads
Download data is not yet available.
References
Bahtiar, A., Hidayat, D., M. and J.M., Syakir, N and Wibawa, B. . 2015. Aplikasi Pembangkit Listrik Mikrohidro Untuk Penerangan Lingkungan Masyarakat Di Kecamatan Ciwidey Kabupaten Bandung, Jurnal Aplikasi Ipteks untuk Masyarakat, 4(1), pp. 15–17.
Budiarso Muhammad Ridho dan Raza Dianofitra, A. P. H. 2014. Optimasi Turbin Mikrohydro untuk Daerah Terpencil: Openflume, Proceeding Seminar Nasional Tahunan Teknik Mesin XIII (SNTTM XIII), (Snttm Xiii), pp. 15–16.
Farid rahman, priyo heru. 2018. Uji Eksperimental Kinerja Turbin Reaksi Aliran Vortex Tipe Sudu Berpenampang Lurus Dengan Variasi Tinggi Sudu Muhammad Farid Rahman Hakim, JTM, 06(01), pp. 85–95.
Febijanto, I. 2011. Pemanfaatan Potensi Tenaga Air Di Saluran Irigasi Banjarcahyana, Kabupaten Banjarnegara, Propinsi Jawa Tengah Sebagai Usaha Pengurangan Emisi Gas Rumah Kaca, Jurnal Teknologi Lingkungan, 9(3), pp. 277–286. doi: 10.29122/jtl.v9i3.472.
Nasir, B. A. 2013. Design of Micro -Hydro -Electric Power Station, International Journal of Engineering and Advanced Technology, 2(5), pp. 39–47. Available at: http://citeseerx.ist.psu.edu/viewdoc/download?doi=10.1.1.674.5491&rep=rep1&type=pdf.
Prabowo, Y. et al. 2018. Studi Kelayakan Pembangkit Listrik Tenaga Mikrohidro (Pmlth) Pada Saluran Irigasi Gunung Bunder Pamijahan Bogor, Jurnal Ilmiah FIFO, 10(1), p. 41. doi: 10.22441/fifo.v10i1.2939.
Pranoto, B. et al. 2018. Potensi Energi Mikrohidro di Daerah Irigasi (Studi Kasus di Wilayah Sungai Serayu Opak), Jurnal Irigasi, 12(2), p. 77. doi: 10.31028/ji.v12.i2.77-86.
Safii, M. and Vidy. 2019. Perancangan Bangun Alat Monitoring Notifikasi Tegangan Genset Berbasis Internet of Things Dan Sms Gateway, p. 7. Available at: http://jurnal.wicida.ac.id/index.php/sebatik/article/view/466/172.
Shantika, D. 2013. Perancangan Prototipe Piko Hydro PORTABLE 200 Watt, Seminar Nasional XII Rekayasa dan Aplikasi Teknik Mesin di Industri, Kampus ITENAS - Bandung, 17-18 Desember 2013.
Sihombing, R. P. J. et al. 2014. Analisa Efisiensi Turbin Vortex Dengan Casing Berpenampang Lingkaran Pada Sudu Berdiameter 56 Cm Untuk 3 Variasi Jarak Sudu Dengan Saluran Keluar', e-, 10(2), pp. 143–148.
Subandono, A. 2013. Pembangkit listrik tenaga mikrohidro ( pltmh ), ADITYA - Pendidikan Bahasa dan Sastra Jawa, 10(4), pp. 1–13. doi: 10.17529/jre.v10i4.1113.
Syafitri, N. F. et al. 2018. Analisis Profil Sudu Turbin Mikro Hidro Vortex , Seminar Nasional Cendekiawan, pp. 535–541.
Zainuddin, H. et al. (2009) 'Design and Development of Pico-hydro Generation System for Energy Storage Using Consuming Water Distributed to Houses', Water, 3(11), pp. 154–159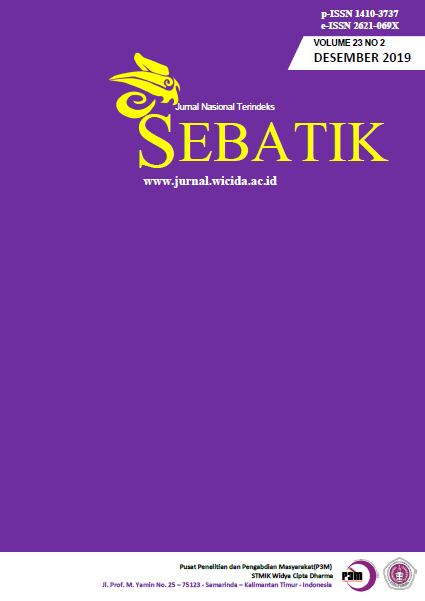 How to Cite
Prabowo, Y., Broto, S. and Gata, G. (2019) "PELATIHAN PEMANFAATAN SALURAN IRIGASI UNTUK PEMBANGKIT LISTRIK MICROHIDRO KEPADA MASYARAKAT DI DESA PAMIJAHAN GUNUNG BUNDER", Sebatik, 23(2), pp. 462-468. Available at: https://jurnal.wicida.ac.id/index.php/sebatik/article/view/799 (Accessed: 7April2020).
The copyright of this article is transferred to SEBATIK and STMIK Widya Cipta Dharma, when the article is accepted for publication. the authors transfer all and all rights into and to paper including but not limited to all copyrights in the SEBATIK. The author represents and warrants that the original is the original and that he/she is the author of this paper unless the material is clearly identified as the original source, with notification of the permission of the copyright owner if necessary. The author states that he has the authority and authority to make and carry out this task.
The author states that:
This paper has not been published in the same form elsewhere.
This will not be submitted elsewhere for publication prior to acceptance/rejection by this Journal.
A Copyright permission is obtained for material published elsewhere and who require permission for this reproduction. Furthermore, I / We hereby transfer the unlimited publication rights of the above paper to SEBATIK. Copyright transfer includes exclusive rights to reproduce and distribute articles, including reprints, translations, photographic reproductions, microforms, electronic forms (offline, online), or other similar reproductions. Author's can fill it on https://drive.google.com/file/d/1MZAv5k69pPFQ890CTFbzReVSfxCDVWbE/view
The author's mark is appropriate for and accepts responsibility for releasing this material on behalf of any and all coauthor. This Agreement shall be signed by at least one author who has obtained the consent of the co-author (s) if applicable. After the submission of this agreement is signed by the author concerned, the amendment of the author or in the order of the author listed shall not be accepted.
Rights / Terms and Conditions Saved
The author keeps all proprietary rights in every process, procedure, or article creation described in Work.
The author may reproduce or permit others to reproduce the work or derivative works for the author's personal use or for the use of the company, provided that the source and the Informatika Mulawarman copyright notice are indicated, the copy is not used in any way implying the Journal of Informatika Mulawarman (JIM) approval of the product or service from any company, and the copy itself is not offered for sale.
Although authors are permitted to reuse all or part of the Works in other works, this does not include granting third-party requests to reprint, republish, or other types of reuse.