PENERAPAN ALGORITMA SHUFFLE RANDOM PADA GAME EDUKASI TEBAK LAGU DAERAH KALIMANTAN TIMUR
Bartolomius Harpad

Sistem Informasi, STMIK Widya Cipta Dharma

Salmon Salmon

Sistem Informasi, STMIK Widya Cipta Dharma

Yohanes Rombe Paran

Teknik Informatika, STMIK Widya Cipta Dharma
Keywords:
Lagu Daerah, Edugame, Shuffle random
Abstract
Permainan adalah merupakan salah satu faktor yang bisa dibilang cukup penting dalam proses tumbuh kembang anak. Pemanfaatan dan penggunaan game tebak lagu daerah dan lirik lagu daerah dapat menunjang proses pembelajaran terhadap anak ketika ia ingin belajar sambil bermain tentang lagu daerah terkusus lagu daerah Kalimantan Timur. Game Edukasi Tebak Lagu dan Lirik Lagu Daerah Kalimantan Timur merupakan permainan Random Game yang dirancang untuk mengasah daya tanggap anak terhadap pengenalan lagu daerah Kalimantan Timur. Dalam permainan ini pemain harus menjawab soal dengan menebak judul lagu dan lirik lagu daerah Kalimantan Timur dimana pemain harus teliti dan cermat mendengar lagu ataupun menghafal lirik lagu daerah Kalimantan timur. Algoritma yang digunakan dalam pengacakan soal pada permainan ini yaitu algoritma shuffle Random, dengan tujuan membuat susunan posisi soal selalu teracak dan permainan menjadi tidak menoton dan membosankan.
Downloads
Download data is not yet available.
References
Adnyana, M.A. 2011. Modul Swishmax. http : // ilmukomputer.org / 2008/11/ 25 /animasi-flashdengan-swishmax-2/. diakses pada tanggal 8 September 2012.
Andrea, Reza . 2015. Teknik Pengacakan Posisi Objek Permainan Match-Up " Find Me!-Bumi Etam",Prosiding Senaik 2015, Yogyakarta : P3M STMIK Amikom.
Binanto, Iwan. 2010. Multimedia Digital-Dasar Teori dan Pengembangannya. Yogyakarta : Andi.
Eko Istiyanto, Jazi. 2013. Pemrograman Smart Phone menggunakan SDK Android dan Hacking Android. Yogyakarta: Graha Ilmu.
Haviluddin. 2011. Memahami Penggunaan UML (Unified Modelling Language). Jurnal Informatika Mulawarman, Vol 6 No. 1.
Hurd, Daniel, Jenuings, Erin, 2009. Standarized Educational Games Ratings : Suggested Criteria,London : Longman.
Nazruddin, Safaat. 2012. (Edisi Revisi). Pemograman Aplikasi Mobile Smartphone dan Tablet PC Berbasis Android. Informatika. Bandung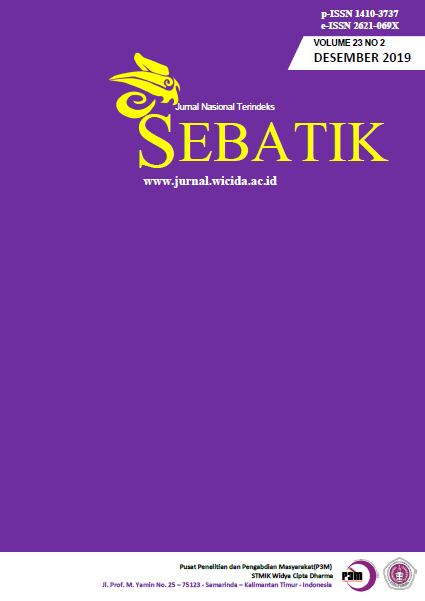 How to Cite
Harpad, B., Salmon, S. and Paran, Y. (2019) "PENERAPAN ALGORITMA SHUFFLE RANDOM PADA GAME EDUKASI TEBAK LAGU DAERAH KALIMANTAN TIMUR", Sebatik, 23(2), pp. 476-481. Available at: https://jurnal.wicida.ac.id/index.php/sebatik/article/view/801 (Accessed: 22April2021).
The copyright of this article is transferred to SEBATIK and STMIK Widya Cipta Dharma, when the article is accepted for publication. the authors transfer all and all rights into and to paper including but not limited to all copyrights in the SEBATIK. The author represents and warrants that the original is the original and that he/she is the author of this paper unless the material is clearly identified as the original source, with notification of the permission of the copyright owner if necessary.
A Copyright permission is obtained for material published elsewhere and who require permission for this reproduction. Furthermore, I / We hereby transfer the unlimited publication rights of the above paper to SEBATIK. Copyright transfer includes exclusive rights to reproduce and distribute articles, including reprints, translations, photographic reproductions, microforms, electronic forms (offline, online), or other similar reproductions.
The author's mark is appropriate for and accepts responsibility for releasing this material on behalf of any and all coauthor. This Agreement shall be signed by at least one author who has obtained the consent of the co-author (s) if applicable. After the submission of this agreement is signed by the author concerned, the amendment of the author or in the order of the author listed shall not be accepted.