PENGEMBANGAN APLIKASI ANTRIAN ONLINE REALTIME SAMARINDA
Eko Junirianto

Program Studi Teknologi Rekayasa Perangkat Lunak, Politeknik Pertanian Negeri Samarinda

Nisa Rizqiya Fadhliana

Program Studi Informatika, Institut Teknologi Kalimantan
Keywords:
Sistem Informasi, Android, Antrian Online Realtime, Smart City
Abstract
Samarinda sebagai salah satu kota besar di Provinsi Kalimantan Timur masih memiliki beberapa masalah terutama di bidang pelayanan masyarakat. Hal ini disebabkan masih menumpuknya antrian di loket loket pelayanan terutama yang berkaitan dengan kebutuhan masyarakat seperti puskesmas, rumah sakit, catatan sipil, dan lain lain. Oleh karena itu perlu ada terobosan dalam bidang teknologi informasi untuk menjembatani kebutuhan akan pelayanan masyarakat yang baik, efektif dan efisien Samarinda sebagai salah satu kota yang telah menerapkan smart city tentunya membutuhkan sistem aplikasi antrian online realtime ini. Aplikasi realtime antrian online ini nantinya dapat digunakan di Lembaga manapun yang memerlukan aplikasi ini nantinya. Diharapkan penelitian ini dapat menerapkan Sistem Realtime Antrian Online dalam mendukung pelayanan masyarakat di disdukcapil Kota Samarinda. Penelitian ini diharapkan dapat memberikan manfaat diantaranya dapat membantu Pemerintah dalam proses pelayanan kepada masyarakat secara efektif efisien dan terukur
Downloads
Download data is not yet available.
References
Boedijono, H. 2015. Aplikasi News Dwi Pekan Universitas Kristen Petra Berbasis Android. Surabaya.
F. Huarng and M. Hou Lee, "Using simulation in out patient queues: a case study," Int. J. Health Care Qual. Assur., vol. 9, no. 6, pp. 21–25, Nov. 1996.
H. B. Suseno, "Model Aplikasi Pengukuran Kinerja Dosen dalam Evaluasi Proses Belajar Mengajar ' Studi Kasus : Fakultas Sains dan Teknologi Universitas Islam Negeri Syarif Hidayatullah Jakarta .'"
Kristiyanti M. 2014. Rancangan Bangun Prototype Bebasis Web Sebagai Impelementasi Praktik Wirausaha Mahasiswa di Semarang. Jurnal Ekonomi dan Bisnis Volume XVII. Semarang
Meng J., Mei S. dan Zhao, Y. 2009. "RESTful Web Services. A Solution for Distributed Data Integration." International Conference on Computational Intelligence and Software Engineering, 6. 1–4.
Pratama F. A. 2014. Penerapan Teknologi Google Cloud Messaging Service sebagai Pengiriman Push Notification pada Aplikasi Mobile Commerce Berbasis Android.Universitas Kristen Satya Wacana. Salatiga.
Q. Wang, "Modeling and analysis of high risk patient queues," Eur. J. Oper. Res., vol. 155, no. 2, pp. 502–515, Jan. 2004.
Safaat, N. H. 2012. Pemograman Aplikasi Mobile Smartphone Dan Tablet PC Berbasis Android. Bandung.
Santoso, A. 2014. Pembuatan Aplikasi Mobile Broadcast Informasi Perkuliahan Berbasis Android. Surabaya.
Shita, R. T., & Triyono, G. (2011). Analisa dan Rancangan Sistem Informasi Antrian Menggunakan Biskitz CMS. Jurnal Telematika MKOM, 3(2), 12- 18.
Y. Guo, I. Mohamed, O. Abou-Sayed, and A. Abou-Sayed, "Cloud computing and web application-based remote real-time monitoring and data analysis: slurry injection case study, Onshore USA," J. Pet. Explor. Prod. Technol., pp. 1225–1235, 2018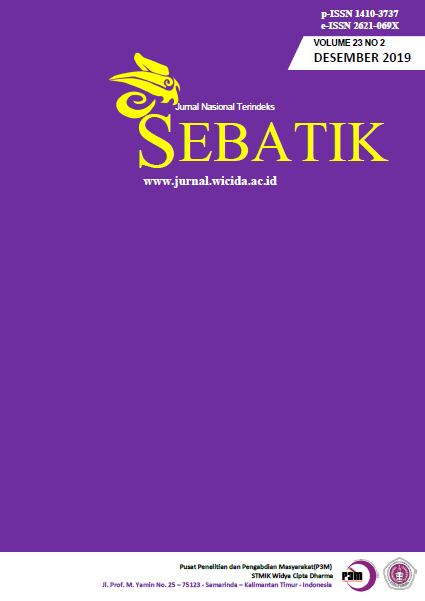 How to Cite
Junirianto, E. and Fadhliana, N. (2019) "PENGEMBANGAN APLIKASI ANTRIAN ONLINE REALTIME SAMARINDA", Sebatik, 23(2), pp. 513-516. Available at: https://jurnal.wicida.ac.id/index.php/sebatik/article/view/807 (Accessed: 22April2021).
The copyright of this article is transferred to SEBATIK and STMIK Widya Cipta Dharma, when the article is accepted for publication. the authors transfer all and all rights into and to paper including but not limited to all copyrights in the SEBATIK. The author represents and warrants that the original is the original and that he/she is the author of this paper unless the material is clearly identified as the original source, with notification of the permission of the copyright owner if necessary.
A Copyright permission is obtained for material published elsewhere and who require permission for this reproduction. Furthermore, I / We hereby transfer the unlimited publication rights of the above paper to SEBATIK. Copyright transfer includes exclusive rights to reproduce and distribute articles, including reprints, translations, photographic reproductions, microforms, electronic forms (offline, online), or other similar reproductions.
The author's mark is appropriate for and accepts responsibility for releasing this material on behalf of any and all coauthor. This Agreement shall be signed by at least one author who has obtained the consent of the co-author (s) if applicable. After the submission of this agreement is signed by the author concerned, the amendment of the author or in the order of the author listed shall not be accepted.