PERENCANAAN STRATEGIS SISTEM DAN TEKNOLOGI INFORMASI PADA STMIK – STIE MIKROSKIL MENGGUNAKAN METODE WARD & PEPPARD
Chatrine Sylvia

Jurusan Sistem Informasi, STMIK Mikroskil Medan

Angela Angela

Jurusan Sistem Informasi, STMIK Mikroskil Medan
Keywords:
Perencanaan Strategis, Ward & Peppard,, Value Chain, SWOT, IT BSC
Abstract
Meningkatnya permintaan pasar akan pendidikan yang berkelanjutan namun dapat dilakukan dengan efektif dan efisien merupakan prioritas penting saat ini bagi perguruan tinggi dan mengakibatkan STMIK - STIE Mikroskil harus menetapkan strategi bisnis yang sesuai untuk memenuhi permintaan tersebut. Penetapan strategi bisnis ini berhubungan erat dengan strategi SI/ TI dimana penerapannya dalam penelitian ini berkaitan dengan penerapan pembelajaran jarak jauh dengan pemanfaatan penuh SI/ TI. Salah satu faktor yang telah diidentifikasi sebagai isu manajemen kritis adalah perencanaan strategis sistem informasi. Hal ini dianggap oleh banyak orang sebagai mekanisme terbaik untuk memastikan bahwa aktivitas SI/TI sesuai dengan aktivitas organisasi lainnya dan kebutuhannya yang terus berkembang. Perencanaan strategis sistem informasi yang dilakukan dalam penelitian ini adalah berdasarkan kerangka Ward & Peppard (2002) yang mencakup metode dan teori analisis: value chain perusahaan, SWOT, analisis IT BSC, infrastruktur sistem, dan portofolio aplikasi.
Downloads
Download data is not yet available.
References
Anitasari, P. 2016. Perencanaan Strategi Sistem Informasi Dalam Meningkatkan Daya Saing Sekolah Pada SMK Komputer Mandiri Banjarbaru. Jurnal Bianglala Informatika.
Buendia, F., Agusti, M., Benlloch, J., Bisbal, E., & Lluesma, M. 2004. XEDU , A Proposal of Learning Management System Implementation. Journal of Information Technology Impact, 4(1), 55–66.
Fariani, R. I. 2014. Analisa Perencanaan Strategi Sistem Informasi Dan Teknologi Informasi (SI/TI) Dengan Menggunakan Framework Ward & Peppard Di Perguruan Tinggi ABC. Seminar Nasional Sistem Informasi Indonesia.
Faslah, R., & Haris, A. 2017. Perencanaan Strategis Sistem Informasi. Jurnal ELTIKOM. https://doi.org/10.31961/eltikom.v1i1.4
Porter, M. E. 2011. Competitive Advantage of Nations: Creating and Sustaining Superior Performance. In Strategic Management.
Pratiwi, I., Shinta, H., & Riyasari, D. 2009. Pengukuran Kinerja Perusahaan Dengan Metode Balanced Scorecard. Financial Analytics: Problems and Solutions, (25), 28–34.
Setiawan, A. B., Rosidi, A., & Boedijanto, E. 2014. Perencanaan Sistem Informasi Strategis Di Dinas Kesehatan Kabupaten Kediri. NUSANTARA of RESEARCH, 01(2), 105–115.
Susena, E., Utami, E., & Sunyoto, A. 2015. Perencanaan Strategis Sistem Informasi Smart Campus Untuk Meningkatkan Pelayanan di Politeknik Indonusa Surakarta. Jurnal Sainstech Politeknik Indonusa Surakarta.
Turban, E., E. Aronson, J., & Liang, T.-P. 2007. Decision Support Systems and Business Intelligence. Decision Support and Business Intelligence Systems, 7/E. https://doi.org/10.1017/CBO9781107415324.004
Van Grembergen, W., & Saull, R. 2001. Aligning business and information technology through the balanced scorecard at a major canadian financial group: Its status measured with an IT BSC maturity model. Proceedings of the Hawaii International Conference on System Sciences. https://doi.org/10.1109/HICSS.2001.927176
Ward, J., Griffiths, P. M., & Whitmore, P. 2002. Strategic Planning for Information Systems (3rd ed.). Chichester: Wiley.
Ward, J., & Peppard, J. 2002. Success Factors in Strategic Information Systems. In Strategic Planning for Information Systems. https://doi.org/10.1016/0024-6301(90)90122-K
Wedhasmara, A. 2014. Langkah-Langkah Perencanaan Strategis Sistem Informasi dengan Menggunakan Metode Ward and Peppard. Jurnal Sistem Informasi.
Wijaya, A., & Sensuse, D. I. 2011. Perencanaan Strategis Sistem Informasi Dan Teknologi Informasi Pada Perusahaan Otomotif Dengan Menggunakan Metodologi Tozer. Jurnal Inovasi Dan Kewirausahaan, 17–18.
Wijiyanto, & Purwanto, E. 2015. Perencanaan Sistem Informasi Strategis Pendidikan di Perguruan Tinggi Swasta Kota Surakarta. DutaCom Journal, 8(1). https://doi.org/10.1017/CBO9781107415324.004
Zizlavsky, O. 2014. The balanced scorecard: Innovative performance measurement and management control system. Journal of Technology Management and Innovation. https://doi.org/10.4067/S0718-27242014000300016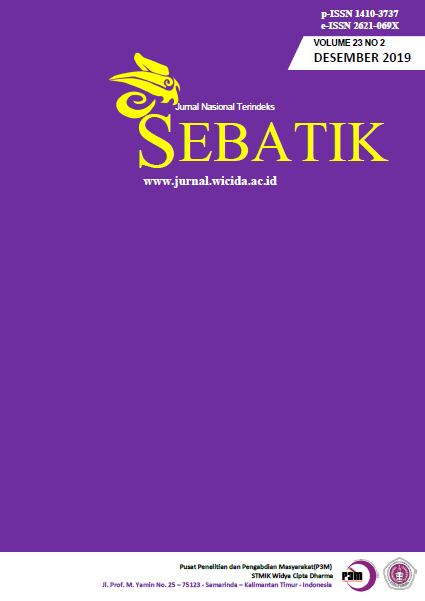 How to Cite
Sylvia, C. and Angela, A. (2019) "PERENCANAAN STRATEGIS SISTEM DAN TEKNOLOGI INFORMASI PADA STMIK – STIE MIKROSKIL MENGGUNAKAN METODE WARD & PEPPARD", Sebatik, 23(2), pp. 592-603. Available at: https://jurnal.wicida.ac.id/index.php/sebatik/article/view/816 (Accessed: 22April2021).
The copyright of this article is transferred to SEBATIK and STMIK Widya Cipta Dharma, when the article is accepted for publication. the authors transfer all and all rights into and to paper including but not limited to all copyrights in the SEBATIK. The author represents and warrants that the original is the original and that he/she is the author of this paper unless the material is clearly identified as the original source, with notification of the permission of the copyright owner if necessary.
A Copyright permission is obtained for material published elsewhere and who require permission for this reproduction. Furthermore, I / We hereby transfer the unlimited publication rights of the above paper to SEBATIK. Copyright transfer includes exclusive rights to reproduce and distribute articles, including reprints, translations, photographic reproductions, microforms, electronic forms (offline, online), or other similar reproductions.
The author's mark is appropriate for and accepts responsibility for releasing this material on behalf of any and all coauthor. This Agreement shall be signed by at least one author who has obtained the consent of the co-author (s) if applicable. After the submission of this agreement is signed by the author concerned, the amendment of the author or in the order of the author listed shall not be accepted.