PERENCANAAN STRATEGIS SISTEM INFORMASI MENGGUNAKAN METODE WARD AND PEPPARD (STUDI KASUS : DINAS KEPENDUDUKAN DAN PENCATATAN SIPIL KOTA TOMOHON
Melisa Ervina

Sistem Informasi, Fakultas Teknologi Informasi, Universitas Kristen Satya Wacana

Chris Rudianto

Sistem Informasi, Fakultas Teknologi Informasi, Universitas Kristen Satya Wacana

Hanna Prillysca Chernovita

Sistem Informasi, Fakultas Teknologi Informasi, Universitas Kristen Satya Wacana
Keywords:
Mc Farlan Strategic Grid, Sistem Informasi, SWOT, Value Chain, Ward and Peppard
Abstract
Dinas Kependudukan dan Pencatatan Sipil (Disdukcapil) Kota Tomohon merupakan instansi pemerintahan yang memiliki kewenangan dalam bidang administrasi kenegaraan. Teknologi Informasi merupakan salah satu faktor yang mempengaruhi keberhasilan suatu organisasi. Untuk itu, dibutuhkan sebuah perencanaan strategis sistem informasi yang sesuai dengan kebutuhan bisnis serta tujuan organisasi. Pada Dinas Kependudukan dan Pencatatan Sipil Kota Tomohon sudah menerapkan Sistem Informasi dan Teknologi Informasi (SI/TI) dalam menunjang tugas kerja setiap harinya. Namun, pada Disdukcapil belum memiliki perencanaan strategis sistem informasi. Tujuan penelitian ini adalah untuk menyusun perencanaan strategis sistem informasi yang sesuai dengan visi misi instansi. Penelitian ini menggunakan metode Ward And Peppard dengan berbagai analisis seperti analisis SWOT, Value Chain, dan Mc Farlan Strategic Grid. Hasil dari penelitian ini adalah berupa portofolio perencanaan strategis sistem informasi yang sesuai dengan kebutuhan Disdukcapil.
Downloads
Download data is not yet available.
References
Anharudin. 2015. "Perencanaan Strategis Sistem Informasi Untuk Meningkatkan Pelayanan Menggunakan Metode Ward And Peppard ( Studi Kasus : Pt Pos Indonesia Cilegon - Banten)." Jurnal PROSISKO 2 (2): 1–4. http://e-jurnal.lppmunsera.org/index.php/PROSISKO/article/view/103/161.
Asmara, Jimi, Wing Wahyu Winarno, and - - Henderi. 2017. "Perancangan Strategis Sistem Informasi Pada Stikom Artha Buana Kupang NTT." Techno.Com 16 (4): 387–400. https://doi.org/10.33633/tc.v16i4.1491.
Imtihan, Khairul. 2015. "Perencanaan Strategi Sistem Informasi Pendidikan Pada Sekolah Tinggi Manajemen Informatika Dan Komputer ( STMIK ) Lombok." Bianglala Informatika 3 (2): 73–78. https://ejournal.bsi.ac.id/ejurnal/index.php/Bianglala/article/view/584.
Kadir 2014:218, Elen Vanessa Costa Da Silva, Dyule Anne Correa Martins, Ronaldo Melquides Monteiro Pimentel Junior, Eko Kurniawan Khannedy, Al Fatta, Hanif Analisis, Perancangan Sistem, Informasi Yogyakarta, and Addison Wesley Harlow. 2014. "SI Abdul Kadir.Pdf." American Enterprise Institute for Public Policy Research 14 (28): 50–55. https://doi.org/10.13140/2.1.2637.6328.
Kawangung, Vencias Markus, Irya Wisnubhadra, and Kusworo Anindito. 2015. "Perencanaan Strategis Sistem Informasi (Studi Kasus Di Kantor Pemberdayaan Perempuan Dan Keluarga Berencana)." PROSIDING SEMINAR NASIONALMULTI DISIPLIN ILMU&CALL FOR PAPERS UNISBANK (SENDI_U) Kajian Multi Disiplin Ilmu Untuk Mewujudkan Poros Maritim Dalam Pembangunan Ekonomi Berbasis Kesejahteraan Rakyat, no. Snik: 153–58. https://www.unisbank.ac.id/ojs/index.php/sendi_u/article/view/3347.
Nugroho, Hakim, Waluyo. 2017. "Perancangan Strategis Sistem Informasi... (Nugroho Dkk.)," 128–34. https://publikasiilmiah.unwahas.ac.id/index.php/PROSIDING_SNST_FT/article/view/1890.
Vicarya Widagdo, Sam, and Made Kamisutara. 2018. "Perencanaan Strategis Sistem Informasi Untuk Meningkatkan Layanan Pendidikan Menggunakan Metode Ward And Peppard (Studi Kasus : SMK Swasta Di Surabaya)." Seminar Nasional Aplikasi Teknologi Informasi (SNATi), 11–2018. https://journal.uii.ac.id/Snati/article/view/11123.
Ward, and Peppard. 2002. Strategic Planning for Information Systems. Journal of Information Technology. Vol. 6. https://doi.org/10.1057/jit.1991.9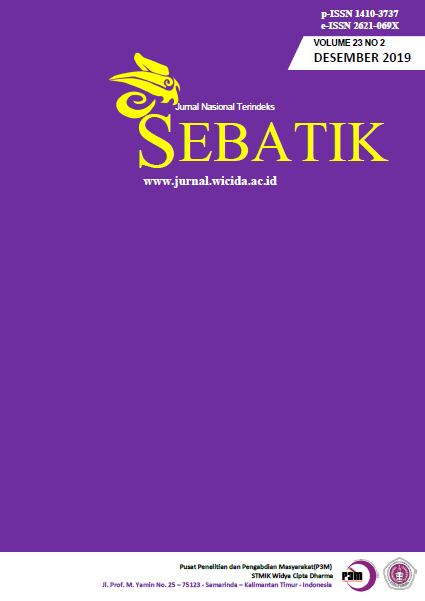 How to Cite
Ervina, M., Rudianto, C. and Chernovita, H. (2019) "PERENCANAAN STRATEGIS SISTEM INFORMASI MENGGUNAKAN METODE WARD AND PEPPARD (STUDI KASUS : DINAS KEPENDUDUKAN DAN PENCATATAN SIPIL KOTA TOMOHON", Sebatik, 23(2), pp. 604-610. Available at: https://jurnal.wicida.ac.id/index.php/sebatik/article/view/817 (Accessed: 7April2020).
The copyright of this article is transferred to SEBATIK and STMIK Widya Cipta Dharma, when the article is accepted for publication. the authors transfer all and all rights into and to paper including but not limited to all copyrights in the SEBATIK. The author represents and warrants that the original is the original and that he/she is the author of this paper unless the material is clearly identified as the original source, with notification of the permission of the copyright owner if necessary. The author states that he has the authority and authority to make and carry out this task.
The author states that:
This paper has not been published in the same form elsewhere.
This will not be submitted elsewhere for publication prior to acceptance/rejection by this Journal.
A Copyright permission is obtained for material published elsewhere and who require permission for this reproduction. Furthermore, I / We hereby transfer the unlimited publication rights of the above paper to SEBATIK. Copyright transfer includes exclusive rights to reproduce and distribute articles, including reprints, translations, photographic reproductions, microforms, electronic forms (offline, online), or other similar reproductions. Author's can fill it on https://drive.google.com/file/d/1MZAv5k69pPFQ890CTFbzReVSfxCDVWbE/view
The author's mark is appropriate for and accepts responsibility for releasing this material on behalf of any and all coauthor. This Agreement shall be signed by at least one author who has obtained the consent of the co-author (s) if applicable. After the submission of this agreement is signed by the author concerned, the amendment of the author or in the order of the author listed shall not be accepted.
Rights / Terms and Conditions Saved
The author keeps all proprietary rights in every process, procedure, or article creation described in Work.
The author may reproduce or permit others to reproduce the work or derivative works for the author's personal use or for the use of the company, provided that the source and the Informatika Mulawarman copyright notice are indicated, the copy is not used in any way implying the Journal of Informatika Mulawarman (JIM) approval of the product or service from any company, and the copy itself is not offered for sale.
Although authors are permitted to reuse all or part of the Works in other works, this does not include granting third-party requests to reprint, republish, or other types of reuse.